Los Angeles Sheriff's Department Investigating Domestic Abuse Claims Against Actor Mel Gibson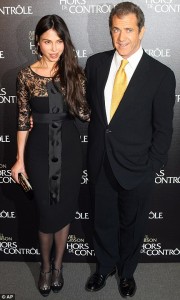 Apparently you can't go around threatening to bury someone in your garden. What has the world come to when you can't tell your girlfriend that her appearance makes her look like a Vegas….oh never mind. Mel Gibson is now under investigation because of everything girlfriend, Oksana Grigorieva has let come to light. The authorities are now looking at the matter seriously.
"An investigation of domestic violence was launched by [Los Angeles Sheriff's] Malibu/Lost Hills station detectives … involving actor Mel Gibson and his former girlfriend Oksana Grigorieva," read a statement released Thursday. "The detective in charge of the investigation is currently gathering information regarding the allegations. Due to the investigation being preliminary in nature, no other information is available at this time."
"We interviewed her on Monday. We were first contacted several days before that. When the investigation is completed, which could take up to a month, we will then turn the case over to the district attorney's office for consideration, which is a routine procedure," said Los Angeles Sheriff's Department spokesperson Steve Whitmore.
Things aren't looking to good for Mel. What do you think? Let us know in the comments.
Audio of Mel Gibson's rant to girlfriend Oksana Grigorieva:
[hdplay id=51 width=595 height=375]