Lindsay Lohan's Troubles Continue; Lawyer, Shawn Chapman Holley, Calls it Quits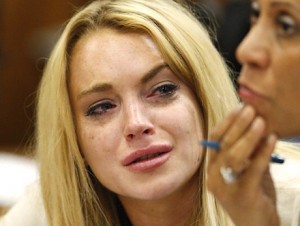 Lindsay Lohan just can't catch a break can she? First she is sentenced to 90 days in jail over so little. (Hint: Sarcasm. Lohan was guilty of two DUIs, two counts possession of cocaine, and 14 separate probation violations, no small matter.) Now her lawyer who represented her at the trial, Shawn Chapman Holley has quit.
The actress and the lawyer released a statement after the trial earlier this week saying, "Ms. Lohan and I are extremely disappointed in the sentence handed down by Judge Revel. We believe that the penalty is far harsher than what others would have received under similar circumstances. The reality is that Ms. Lohan, like most defendants, had to balance work commitments with court requirements. To be punished so severely for doing so, particularly in light of the fact that she substantially complied with each of her probationary conditions, is harsh and unfair. That said, Ms. Lohan is prepared to serve her jail time and to comply with the Court's orders."
Lohan's former lawyer also responded to the claims of Lohan having "F*** U" written on one of her nails.
"With respect to Ms. Lohan's nails, the fact is, the words could barely be seen by the naked eye. That a courtroom camera, purportedly there to accurately chronicle the proceedings, would use a telephoto lens to zoom in as it did to Ms. Lohan's fingernail is a commentary on the entire issue," Holley said in the statement.
Holley apparently resigned after the statement, and Lohan now has Tiffany Feder-Cohen as her representation.
Schadenfreude, I think is the correct term for the sentiment everyone is feeling in regards to Lindsay Lohan. People revel in the feeling that someone who considers themselves above everyone else, gets a punishment much like they would themselves. I'm not a person who takes pleasure in the misfortune of others very much, but I gotta say, I watched the trial and felt like clapping when she received the sentence. Lohan has major problems, and people keep brushing them under the rug, hoping they will go away. Now, maybe she can finally clean herself up. I once thought she could be a talented A-list actress, but a few years of hard living have ruined what she once called her "career."
What do you think? Let us know in the comments.