'Last Vegas' opens November 1! Enter to Win Passes to the St. Louis Advance Screening!
Enter to win a pass for two!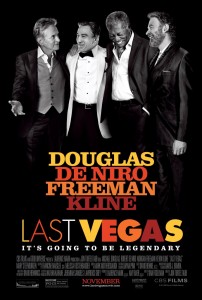 Starring four legends like you've never seen them before, LAST VEGAS tells the story of Billy, Paddy, Archie and Sam (played by Academy Award winners Michael Douglas, Robert De Niro, Morgan Freeman and Kevin Kline), best friends since childhood. When Billy, the group's sworn bachelor, finally proposes to his thirty-something (of course) girlfriend, the four head to Las Vegas with a plan to stop acting their age and relive their glory days. However, upon arriving, the four quickly realize that the decades have transformed Sin City and tested their friendship in ways they never imagined. The Rat Pack may have once played the Sands and Cirque du Soleil may now rule the Strip, but it's these four who are taking over Vegas.
Cast: Michael Douglas, Robert De Niro, Morgan Freeman, Kevin Kline
Director: Jon Turteltaub
Leave a comment below to enter!
Winners will be chosen at random from all entries. Supplies are limited. Limit one (1) pass per person, passes admit (2) two. Sponsor's employees and their dependents are ineligible. Screening is overbooked to ensure capacity. Please refer to passes for any other possible restrictions. NO PURCHASE NECESSARY.
Screening will take place Wednesday, October 30 at Wehrenberg Des Peres 14 Cine (7pm).