Last Minute Valentine's Day Deals – Flowers Delivered Tomorrow and Savings!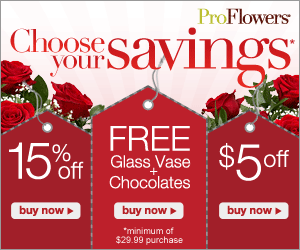 Guys – if you haven't bought your loved one anything for Valentine's Day yet – you better get going.  In case you didn't realize, Valentine's Day is tomorrow.  The stores are going to be a mad house; don't even try to go to the florist tomorrow.  You're best bet it to order flowers online.  ProFlowers.com has a deal with FedEx, where they have teamed up to deliver flowers this Valentine's Day – even though it falls on a Sunday.
Right now, by using the link on the left (or click here) you can actually choose from a variety of savings on your order. Get $5 off, Free Vase & Chocolates or 15% off (Minimum purchase of $29.99).
There is a huge variety of flowers to choose from, so you are sure to find something nice there. Happy Valentine's Day!