"King of All Media" Howard Stern Re-signs With SiriusXM For 5 More Years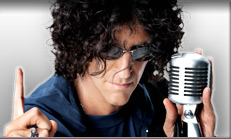 After months of rumors and reported deals with the likes of Apple, Howard Stern has officially announced that he has signed a new deal with SiriusXM for 5 years.
There has been much speculation as to whether or not Stern would resign with SiriusXM, or go to another form of broadcasting. There has even been talk of retirement for the king of all media. But luckily for fans of the Stern Show, Howard isn't going anywhere.
5 years ago this month, Stern signed a record breaking $500 million dollar deal for 5 years, which was set to expire next week. The financial details of the new deal have not been released, but are likely to be even higher than the half-a-billion-dollars that Stern signed for last time.
More details to come. What do you think of Stern resigning for 5 more years? Leave a comment below!