Kim Yu-Na Wins Figure Skating Gold For South Korea at 2010 Winter Olympics (Video)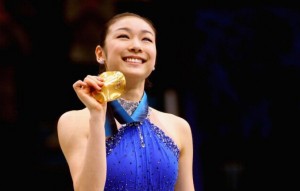 As many expected, South Korea's celebrity figure skater Kim Yu-Na took home the gold medal in women's figure skating last night.
After the short program on Tuesday, Yu-Na was in first place with an almost 5 point lead over rival figure skater Mao Asada of Japan. But the winner of the long program yesterday was no question for the judges, who gave Kim Yu-Na a free skate score of 150.06. That score was 16.11 points higher than the world record of 133.95 that she only set two days earlier! Yu-Na won the gold medal with a total combined score of 228.56 – beating Asada by 23 points. This was an amazing victory for the skater, who was very happy with her performance.
"I still can't believe my performance," Kim said after the long program. "I honestly don't know why I cried… Maybe I was relieved, maybe I was satisfied with my performance."
Joannie Rochette skated through the death of her mother, only two days before the competition started. Her hard work and willingness to continue in the competition, despite her tragic loss, earned her the bronze medal. Rochette said, "There were moments when I said to myself, 'I really don't want to do this. I want to take the first plane, go home, see my grandparents, my family.' But I said to myself that in 10 years time, when I would think about all of this and when my mourning would be over, I would probably have wished that I had skated here."
From the US, Mirai Nagasu took fourth place, and Rachel Flatt came in seventh.
Here are the final standings in Women's Figure Skating at the 2010 Winter Olympics:
Rank
Athlete
SP
FS
Final Score
1
KIM Yu-Na

78.50

(1)

150.06

(1)

228.56
2
ASADA Mao

73.78

(2)

131.72

(2)

205.50
3
ROCHETTE Joannie

71.36

(3)

131.28

(3)

202.64
4
NAGASU Mirai

63.76

(6)

126.39

(5)

190.15
5
ANDO Miki

64.76

(4)

124.10

(6)

188.86
6
LEPISTO Laura

61.36

(10)

126.61

(4)

187.97
7
FLATT Rachael

64.64

(5)

117.85

(8)

182.49
8
SUZUKI Akiko

61.02

(11)

120.42

(7)

181.44
9
LEONOVA Alena

62.14

(8)

110.32

(10)

172.46
10
MAKAROVA Ksenia

59.22

(12)

112.69

(9)

171.91
11
KORPI Kiira

52.96

(17)

108.61

(11)

161.57
12
PHANEUF Cynthia

57.16

(14)

99.46

(13)

156.62
13
KWAK Min-Jung

53.16

(16)

102.37

(12)

155.53
14
GEDEVANISHVILI Elene

61.92

(9)

93.32

(17)

155.24
15
MEIER Sarah

56.70

(15)

96.11

(14)

152.81
16
KOSTNER Carolina

63.02

(7)

88.88

(19)

151.90
17
SEBESTYEN Julia

57.46

(13)

93.80

(16)

151.26
18
HECKEN Sarah

49.04

(23)

94.90

(15)

143.94
19
LIU Yan

51.74

(19)

91.73

(18)

143.47
20
LEE Cheltzie

52.16

(18)

86.00

(20)

138.16
21
GLEBOVA Elena

50.80

(20)

83.39

(22)

134.19
22
LAFUENTE Sonia

49.74

(22)

83.77

(21)

133.51
23
GIMAZETDINOVA Anastasia

49.02

(24)

82.63

(23)

131.65
24
KARADEMIR Tugba

50.74

(21)

78.80

(24)

129.54