KILLER JOE Opens August 24 in St. Louis! Enter to Win Passes to the St. Louis Advance Screening!
A TOTALLY TWISTED DEEP-FRIED TEXAS REDNECK TRAILER PARK MURDER STORY.
Enter to win a pair of passes!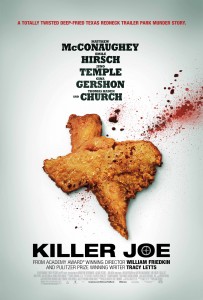 When 22-year-old Chris (Emile Hirsch) finds himself in debt to a drug lord, he hires a hit man to dispatch his mother, whose $50,000 life insurance policy benefits his sister Dottie (Juno Temple). Chris finds Joe Cooper (Matthew McConaughey), a creepy, crazy Dallas cop who moonlights as a contract killer. When Chris can't pay Joe upfront, Joe sets his sight on Dottie as collateral for the job. The contract killer and his hostage develop an unusual bond. Like from a modern-day, twisted fairy tale, "Killer Joe" Cooper becomes the prince to Dottie's Cinderella. Based on the play by Pulitzer and Tony Award winner Tracy Letts, "Killer Joe" is a garish, provocative black comedy from Academy Award-winning director William Friedkin (The Exorcist, The French Connection) and stars Emile Hirsch, Matthew McConaughey, Juno Temple, Thomas Hayden Church, and Gina Gershon.
Cast: Matthew McConaughey, Emile Hirsch, Juno Temple, Gina Gershon, Thomas Haden Church
Director: William Friedkin
---
ENTER TO WIN A PASS FOR TWO!
In order to enter the contest, "like" ReviewSTL on Facebook . Then comment on the official contest page below, telling us why you can't wait to see the movie! While supplies last. Passes are available on a first-come, first-served basis.
Winners will be chosen at random from all entries. Supplies are limited. Limit one (1) pass per person, passes admit (2) two. Sponsor's employees and their dependants are ineligible. Screening is overbooked to ensure capacity. Please refer to passes for any other possible restrictions. NO PURCHASE NECESSARY.
Good luck! We hope to see you at the movies!
---
Facebook: Facebook.com/KillerJoeTheMovie
Twitter: #KILLERJOE
KILLER JOE is Rated NC-17. No one 17 and under admitted. OPENS IN THEATERS FRIDAY, AUGUST 24, 2012