Kevin Smith "Too Fat To Fly," Kicked Off Southwest Airlines Flight
In recent years, the airline industry has become more and more strict.  First they decided what you can and can't take onto an airplane; I completely understand, and am glad that they are making the skies a safer place.  Then they decided that they would make you pay to bring luggage on the flight, where some of them wouldn't even give you one bag for free.  Now that was downright lame, in an attempt to make more money in a bad economy.  Then they decided that they would make more customers comfortable, AKA make 'overweight' customers purchase two plane tickets.  Until now, we haven't seen this kind of treatment given to a celebrity.  Well, it looks like Southwest Airlines messed with the wrong director.
Southwest airlines has their hands full, in an unexpected PR nightmare after forcing Kevin Smith to leave a plane where he was seated and ready to fly.  Here are some of Smith's Twitter messages from yesterday, in order from oldest to most recent —
"Dear @SouthwestAir – I know I'm fat, but was Captain Leysath really justified in throwing me off a flight for which I was already seated?"
"Dear @SouthwestAir, I flew out in one seat, but right after issuing me a standby ticket, Oakland Southwest attendant Suzanne (wouldn't give last name) told me Captain Leysath deemed me a "safety risk". Again: I'm way fat… But I'm not THERE just yet. But if I am, why wait til my bag is up, and I'm seated WITH ARM RESTS DOWN. In front of a packed plane with a bunch of folks who'd already I.d.ed me as "Silent Bob."
"So, @SouthwestAir, go fuck yourself. I broke no regulation, offered no "safety risk" (what, was I gonna roll on a fellow passenger?). I was wrongly ejected from the flight (even Suzanne eventually agreed). And fuck your apologetic $100 voucher, @SouthwestAir. Thank God I don't embarrass easily (bless you, JERSEY GIRL training). But I don't sulk off either: so everyday, some new fuck-you Tweets for @SouthwestAir."
"Wanna tell me I'm too wide for the sky? Totally cool. But fair warning, folks: IF YOU LOOK LIKE ME, YOU MAY BE EJECTED FROM @SOUTHWESTAIR."
Can you tell that he was just a bit irritated about the entire situation?  Later, after successfully taking another one of their flights, he rubbed it in their faces with these remarks —
"Dear @SouthwestAir, I'm on another one of your planes, safely seated & buckled-in again, waiting to be dragged off in front of the normies."
"And, hey? @SouthwestAir? I didn't even need a seat belt extender to buckle up. Somehow, that shit fit over my "safety concern"-creating gut."
"Hey @SouthwestAir! I've landed in Burbank. Don't worry: wall of the plane was opened & I was airlifted out while Richard Simmons supervised."
You can imagine, after receiving this many twitter messaged aimed at your company from a Hollywood director, the people in charge of PR for Southwest Airlines were not out having a quiet, romantic Valentine's Day dinner.  Their PR department issued this apology letter to "Not So Silent Bob,"
"Not So Silent Bob
Sun, 02/14/2010 – 14:57 – Christi Day
Many of you reached out to us via Twitter last night and today regarding a situation a Customer Twittered about that occurred on a Southwest flight. It is not our customary method of Customer Relations to be so public in how we work through these situations, but with so many people involved in the occurrence, you also should be involved in the solution. First and foremost, to Mr. Smith; we would like to echo our Tweets and again offer our heartfelt apologies to you.
We are sincerely sorry for your travel experience on Southwest Airlines.
As soon as we saw the first Tweet from Mr. Smith, we contacted him personally to apologize for his experience and to address his concerns on both Twitter and with a personal phone call. Since the situation has received a lot of public attention, we'd like to take the opportunity to address a few of the specifics here as well.
Mr. Smith originally purchased two Southwest seats on a flight from Oakland to Burbank – as he's been known to do when traveling on Southwest. He decided to change his plans and board an earlier flight to Burbank, which technically means flying standby. As you may know, airlines are not able to clear standby passengers until all Customers are boarded. When the time came to board Mr. Smith, we had only a single seat available for him to occupy. Our pilots are responsible for the Safety and comfort of all Customers on the aircraft and therefore, made the determination that Mr. Smith needed more than one seat to complete his flight. Our Employees explained why the decision was made, accommodated Mr. Smith on a later flight, and issued him a $100 Southwest travel voucher for his inconvenience.
You've read about these situations before. Southwest instituted our Customer of Size policy more than 25 years ago. The policy requires passengers that can not fit safely and comfortably in one seat to purchase an additional seat while traveling. This policy is not unique to Southwest Airlines and it is not a revenue generator. Most, if not all, carriers have similar policies, but unique to Southwest is the refunding of the second seat purchased (if the flight does not oversell) which is greater than any revenue made (full policy can be found here). The spirit of this policy is based solely on Customer comfort and Safety. As a Company committed to serving our Customers in Safety and comfort, we feel the definitive boundary between seats is the armrest. If a Customer cannot comfortably lower the armrest and infringes on a portion of another seat, a Customer seated adjacent would be very uncomfortable and a timely exit from the aircraft in the event of an emergency might be compromised if we allow a cramped, restricted seating arrangement."
Kevin Smith responded with, "Hey @SouthwestAir? Fuck making it right for me just 'cause I have a platform. I sat next to a big girl who was chastised for not buying an extra ticket because "all passengers deserve their space." Fucking flight wasn't even full! Fuck your size-ist policy. Rude…"

---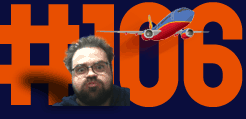 Make sure to tune in to Kevin Smith's new "smodcast" below (smodcast.com). The title is "SMODCAST #106:  Go Fuck Yourself, Southwest Airlines," In which, surely, our hero is Too Fat Too Fly. And don't call me Shirley.
Listen to the Smodcast

What do you think about the Kevin Smith / Southwest Airlines situation?  Let us know in the comments below!