Kevin Costner's 'Draft Day' Is a Must See For NFL Fans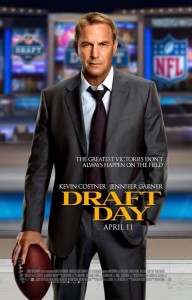 The National Football League rules America. It's the most popular sport in the United States. Grown men don the jersey of their favorite team every Sunday for 16 or more weeks, in hopes of them reaching the Super Bowl. While Kevin Costner's latest film, Draft Day, isn't the Super Bowl of sports movies, it's pretty damn good.
Costner plays Sonny Weaver Jr., general manager of the Cleveland Browns. Weaver is a month removed from the death of his father, who was a legendary coach of the Browns. To make matters worse, Brown's mother, played to perfection by Ellen Burstyn, resents the fact that Weaver had to fire his father, in a move that was best for the team. Costner's romantic interest in the film is played by Jennifer Garner, a numbers crunching, front office executive for the Browns. Weaver must not only deal with his mother's issues, but the issues of having the #1 draft pick in the upcoming NFL Draft. His Browns are on the clock and it's a choice that will not only decide the fate of a team, but the city of Cleveland, as well as Weaver's future as general manager.
Costner is at the top of his game in Draft Day. He not only delivers a great performance and is believable as a general manager in turmoil, his personal relationship in the film is quite believable. Costner is not alone in the performance category of the film. Garner is believable as a numbers-crunching, football-junkie, who is in love with Weaver. Dennis Leary plays Vince Penn, a Super Bowl winning coach with an ego bigger than Cleveland. Leary does not give his best performance, but is believable as the smug coach who Weaver has picked to replace his father. There are a number of cameos in the film that sports junkies will love to see. I particularly found the shots of Arrowhead Stadium and Weaver's dealings with my favorite team, the Kansas City Chiefs entertaining. From ESPN personalities, to professional athletes, this film has a number of surprise cameos.
Overall, Draft Day is a must see for NFL fans. The film shows a side of the NFL that is rarely seen by the public, the business side. I would not be surprised if this film actually helps the NFL Draft's ratings come May. It's not exactly like the NFL Draft's ratings were hurting, but I expect the casual fan will pay more attention to the behind the scenes workings of their team after seeing this film. I'm sure that the non-football fan will have reservations about seeing "Draft Day," but there is no need to worry as Costner brings the goods. With his presence and the help of a great story, Draft Day is entertaining enough to capture the attention of non-football fans.
Draft Day gets an A-