'Jurassic Park Ultimate Trilogy' Now Out on Blu-ray/DVD! Enter to win a FREE copy!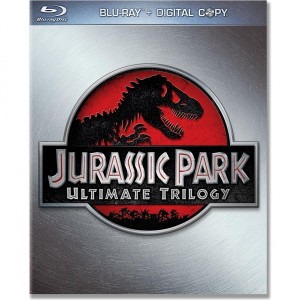 Experience one of the biggest movie trilogies of all time like never before with the Jurassic Park Ultimate Trilogy! "You won't believe your eyes" (Rolling Stone) when dinosaurs once again roam the Earth in an amazing theme park on a remote island. From Academy Award-winning directors Steven Spielberg (Jurassic Park, The Lost World: Jurassic Park) and Joe Johnston (Jurassic Park III), the action-packed adventures find man up against prehistoric predators in the ultimate battle for survival. Featuring visually stunning imagery and groundbreaking filmmaking that has been hailed as "a triumph of special effects artistry" (Roger Ebert, Chicago Sun-Times), this epic trilogy is sheer movie-making magic that was 65 million years in the making. "Welcome to Jurassic Park."
ALL 3 FILMS DIGITALLY REMASTERED FOR ENHANCED
PICTURE AND SOUND. PLUS HOURS OF
ALL-NEW BONUS FEATURES!
BLU-RAY™ & DVD BONUS FEATURES INCLUDE:
DIGITAL COPY OF ALL THREE FILMS
(offer expires 12/31/12)
RETURN TO JURASSIC PARK: Six-part documentary featuring all-new interviews with directors Steven Spielberg and Joe Johnston plus cast and crew
ARCHIVAL FEATURETTES:

The Making of All 3 Jurassic Park Films
Original Featurettes on the Making of the Films
Steven Spielberg Directs Jurassic Park
Hurricane in Kauai Featurette
The Jurassic Park Phenomenon: A Discussion with Author Michael Crichton
The Compie Dance Number: Thank You Steven Spielberg From ILM
The Dinosaurs of Jurassic Park III
The Special Effects of Jurassic Park III
The Industrial Light & Magic Press Reel
The Sounds of Jurassic Park III
The Art of Jurassic Park III
Montana: Finding New Dinosaurs
BLU-RAY™ EXCLUSIVE FEATURES
ALL-NEW 7.1 AUDIO
BD-LIVE: Access the BD-Live Center through your Internet-connected player to watch the latest trailers and more.
MY SCENES: Bookmark your favorite scenes.
POCKET BLU APP: Experience an exciting new way with the app for iPhone, BlackBerry, Android and now enhanced for iPad.
D-BOX
Enter for a chance to win a FREE copy of the Jurassic Park Ultimate Trilogy on Blu-ray / DVD Combo! In order to enter the contest, become a fan of ReviewSTL on Facebook. Then click the "share" button under the post, and tell everyone what your favorite part of the 'Jurassic Park' trilogy is and why! NO PURCHASE NECESSARY. PLEASE REMEMBER TO READ THE RULES!
Good luck! And don't forget to pick up your copy of the Jurassic Park Ultimate Trilogy on Blu-Ray and DVD Today!