Jon Gosselin Empties Joint Bank Account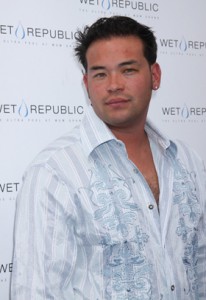 I really hate to give more attention to two people who I think are scum, but I thought this was kind of interesting.  Jon Gosselin, of Jon and Kate Plus 8, apparently withdrew the majority of money from a joint back account held with his estranged wife, Kate.  Apparently, he left $1,000 in there for the mother of his eight children. The rumor is that he withdrew over $200,000 from the joint checking account.
This is just the last in a series of bizarre moves made by Gosselin. Last week after being kicked off the popular TV show, he halted filming of the show. His reason? That filming was a danger to his children, and that he had an "epiphany" that his children should no longer be on TV. TLC of course fired back calling Gosselin, "self-destructive and unprofessional… He and the family were shooting as recently as last Friday, without incident, and his latest comments are grossly inaccurate, without merit and clearly opportunistic."
I'm not a huge fan of either party in this case. I think that both people are opportunistic to the point that scares me, and both have little regard other than themselves. I have yet to ever watch a single second of their show, and I plan on keeping it that way. My only hope is that in all this bickering the public will give up on these jerks so they can stop basking in the limelight, and finally pay attention to their kids. However, the American public unfortunately thrives on inane drama so ratings will be through the roof this year.
Bonus:
Here is the sign that Jon Gosselin posted earlier this week to keep TLC from coming. I love the misspelling of penalty, and his own name!
'NO FILM CREW OR PRODUCTION STAFF FROM TLC IS PERMITTED ON THIS PROPERTY UNDER PENELTY [sic] OF TRESPASS. JOHNATHON [sic] GOSSELIN'