Jeremy Renner Suiting Up as Hawkeye for "The Avengers"?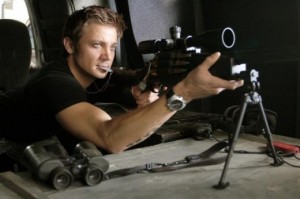 Now that The Avengers has found a writer and director in Joss Whedon, it is time to start rounding out the rest of the cast. Already we have confirmations that Robert Downey Jr., Samuel L. Jackson, Chris Evans, and Chris Hemsworth will all be reprising their Marvel roles in the big budget superhero team movie. Now Marvel is in final negotiations with Jeremy Renner to play the famous superhero archer, Hawkeye.
Renner has long been rumored to be in talks to play the second tier Marvel character for some time.  The actor has been heavily courted by Marvel after his rise in playing the main character in Best Picture winner, The Hurt Locker.
The biggest issue at hand seems to be a monetary issue. Marvel Studios is playing hardball with a lot of the actors, trying to get them to take pay cuts to appear in the film. The pay cuts will make it easier to budget a large ensemble cast in addition to a special effects heavy budget.
The film is shaping up quite nicely. Whedon should bring the right amount of humor and flair to it, and he has plenty of experience within the Marvel universe. Getting an up and coming actor like Renner is only going to help the publicity of the film.
What do you think? Let us know in the comments