Jason Segel to Star in "The Adventurer's Handbook"
Jason Segel is the newest star attached to the upcoming comedy The Adventurer's Handbook.  Segel will be co-starring along with Jason Schwartzman and Jonah Hill in the comedy directed by Akiva Schaffer.
From THR.com
---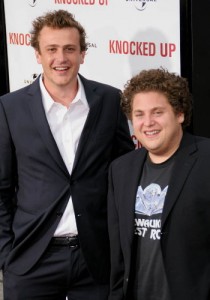 Johah Hill, Matt Spicer and Max Winkler wrote the script, about four childhood friends who are bored with the monotony of their lives and embark on a global adventure inspired by the stories of explorers detailed in Mick Conefrey's book "The Adventurer's Handbook: Life Lessons From History's Great Explorers."
Universal picked up the book rights as well as the script in February.
Segel would play a talented musician who never got his act together, becoming a backup piano player and an alcoholic; Hill plays an engineer, isolated from his family; Schwartzman is a spoiled and cowardly three-time Grammy winner.
The studio hopes to be in production by early next year.
Eric Fellner and Liza Chasin will produce for Working Title. Anthony Bregman also will be a producer.
Universal's Erik Baiers is overseeing the project for the studio.
Segel, repped by WME and Abrams Entertainment, worked with Hill in "Forgetting Sarah Marshall." The actor, who appears on "How I Met Your Mother," most recently starred in "I Love You, Man."
Jason Segel consults 'Handbook'
Joins comedy co-starring Jonah Hill, Jason Schwartzman
---
Well, this one looks like it has the potential to be a big hit. I love all the actors attached to it, and all of them have had their star rise a bit in the past year or so. Schaffer continues to show us his prowess for comedic director while working on SNL. I think we can expect a lot of cameos from other familiar faces working in comedy today in this one. This is a lot of people from the Apatow crew and the SNL bunch, which seem to be blending more with every film released.
So, how does this look to you? Sound like an interesting premise? Fan of Jason Segel? Let us know in the comments!