It's Complicated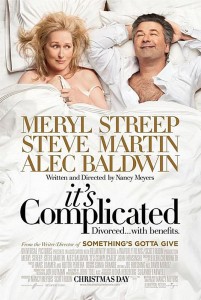 Nancy Meyers is the ultimate director for family/romantic comedies preferably starring a well respected aging actress (such as Diane Keaton and Meryl Streep).  It's Complicated is yet another one of her ensemble cast films which tells the story from the point of view of an aging single woman. Sure, you've heard the story before but it stays fresh enough at points to make it one of the better films in its genre this year.
Jane (Meryl Streep) is a successful single single divorcee who is a great mother to her three children. She has a beautiful house, and a great bakery business that is doing well. Despite the fact that her husband, Jake (Alec Baldwin),  left her for younger woman ten years ago, they have an amicable relationship for the sake of their friends and children. However, things start to get a little muddled when during a drunken night before her son's graduation she has a tryst with another man. Who is that other man? Her married ex-husband. Jane must quickly work out her feelings for her ex-husband, while juggling the stress of being the "other woman". Things get even more complicated (hmm, I wonder where the title came from), when she gets involved with the architect for her house addition, Adam (Steve Martin).
It's Complicated might seem complicated on paper, but the film structures the story in a neat manner where it is very easy to keep up with. You might want to strangle some of the characters for their choices, but then you'd be left with little to no drama. There really is no antagonist in this film other than the characters own choices. All the characters motivations are made from one emotion or other than conflicts with their personal storyline. It makes for some odd moments for the audience to laugh at.
Meryl Streep is already garnering praise for her role earlier this year in Julie and Julia, and now it looks like she is going to get a few more for her role in this film. I'm not quite sure this one is as well deserved. It isn't that she is bad in the role, it is just that it seemed like a role many other women could have fit into. The film endures most of its dull moments when she is the main attraction on screen. The pace of the film seems to race through when either Alec Baldwin or Steve Martin appear on screen. Both actors are comedically gifted, and are responsible for just about every laugh produced during the film.
Alec Baldwin's Jake is a little bit over the top, and at times seems a little to nice for a man who has cheated on not one, but two different wives. His exuberant joy of believing he has found love with his ex-wife is fun, and sometimes hilarious. Steve Martin is a little bit more restrained than his more famous comedy roles, and his counterpart Alec Baldwin.  The maturity he displays with his character makes him a character you root for.  I have little doubt that there will Team Jake and Team Adam shirts made up from this film, but the conflict of the plot really results in which man you like better. Fun vs. Maturity (with a little fun thrown in).
Out of the supporting cast John Krasinski continues to try and make his presence known on the big screen. It seems that his fame isn't that far off. His screen presence and comedic timing is great, and for how small his role is he is one of the most liked characters in the film. He will never be an actor who carries big budget action flicks, but he will do fine in solid comedy and drama films (as evidenced by this summer's Away We Go).
It's Complicated takes a little bit of getting used to. The first half of the film is pretty boring, and at times just uncomfortable. Around the halfway mark it seems to find its footing, and starts gaining more traction by the minute. It is an enjoyable comedy aimed at the baby boomer set.  If you were a fan of Meyer's other works such as The Holiday and Something's Gotta Give then this will most likely score with you.
Grade: C+