"Iron Man 2" Takes In $7.5 Million in Midnight Screenings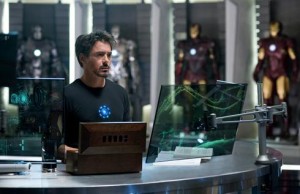 Iron Man 2 got off to a good start taking in $7.5 million dollars in midnight screenings. The show movie started at 12:01am at more than 2,500 screens across North America.  The numbers are what looks to be a strong start for the highly anticipated sequel.
Things aren't perfect though. Many people were calling for Iron Man 2 to top the gross of 2008's The Dark Knight which grossed $18.4 million dollars in midnight screenings.  The film went on to take in an astounding $158 million dollars in its first weekend. Many analysts still believe that Iron Man 2 might take in north of $140 million, but has an uphill battle in breaking the record set by the Batman sequel.
I was one of the people who thought Iron Man 2 had a good chance in making a new opening weekend record, but I'm beginning to doubt that. The Dark Knight came out to across the board rave reviews, and Iron Man 2's praise has been somewhat mixed. The biggest difference is the fact that The Dark Knight had Heath Ledger's last complete performance.  I'm sure the highly publicized death brought people to see the movie who might have not normally seen it before.
Needless to say Iron Man 2 will most likely become the highest grossing film on 2010, barring any surprises. Expect a high $300 or low $400 million dollar gross by the end of its run.