Interview w/ The Cast of Twilight: The Irish Coven – Maggie, Liam & Siobhan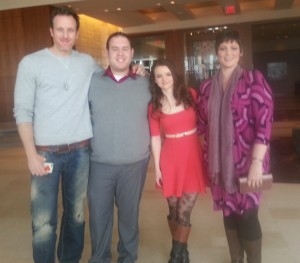 In the lead up to the DVD/Blu-Ray release of Twilight: Breaking Dawn Part 2  on March 2nd, I sat down with the Irish Coven (Marlane Barnes/Maggie, Lisa Howard/Siobhan, Patrick Brennan/Liam) at St. Louis's Four Season Hotel. We discussed a variety of topics and I've included the highlights below.
More Twlight?
Lionsgate has publicly expressed interest in continuing or revisiting the Twilight franchise, however when asked if any of the cast members had heard about sequels or spin-offs, Lisa reported that she has not been approached as of yet. Lisa added that she would be thrilled to star in another film and wishes they would make more.
That Irish Accent
While the members of the "Irish Coven" look and sound authentic, all three actors are from the United States. Marlane said that she's actually studied the Irish dialect before while earning her Masters of Fine Arts from The University of Texas – Austin. Pat reported that it was harder for him to do the accent even though he's worked with it before on the TV show The Black Donnellys.
Behind the Scenes
The cast members shared stories about hijinks behind the scenes including fun they had with a Guri Weinberg (who plays Stefan) doll. They said that the final battle in the snow took almost a month to shoot and for audiences to keep an eye out for a Riverdance style dance-off in the TBD2 DVD/Blu-Ray Special Features.
Team Edward or Team Jacob
Marlane said that she "lives under a rock" and is usually unaware of pop culture icons such as Twilight, but was thrilled when she got the job. Lisa reported that she has been a fan for years and read the books between scenes while she worked in theater. Lisa was the only one to pick a side and she said that she's Team Edward.
Hair and Make-Up
While the vampire make-up in TBD2 was more naturalistic than in previous films, each cast member said they spent about 2 hours a day in the make-up chair. They confirmed that the red contact lenses they wore were the size of golf balls cut in half and that after wearing them, Marlane suffered corneal abrasions and was forced to wear glasses for 6 months. Marlane added that she did not wear a wig and that her hair was hand curled almost every day.
---
The group couldn't have been more polite and will be greeting fans at the Wal-Mart in Fenton at 653 Gravois Bluffs Blvd at 11pm tonight 3/1/13. The Twilight Saga: Breaking Dawn – Part 2 will be released at midnight following the meet and greet.
Be sure to follow the cast members on Twitter for updates to their latest projects: