Interview: Thomas Ian Nicholas (American Pie, Rookie of the Year) Coming to Wizard World St. Louis Feb. 2-4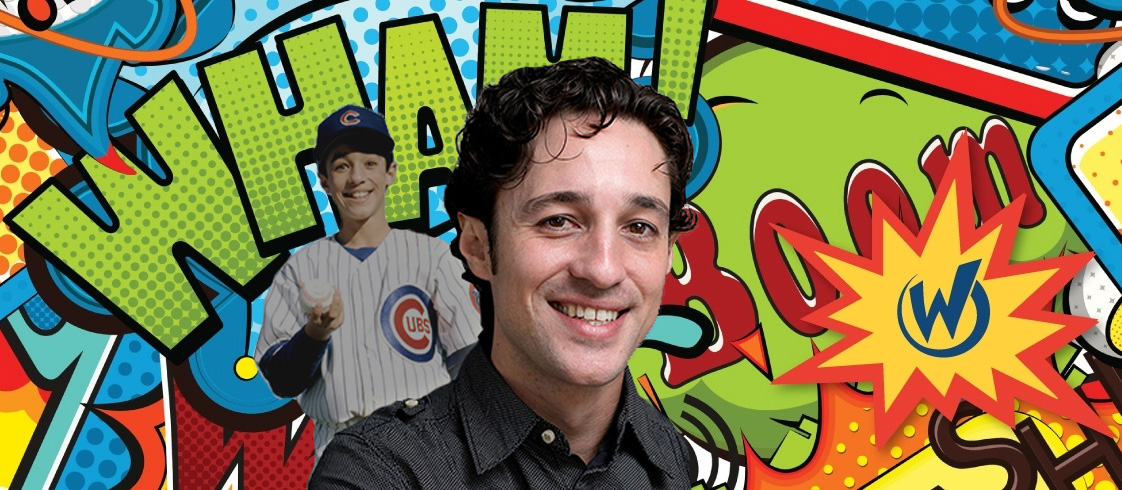 Thomas Ian Nicholas may have been a "rookie" at one point. But that time has long since passed. For the past thirty years, the actor has been a part of pop culture through his work in television, film, and music.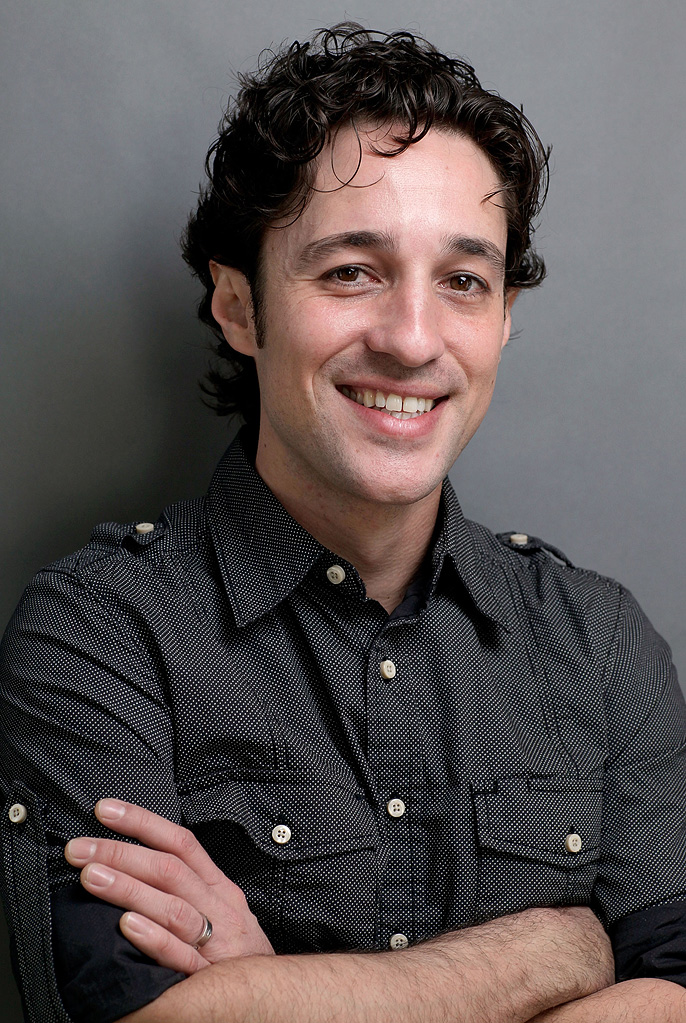 "I started when I was around my son's age actually, who is six. I got interested in it because my mom was casting some indy movies back in the day, starring Jan-Michael Vincent. And so I went to work with my mom to get her out of a bind one day, and that's how I kind of got introduced to it. I wanted to keep on pursuing it, so here I am 31 years later."
Thomas' first credited role was playing a young Tony Danza for the 100th episode of Who's the Boss?.
"[Tony] actually played his own grandfather, so he got dressed up in like three hours of latex makeup. And we did a tap dance routine together. It was super fun, and I still have memories of those days on that set."
Rookie of the Year
He had a few television roles before landing his first movie, Radio Flyer, directed by Richard Donner. And only a year later, he would be starring in Rookie of the Year.
"It was my first lead role in a feature film, and I was stoked. The Cubs still have a special place in my heart because of it. We filmed in Chicago for three months, and an entire month of that was on Wrigley Field. And so now I go out once a year and throw out the first pitch and sing the seventh-inning stretch. I know it's a bit of a rivalry between the Cardinals and the Cubs, but I found a common ground recently. I played a show in St. Louis at Ballpark Village on January 1st last year for the rivalry rally."
This interviewer was born and raised in St. Louis, but never thought twice about enjoying the movie growing up. It could be any team, and the idea is still fun to dream about.
"It's funny, because I do a lot with these Wizard World Comic Cons around the country. And sometimes I'm a little worried going into a city where it's like a rivalry city with the Cubs. But then there's that thing like you said, where it kind of supersedes that, and speaks even beyond who you're a fan of. And just kind of taps in to every kid's fantasy of being a Major League Baseball player."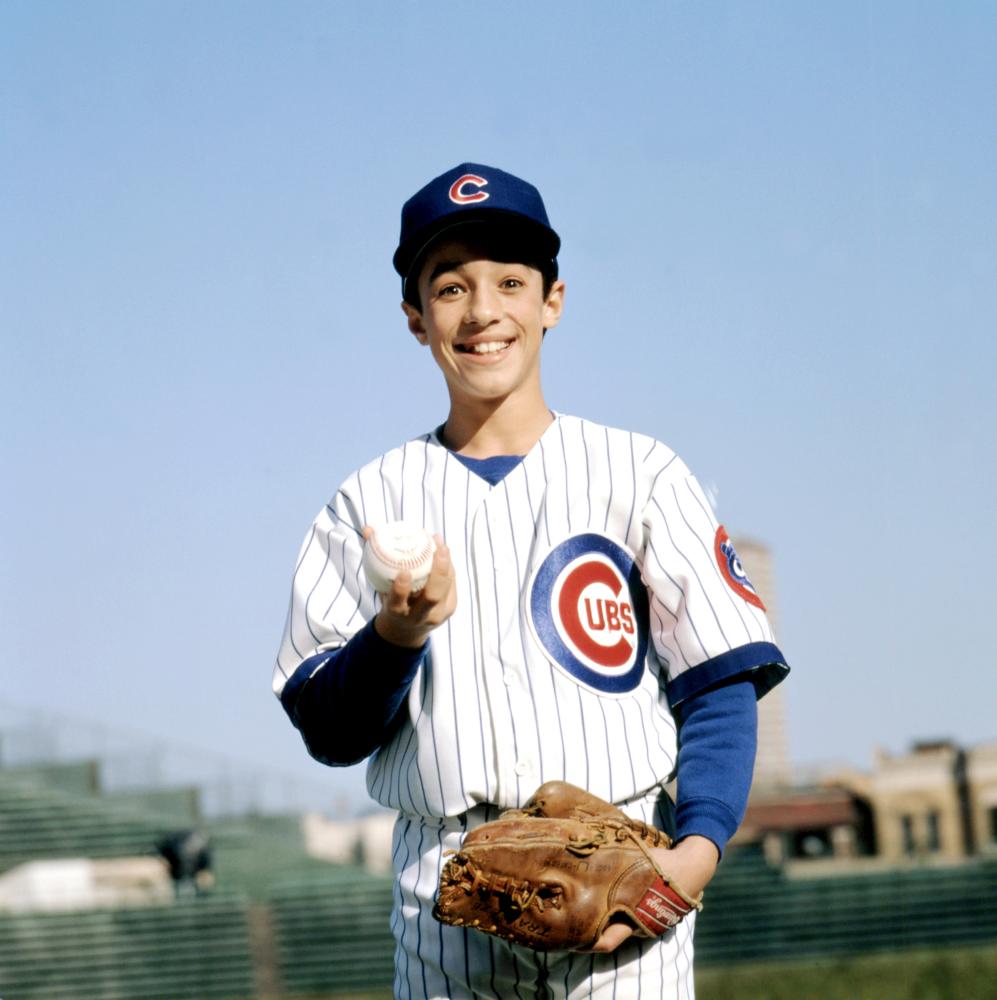 On working with his director / co-star Daniel Stern,
"He was amazing to work with. I think now he's doing sculpting – or so I've seen online. I haven't run into Danny in a while. But I would love to reconnect with him. Maybe this is the year! The 25th anniversary, I'll finally reconnect with my family of Rookie of the Year."
Although many years have passed, Thomas isn't giving up on the idea of a sequel.
"One of the things I kind of have on the back burner, Fox drug their feet and isn't interested right now. But I'm going to do what I can to change their minds. My son is actually following in my footsteps, and just got his first acting job. He'll be on the the finale for New Girl – Zooey Deschanel's TV show on Fox. So I posted a couple pictures, and a lot of my friends and family and fans were like, 'Look at your son! Rookie of the Year 2 is on the horizon!' So I might try to pull a stunt this year and see if I can't get the wheels turning for the 25 years later sequel to Rookie of the Year."
Kids of the '90s may be surprised to hear that it has been that long since the film's release. However, we're still waiting for it to come out on Blu-ray.
"Not to make us feel old or anything! I recently tried to do a couple retro screenings with it, and I know there are some 35mm prints going around. But it is hard to find even a movie theater that still has a 35mm projector. Most of the stuff is all digital.  And I know this firsthand because I've got a couple of films that I produced and starred in. One came out in theaters last October called The Lost Tree, which is now out on iTunes – and is coming out on DVD and Blu-ray in Target and Redbox. And then I have another film called, Living Among Us, that hits theaters on February 2."
Unfortunately, St. Louis isn't one of the select cities where Living Among Us opens. But we should be seeing it soon.
"I think you can actually pre-order the DVD and Blu-ray from Best Buy right now, and it will be out in all the Redbox locations across the country – along with iTunes and all that stuff."
Thomas Ian Nicholas Band
Wizard World attendees will get the chance to see Thomas perform in St. Louis when they visit the entertainment stage. Although acting and producing continues to be a steady part of Thomas' career, he has been playing music for over a decade.
"I was like 14, and it was around the time that the grunge scene was big. I think Kurt Cobain had died, and one of my friends in junior high school did like a week of silence in school. He got sent to the principal's office every day, and suddenly that whole time period there was a guitar that was sitting in the corner of our apartment. My mom used to play, and my dad was a touring musician. But it's like one of those things that you grow up and you don't pay any attention to it. And then one day you see it, and it's been in front of your face. So I got really interested, and a couple my friends were learning to play. So I pretty much picked up guitar and never stopped."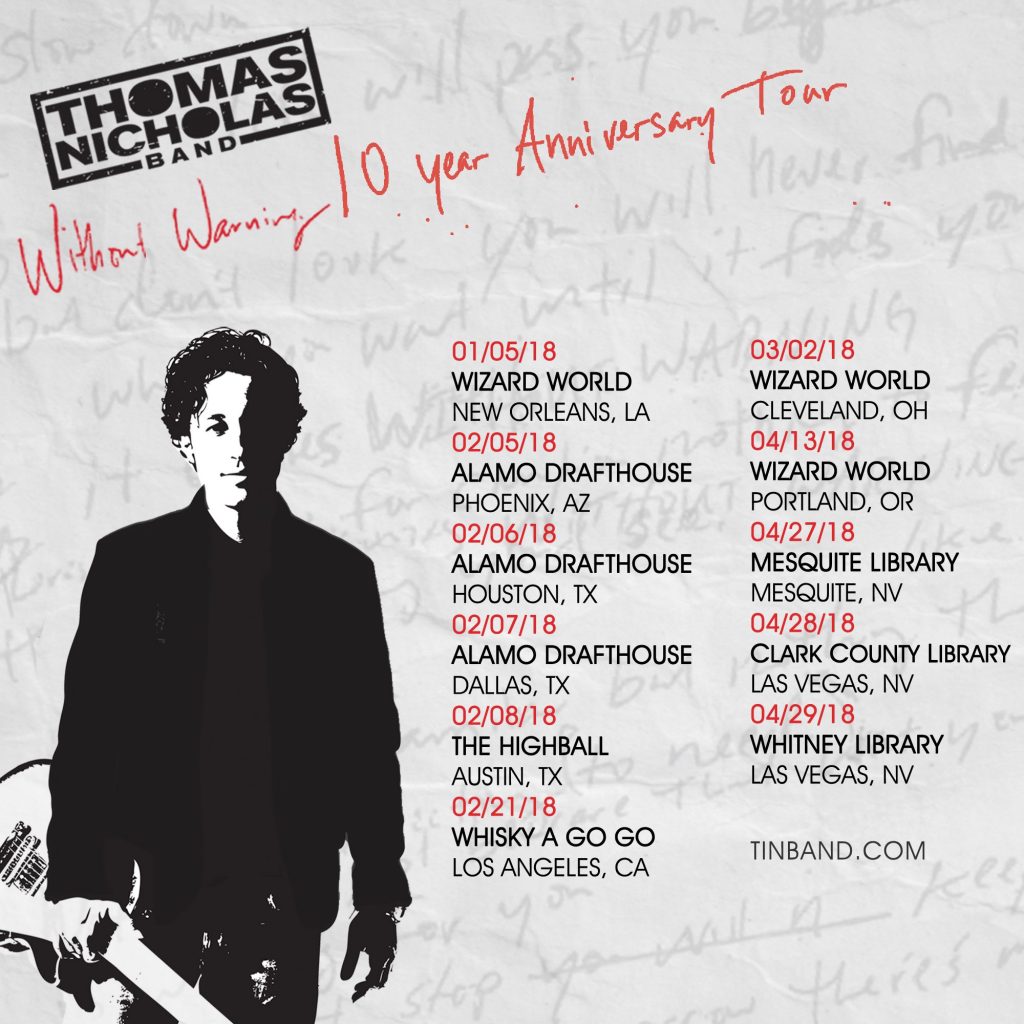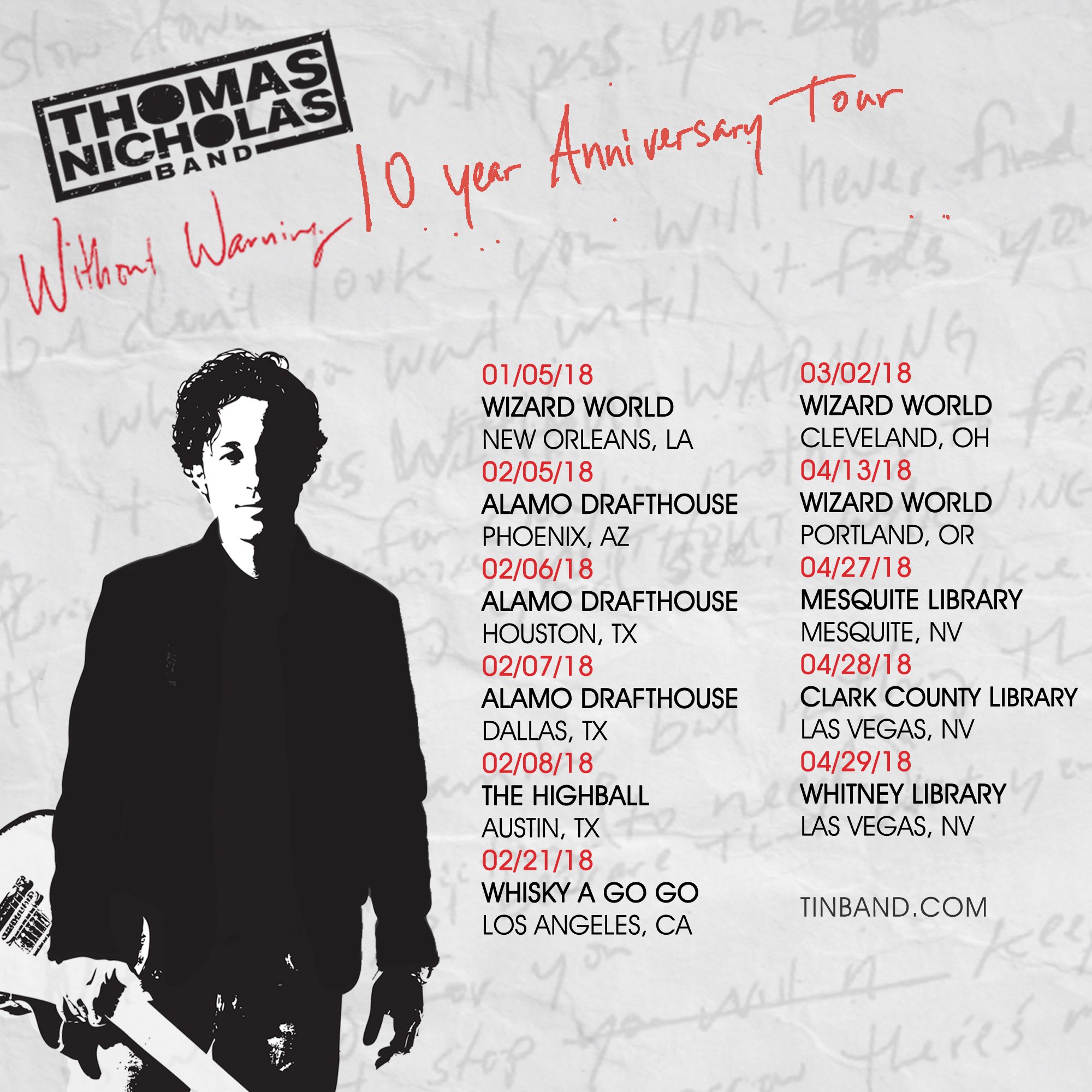 The Thomas Ian Nicholas Band is currently playing their Without Warning 10 Year Anniversary Tour around the country.
"It was probably by about 2008 that I finally created the sound that I really liked, and really stood behind. I've released six albums since 2008, and now it's the 10th anniversary of my first one."
American Pie
Many film-goers will recognize Thomas from the American Pie franchise, where he has played Kevin Myers in all four theatrical releases.  Although it was a lot different than many of his previous roles, he never caught any trouble for the subject matter.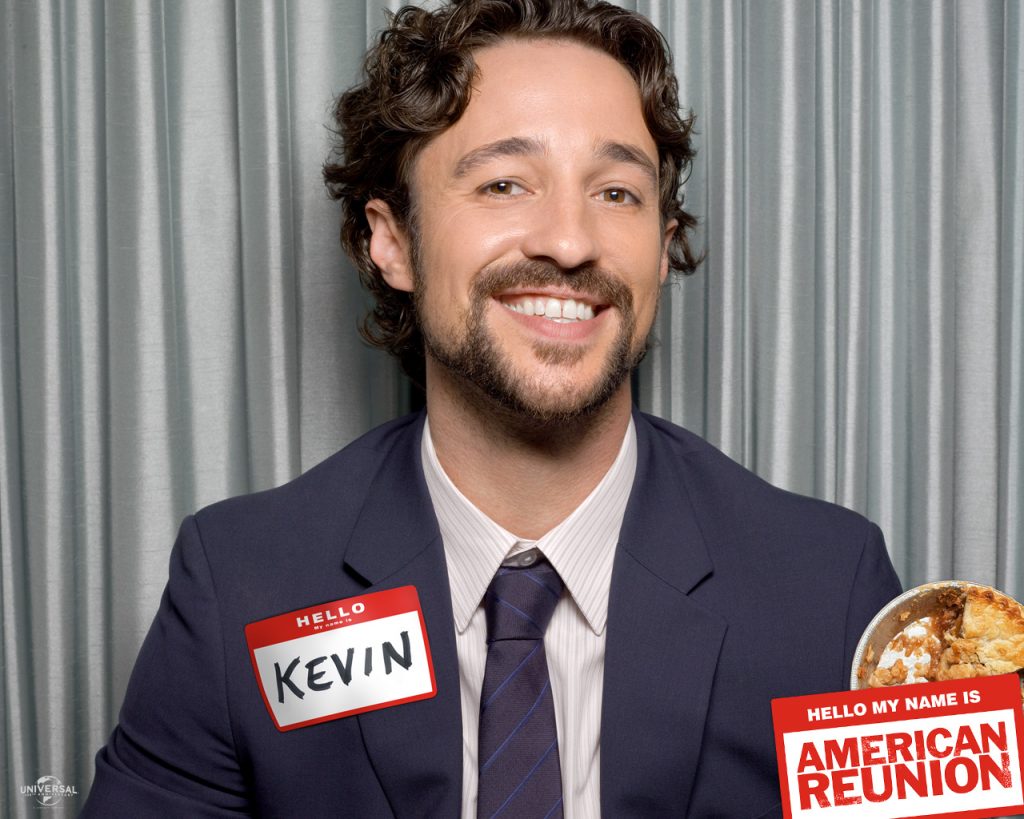 "The thing about that film, even though it was a teen sex-comedy, is it had a lot of heart and relatable characters. And as outlandish as it was, it still had some realism. So I didn't really get a lot of flak in regard to that. Plus they kind of advertised it as an unknown cast. So it took about seven years before the first person put two and two together, that I was the same guy. And now, I still have people that don't realize it. They'll come say hi at these Wizard World Comic Cons, and they're like, 'Wait a second! You're the same kid in both of those movies?' It's still being discovered."
When asked if any sequels are in the works,
"I believe the next installment of 'American Pie' was written pretty much before 'Reunion' came out in theaters. And as far as I know, it's been sitting on the shelf collecting dust for about five years. I'm not really sure what the status is. You're not the first person to ask, and I'm definitely not the one holding it up. If Universal called me later today and said, 'Hey Tom, so you want to do this?' I would again be the first person to sign on and say yes."
"I was one of the first people to say yes to 'American Reunion.' I remember I ran into the original screenwriter Adam Herz at a sushi restaurant here in Los Angeles. If you remember in the film, it was the 13 year reunion because we missed it by a few years. But at the 10 year mark, Adam asked me, 'Hey, what do you think about a high school reunion with everybody?' And I said, 'I would be down, I think it'd be a lot of fun. Good luck coordinating everyone's schedules.' It can be a can be quite a challenge. I'm not really sure what the holdup is, but as I tell everyone: tweet at Universal, and let them know what you want."
Walt Disney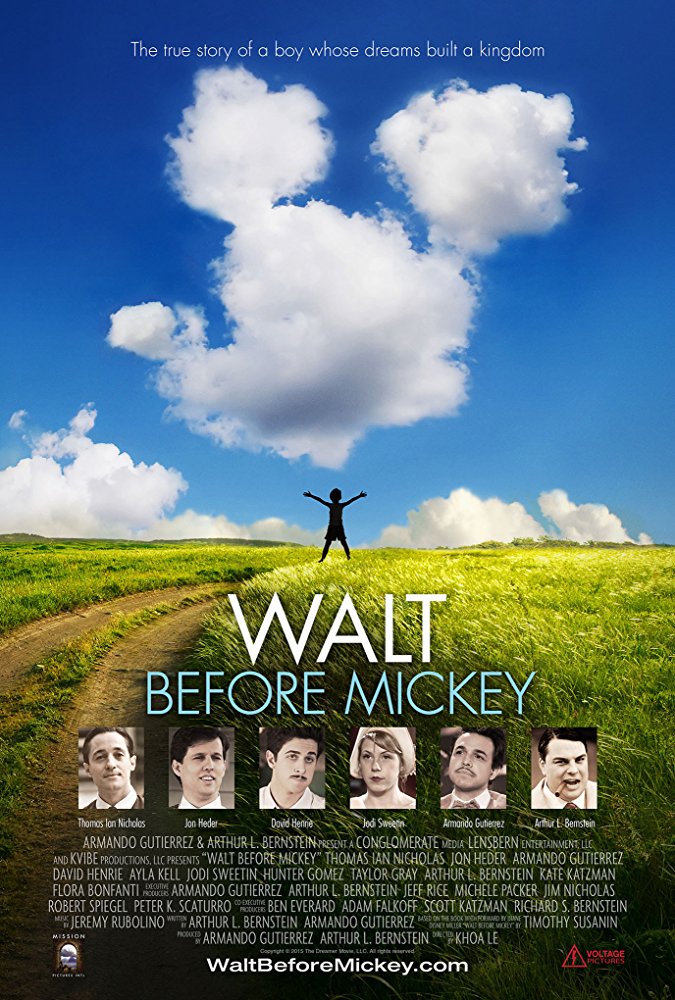 In 2015, Thomas played none other than Walt Disney himself, in a film called Walt Before Mickey.
"I had an interesting time actually. I didn't know about Walt's early life and career until I did the film. But I got the phone call and it was, 'Do you want to play Walt Disney in a movie?' And I said, 'Of course, it would be an honor.' And they said, 'Great, you start next week!'"
It wasn't much time to prepare for playing the legendary creator
"I had an entire seven days to prepare for the role, and obviously it wasn't something you could really do. Because you don't really see Walt in the public until he's already successful. So finding the early stuff about him was really challenging. And I just tried to kind of tap into the drive, and belief that he must have had. Because that's the tougher time, right? There's a stress that comes with being successful, and making sure that you maintain that success or outdo yourself. But there's a different kind of drive that exists in a person to start. When the only people that want to hear your ideas are your close friends, and you're going through everything. And he went through everything! If you've seen the film – I didn't know that he had so many animation studios, and went bankrupt in Kansas City, and came out to California with $40 to his name."
While working on the film, Thomas learned a lot about Walt Disney and others who have become successful.
"It is crazy, and it's really inspiring because it's one of those things where you see someone that's successful – and you kind of idolize what they've achieved. But you never really think about what they went through to get there. And it made me realize one thing – that the common denominator between everyone that is successful is that they simply didn't give up. The only thing that was bigger than Walt's success was actually his failures. We grow up in this in this sort of mindset that we're so afraid to fail, but we don't have to be. Because failure is good, and each time that you fail you are one step closer to success. So now it's kind of one of those weird things where I'm weirdly looking forward to failure."
It was a much different time period, but the same principals can be applied today.
"That was like a hundred years ago, even for Walt Disney, that he went through that. So it's hard to look at it that way. But it's definitely the truth. There's a saying out there that I did learn from reading about Abraham Lincoln, but it was also on the business card of one of my acting coaches. 'The harder I work, the luckier I get.' It's always the way. You know, the only surefire way to absolutely fail is to stop trying."
Living Among Us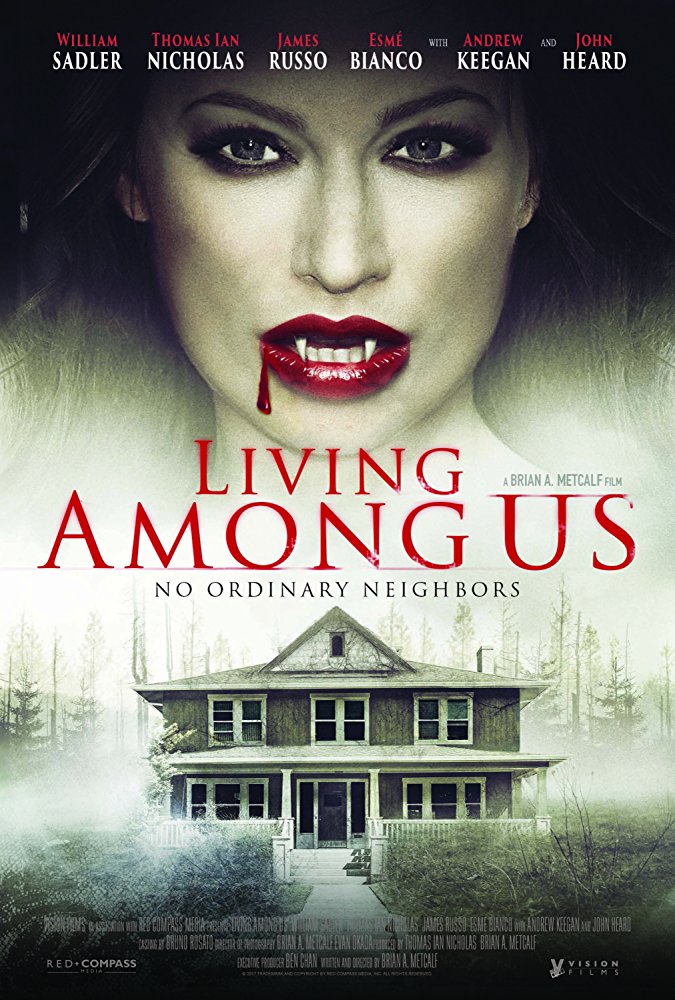 Next month Thomas' stars in and produces his latest film, Living Among Us. And it takes a different approach than you see in most horror films.
"This is going to sound a little highfalutin, because most people would probably look at the movie and think it's a found-footage style. But technically speaking, because we have such a well-known cast, the director and writer were more inspired by French New Wave. So I guess, if you want to be highfalutin, we can call it 'American New Wave.' So we have this well-known cast; We've got William Sadler, and the late John Heard. James Russo, Esmé Bianco from 'Game of Thrones,' Andrew Keegan, and Myself. You have this news crew that goes into a house of supposed vampires, and interviews them to either prove or disprove their claims. So you're watching this movie, but it's a movie within the movie. And that's what makes it sort of a New Wave kind of movement. Because you're aware of the filmmaking process, and yet you're still drawn into the story."
And what makes this story different than the other vampire stories we've seen for a century?
"I think it's the idea of just taking the mythos of vampires, and kind of delivering it in a fresh new way. And in a reality based way. Because most people don't even know the entire mythos of vampires comes from the reality of Porphyria – which is the real vampire disease. The first notated case was King George III. So check this out: Porphyria is sensitivity to UV rays. So people that have this disease can get 3rd degree burns from the sun. It's fatigue due to a low red blood cell count, and the only way to combat that is to get an IV of blood. Or ingest blood before there were IVs, in the case of King George III. He was probably drinking blood to increase his plasma level. And the final thing is, due to that the low red blood cell count, the gums can recess which gives the appearance of fangs. So this is the basis in reality that sparked the entire idea and mythos of vampires."
The film also marks the last project that actor John Heard worked on.
"We're really excited about it, and the performances in it are amazing. I know John Heard had some other films that will probably come out of the next couple of years. But this was in fact the last thing that he worked on. We did ADR with him the Monday before he passed (that Friday). It's so crazy. I did a film with him 28 years ago called Radio Flyer, so I had known John for a long time. I remember when I read the news, I thought it was a hoax because I was like, 'I was just with him like five days ago. What are you talking about?' He's great in the film, and we feel like it's a good way to honor him. The film is still coming out, and we've dedicated it to his memory. He's such a fantastic actor, so I'm excited for everyone to see this performance of his."
Handbook For Mortals and Wizard World
Although the actor has been involved with more grown-up projects lately, he hasn't lost interest in lighter subject matter. Referring to one of his early family films,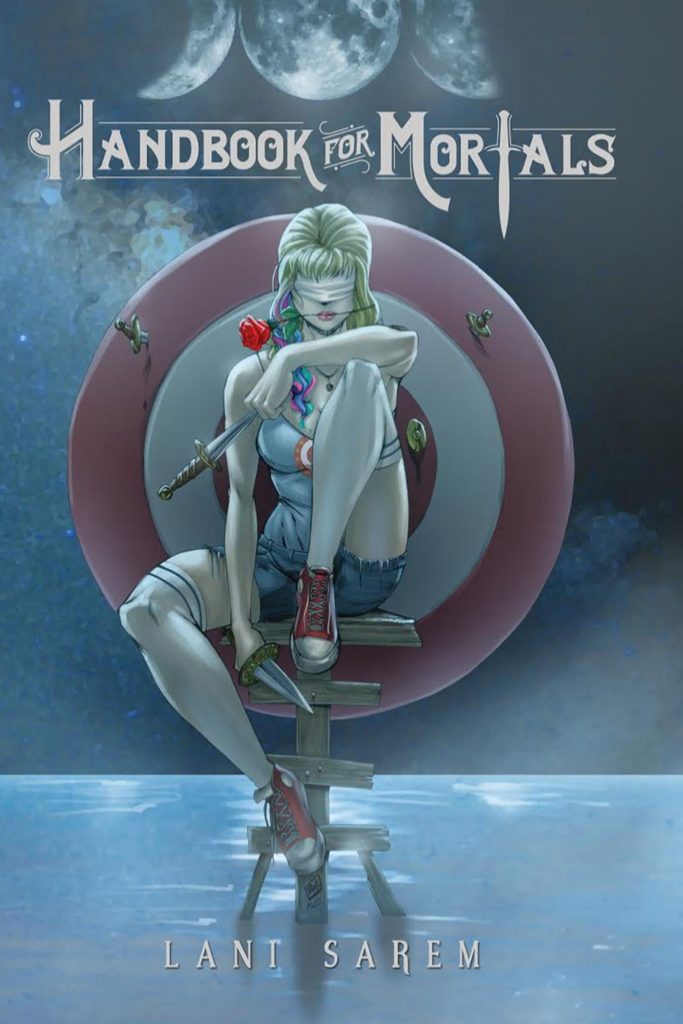 "You mentioned A Kid In King Arthur's Court, which is a fantasy. I'm kind of returning to the fantasy genre on another project, which is why I've been doing all the Wizard World Comic Cons. It's called, Handbook For Mortals, which came out as a book last August. It debuted at number 34 on the USA Today Bestseller List, and I'll be producing that into a film later this year. I bring the author of the book with me, and you can get signed copies at my booth at Wizard World."
Not only can you meet Thomas and Handbook For Mortals author Lani Sarem at Wizard World, but there will also be photo and autograph opportunities with the actor. Thomas will also be hosting a trivia event with Jon Heder, called 'Disney Trivia Against The Disney Brothers.' Jon played Walt's brother, Roy Disney, in Walt Before Mickey.
"Come say hi, and get your signed copy from the author. I didn't write it, but you know, I'll sign it too if you want! And get a copy of the book that will soon be made into a film."
What's Next?
Thomas will be promoting the new film with a tour, and doing a Q&A before the film. Although St. Louis isn't one of the stops, you can see him in Chicago on Tuesday, February 6. As for what's next? Aside from touring with his band and turning Handbook For Mortals into a feature film, Thomas was a part of the James Franco directed Zeroville, which has some big names and comes out later this year.
"Zeroville was a lot of fun. On IMDb it says that I play the role of Marty, which is technically Martin Scorsese. We have this big scene where a bunch of us portray famous people like George Lucas, and Steven Spielberg. There's someone there doing a Robert De Niro. The film has a great cast. James Franco, who directed it, Will Ferrell, Megan Fox, Seth Rogen. So yeah, a lot of fun."
Come meet Thomas Ian Nicholas at Wizard World St. Louis, February 2-4 at the America's Center. For tickets and more information, visit wizardworld.com.