Interview: Tech N9ne Talks About His Career, Kansas City, Meeting Tupac, and Much More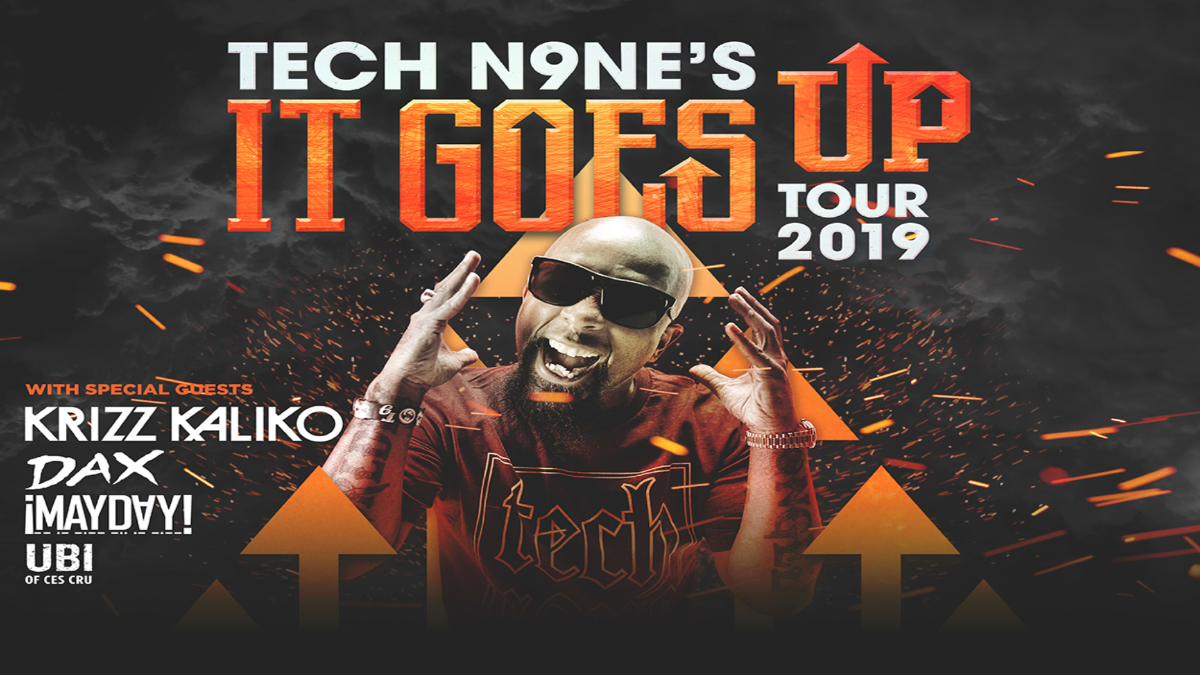 Next to Patrick Mahomes of the Kansas City Chiefs, rapper Tech N9ne is probably one of the most recognizable figures in Kansas City. Tech has been on the rap scene since 1991. At 47, with 21 albums under his belt, Tech is showing no signs of slowing down. Tech's latest tour, The It Goes Up Tour, will be at Pop's on Friday. Tickets are still available. ReviewSTL had a chance to talk with Tech ahead of his show in St. Louis.
Tech N9ne's latest album is called N9na. According to Tech, the album was recorded all over the world.
"I started it in America, did most of it in Europe and finished it in Canada," he said. "The majority of it was written and recorded in Europe. That was hard because of the language barrier, but we still got the bulk of it finished all over."
Tech also said that he and his engineer Ben put the album together through mostly phone conversations.
"We did it in so many different places, but I think that helped," Tech said.
With Tech's latest album N9na being his 21st album, the rapper admitted that he never saw this coming when he first started making music.
"I didn't know," he said. "I write my life and people remind me how many albums I've put out. We're still pushing. I never knew that I had that much content, but since I write my life, I'll have content until I'm ready to stop."
One thing that makes Tech N9ne special is his willingness to work with other artists and bring new artists along to get them notoriety.
"I find artists that are lyrically inclined," Tech said. "I've been looking for a female artist for a long time, but I still haven't found her. I enjoy pulling artists up."
Having worked with artists such as Logic, Insane Clown Posse, and many others, Tech said there are still some artists out there he would like to work with.
"I have an idea for me and Billy Joel and Eminem," he said. "I've had the track for about a year, I'm just scared to show it to them because it's not time yet. I just love people with substance and lyrics."
As far as advice for up and coming artists, Tech offered some simple words of wisdom.
"It's really simple but hard to do, be good," he said. "If you are good at it and people agree, it spreads that you're good and more people may agree. Then you have that situation where people who agree will want to come to your shows and buy your merchandise. Good can last a long time. It can last forever."
Tech N9ne is a student of music. He listens and respects all genres. Growing up, The Doors were a major influence on him. Tech explained what led to him listening to The Doors.
"The fusion of sounds man, it's the dark carnival man," he said. "The rebel of Jim Morrison. The poetry of Jim Morrison. Their whole sound reminds me of the Dark Carnival."
One would be hard-pressed to find an artist who tours more than Tech N9ne. It seems like Tech is constantly on the road. Because of the grueling touring schedule, I asked Tech what keeps him from burning out from life on the road.
"Keeping very talented artists around me," he said. "We keep each other on our toes. I may see something that someone does, and I think man, that's dope, I got to do something like that. We motivate each other. Out here on the road, it's the love from the fans. Yeah, I'm tired, yeah this is my third tour. I've been on the road since January. I'm about to take a break, but the fans keep me going."
One thing that the casual hip-hop fans may not know about Tech N9ne is that he worked on a song with Tupac Shakur and actually saw Notorious B.I.G perform live at a small venue in Kansas.
"I met Tupac in 92 in Atlanta," he said. "It was a music convention and it was wonderful to meet him. It was right after the LA riots. It was really wonderful to be in his presence. I've been a student. I saw Biggie perform at Memorial Hall in Kansas City, Kansas. It was right when Party and Bullshit came out, a long time ago."
While Tech N9ne is the pride of Kansas City, he has ties to St. Louis, as he's actually related to Nelly.
"I didn't realize we were related until I went to a family reunion in St. Louis," he said. "Nelly always treated me nice, like a little cousin or something. We're connected through the Haynes family and my family."
Tech said that he has always wanted to do something with Nelly, but both have just been extremely busy over the years.
One thing that Tech and I had in common was our love for Kansas City sports. Whether it's the Chiefs, Royals, or Sporting KC, Tech said he is a staunch supporter of Kansas City sports.
"Did you know I wear the white Chiefs jersey on stage every night?" he asked. "When I'm away from home I wear it. That's my love. I am so KC. We did it in LA and didn't get booed. The love is so strong It transcends. There's a lot of love in KC and I give it all back. I take it with me wherever I go."
Tech did create a song for the Chiefs star wide receiver Tyreek Hill, called Wheels Like Hill.
"I'm a fan man," he said. "I've been a fan since I was a little kid. I'm not a fair-weather fan."
If you have ever attended a Tech N9ne show, you will see that during the second half of the show, he wears scrubs on stage. The reason for that is to make people aware of mental illness.
"My mom was a victim of mental illness," he said. "I've always been on mental health. This is nothing new for Tech N9ne."
Tech N9ne is without a doubt one of the most well-rounded artists out there today. He credits that with growing up in a house with all genres of music.
"I had Janis Joplin, I had all that stuff in my house," he said. "The most I had was gospel. People should dabble in other genres. That keeps barriers from forming. I would push that to younger artists. I would tell them, hey man, go outside the box and try something."
Tech N9ne will be at Pop's on Friday, May 31. It's a show that Tech admits he's looking forward to.
"We've been missing Pop's because we've been doing The Pageant," he said. "I can't wait to get back to grimy ass Pop's and be hot as hell in there and have the fans all packed in."
Tickets are still available for Tech N9ne's show at Pop's on Friday. Visit popsrocks.com for more information.