Interview: Scott Terry of Red Wanting Blue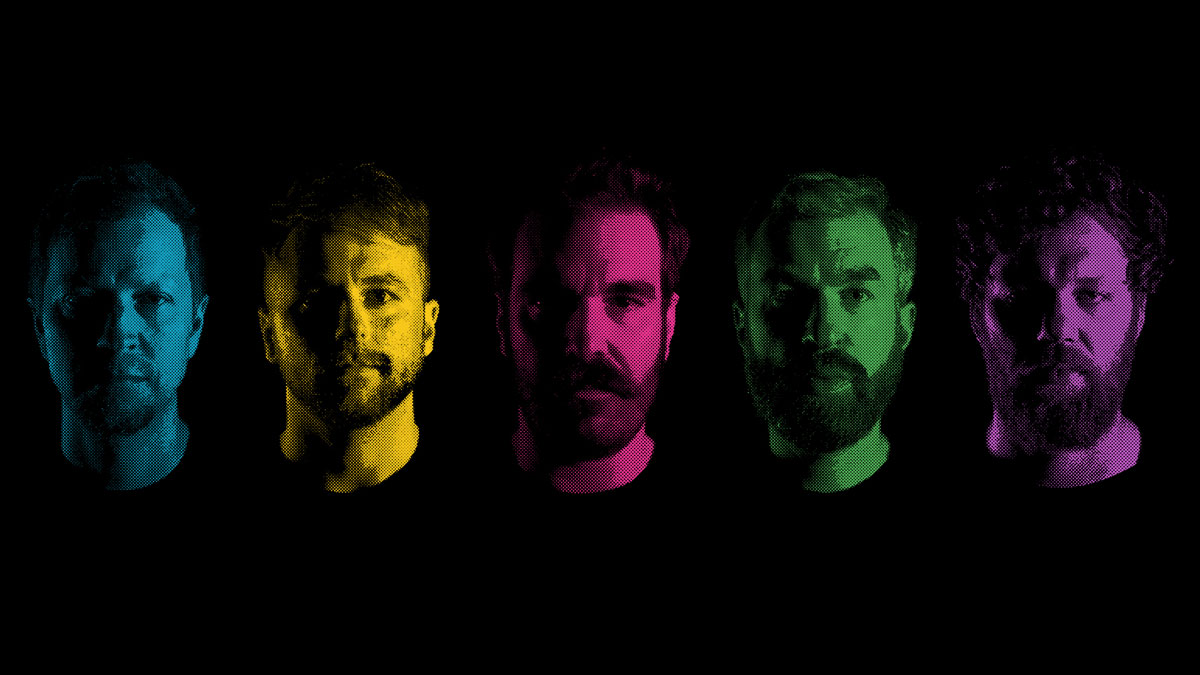 Red Wanting Blue, a rock and roll band whose music consists of raw, emotional vocals and melodies that are fitting to just about any mood you may be in for the day, has been around for over two decades and is continuing to grow more and more as the years go on. ReviewStl's Samantha Davinroy recently had the privilege of speaking to Red Wanting Blue's lead vocalist, Scott Terry. Terry took some time out of his busy schedule while tour along West Coast of the U.S. Terry discussed the band's new album, how the band got its start and other topics. If you haven't already, give their song "High and Dry" off their smashing new album "The Wanting" a listen.
What's the meaning behind the name "Red Wanting Blue?"
"When the band started in college, "Red Wanting Blue" just sounded like unwanted lyrics that couldn't make it into a song, but the reason why we stayed with it was because they are primary colors, and one can never be the other. Yet, they are in the condition to try and become one another anyway. As human beings, we believe in alchemy. We believe we can turn lead into gold, and a lot of times, despite our limitations, we are determined. I mean, we don't have the ability to fly, yet we made it to the moon. I feel like that resonates for struggling musicians who want to follow their dream, and everyone says that you can't do it or you'll never make it. We may know it might not work out, but we're going to try anyway, and that's the meaning of "Red Wanting Blue." It's going after what you're not supposed to be chasing, but doing it anyway. The new album was very intentionally called "The Wanting" for that purpose and for that sentiment.
Did the other members of the band help come up with the name, or was that primarily you?
"No, that was all me. I take full credit for that. The band has been around since 1996, and the youngest member of the band has been in for about 10 years. So, the name was very early on. Everybody in this band makes up what this band is, but years and years ago when you're first starting to figure things out, you just kind of throw a band together. You meet a drummer and you're like "Oh really? You play drums? Well, I want to sing and I need a drummer so let's start a band." There wasn't a big process, but this is when I wanted to start doing this for real. The band took awhile to form; it takes awhile to form that family. But, that's why I get to take exclusive credit for the name because that was at the beginning of it all.
How did you meet the other band members?
"I met Mark in college. He went to Ohio State University and I went to Ohio University. We used to be in different bands but played in the same show when we were first starting. We got to know each other, and I remember us coordinating how we were leaving college and moving up to Columbus because it was the perfect area to call home for a band. Greg is another guy where we shared a lot of shows together and he opened for us a lot over the years. As we started maturing as writers and added more instrumentation to the songs, it just seemed natural for us to work on a couple of songs together. Then it turned into us wanting him to be in the band versus opening for us. People often take for granted how difficult it is to grow musically together. To be able to find people who are all on the same page, and continue to grow and stay on that same page is difficult and we are very lucky. We had other guitar players that didn't work out, and that happens. But, we were able to find Eric and he's now been in the band for over ten years. And then, the drummer was the hardest to find because they were in so many other bands. We would hang out with Dean, and he'd show up to one of our shows, and we all got along so well. Ultimately, we all decided that we would be a good fit for each other. Dean would say that's when all the good stuff happened. He thinks the gravy started rolling when he joined."
When did you first know you wanted to do this as a career?
"I've been singing my whole life, so it's always been something that I've done. Even as a little kid. I went to school and studied performance for theatre and acting, which is what brought me to Ohio. Somewhere along the way I realized my goal was to always study theatre and study acting, but I'm also going to start a band. And by the end of my college years, I figured that whether you're in a band or you're an actor pounding the pavement, you're sort of on your own. I just figured I'd really enjoy the creativity and originality of being able to write my own songs and doing everything my way as opposed to being an actor. To me, as much as I love it, there's something about music that was stronger. As soon as I could graduate and finish school, which was important to all of us, we wanted to see what would happen with this band. And that was almost 20 years ago."
What was the first instrument you wanted play?
"I played around the piano a bit when I was a kid, but it never really stuck. The instrument I had a romance with over the years has been the baritone ukulele. It's like a cushion with writing music and it's a good tool for me. It speaks to me. It's simple and it's small. If you can write a song with something that simple, you know it's going to be a good one. I started doing that about fifteen years ago. When I was originally with the band, I didn't play much. I just used it as a tool to write music and continue to grow as a writer. It's a small instrument, so I felt silly playing it on stage. But over the years, as the music matured, we needed to hear something more rhythmic in the string department. Strangely, that little instrument has helped define my personality on stage. Go figure. It's become a part of our band and it helped evolve our sound in the song writing department."
How would you describe your music in just three words?
"Heartland rock and roll."
"Ulysses" talks a lot about what you would do for love, but what would you yourself do for love?
"This is a tough one. It depends on the love, there's many different types. You can be talking about your love for your art, your love for your family, your love for your significant other. The song is showing that there is a line between what is rational and what is appropriate. There's a difference between right and wrong, and all of the rules get thrown out the window when it comes to love. That ties into the "The Wanting." That's why the record touches on not just a romantic love, but what drives you as a human being if you continue to create, move on and keep breathing. If there is a will, there is a wanting. We will chase it. There are moments where you question "I don't care that it's wrong, I will do it anyway if it means I can get closer to what I want." As far as me and my limit, I haven't done enough. I would do more. I would lead to the darker places more if I had to. There's very little that I wouldn't do. If you know what you want, fight for it."
With this new album, what were you trying to do differently, if at all? What message were you trying to put out there? 
"Yeah, we have historically been a traveling road band for the greater part of our career. We thought we've been together twenty years, and we really wanted to break away from some of the habituals we have from making previous records. We wanted to take the time to properly workshop stuff because we wanted to turn the corner on that part of our career and start a new chapter. The record has a maturity to it and there is an energy that is very different from our previous one. It's the most expressive record we have. I think a lot of our fans can tell that there is a difference and there has been a change in a great way. And that's what we wanted, we wanted to evolve. We're always evolving. Besides, no one wants to write the same record twice."
What is the favorite spot to perform? 
"We've all got our special spots. Some of them may not have the greatest rooms, but they have amazing crowds that give off good energy.  We love Northeast Ohio because it's where we are from. We love Cleveland, we love the midwest. We love getting out west, our heart always feels full when we are running around. We love being able to play on the west coast and it's always very special. Every show is a special pleasure to play. My personal favorite is the Bowery Ballroom in New York City. When we first played that room it was really exciting for us."
Later on, Terry and I talked a bit about our favorite shows to binge. When he finds the time, he likes to watch Pounds for Pounds, Arrested Development, Parks and Recreation, and The Office. It's nice to know famous road bands are real people like us who also enjoy binge watching every episode of The Office on Netflix.
Scott Terry, along with the rest of his band, are down-to-earth people who have a dedication to their fans and their music. As Terry said, whether they take steps forward or backward, Red Wanting Blue is going to continue to do what they love most: create music.
Red Wanting Blue is performing at Blueberry Hill in the Duck Room at 8 p.m. on Thursday, May 31st.