Interview: Ron Jeremy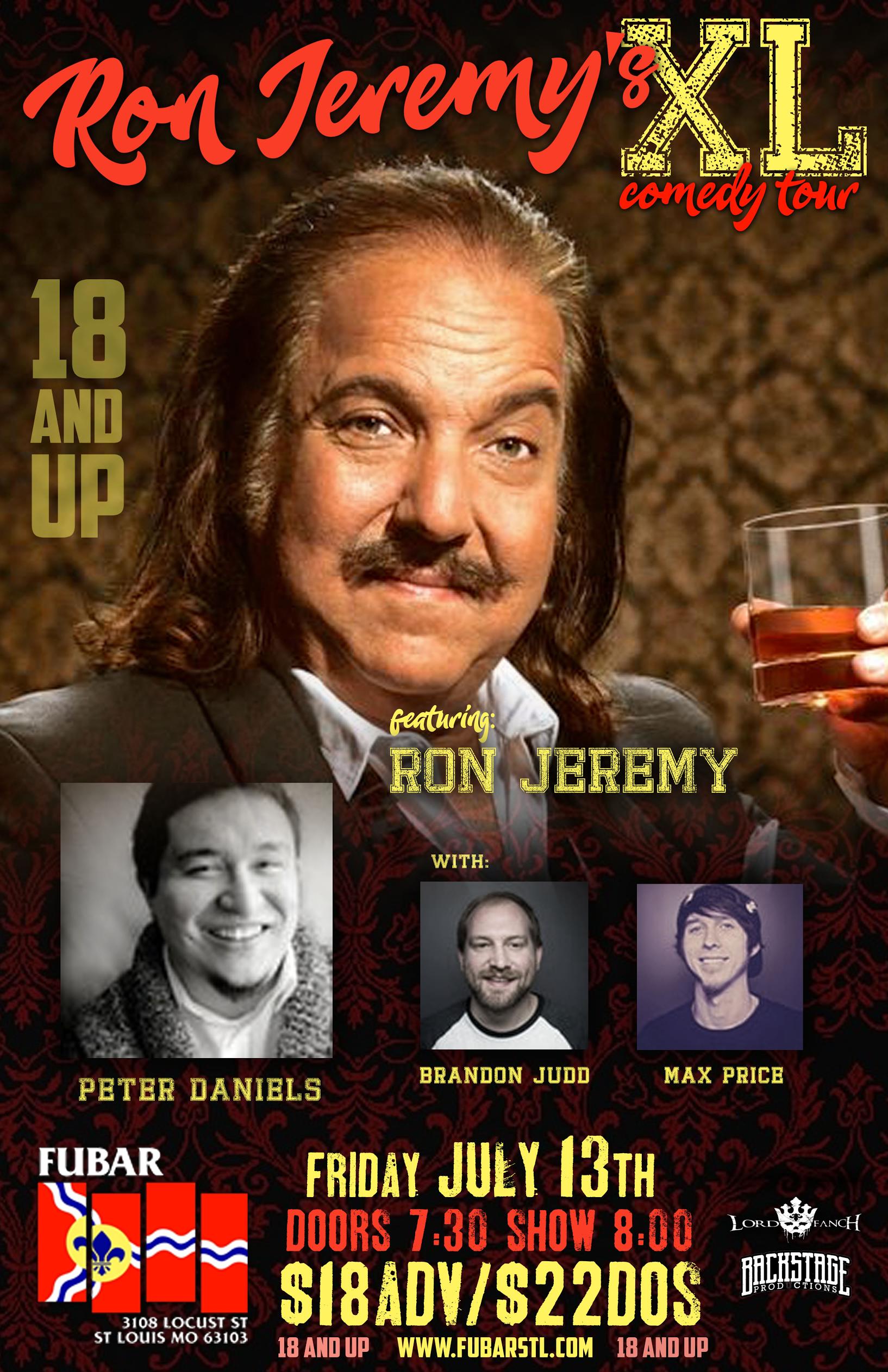 Former Adult Film Star Ron Jeremy will be appearing at Fubar on Friday night as the host of his XL Comedy Tour. Jeremy is without a doubt the most recognizable name of the Adult Film Industry, having appeared in well over 2,000 films. Besides being a legendary adult film star, Jeremy has appeared in mainstream films, television shows, music videos and even written his own biography.
Jeremy spoke highly of St. Louis when he took time out of his busy schedule to talk to ReviewStl's Jeremy Housewright.
"I've had a lot of fun in St. Louis," Jeremy said. "I had a very good friend who is now passed away, who owned a company, Very Intimate Playthings (VIP). We went to Blueberry Hill and I got to meet the man himself, Chuck Berry."
Jeremy also spoke of making commercials here in St. Louis.
"We had a funny experience making commercials for St. Louis," he said. "Becky, Queen of Carpets got really mad and said we were committing plagiarism and half the people I worked with couldn't spell plagiarism. I was like honey relax, we're giving you a bigger audience."
Jeremy re-enacted the well-known carpet commercial by sitting on the carpet similar to what Becky would do in her commercials.
"It was really kind of cute," he said."She got annoyed, so we stopped it. It was satire. People love to be satirized. People get a whole new audience."
As far as Jeremy's XL Comedy Tour goes, he will be joined by Peter Daniels, Brandon Judd, and Max Price on Friday night at Fubar.
"We're going to have fun," Jeremy said. "The Q&A at the end, people really like a lot. All these questions that people ever had about Adult."
Jeremy has been performing stand-up for a number of years, as he got his start when he worked as a waiter in the Catskill Mountains of New York.
"A lot of Jewish boys worked as waiters to make extra money," Jeremy said. "That's where Woodstock was in 1969. I was there for like half an hour. I got to hear Jefferson Airplane and went back to work."
Jeremy was bit by the comedy bug while watching other comedians perform.
"These were mostly Jewish comedians with their schtick," he said. "They were funny, funny as hell."
Jackie Mason, Jackie Gayle, Dom Deluise and Rodney Dangerfield were just a few of the comedians that Jeremy mentioned having seen perform.
"I loved watching these guys," Jeremy said. "So, I started doing a little bit of it myself. It worked out alright, but then I quit to go back to New York to do theatre, continue my Master's Degree in Special Ed, and then I went on to California and did that and then started doing some adult movies. The rest is hysterectomy."
Most people may not realize that Jeremy received his Master's in Special Education.
"I was teaching handicapped kids," he said. "It was rewarding. It was so many years ago that autism wasn't even called autism. It was called child hood schizophrenia."
As far as Jeremy's favorite comedian, he acknowledged the late Sam Kinison.
"We were very good friends," he said. "I thought he was so creative. He changed his act so many times. He was brilliant."
When it comes to inspiration for material, Jeremy said he doesn't have to look very far.
"My life," he said. "My life has been such a crazy, haphazard thing."
Jeremy will undoubtedly talk about his life among other topics on Friday night at Fubar.
Tickets are still available for Ron Jeremy's XL Comedy Tour at Fubar. The event will start at 8 p.m. on Friday night. For ticket information visit Fubarstl.com or etix.com.