Interview: Rikki Rockett of Poison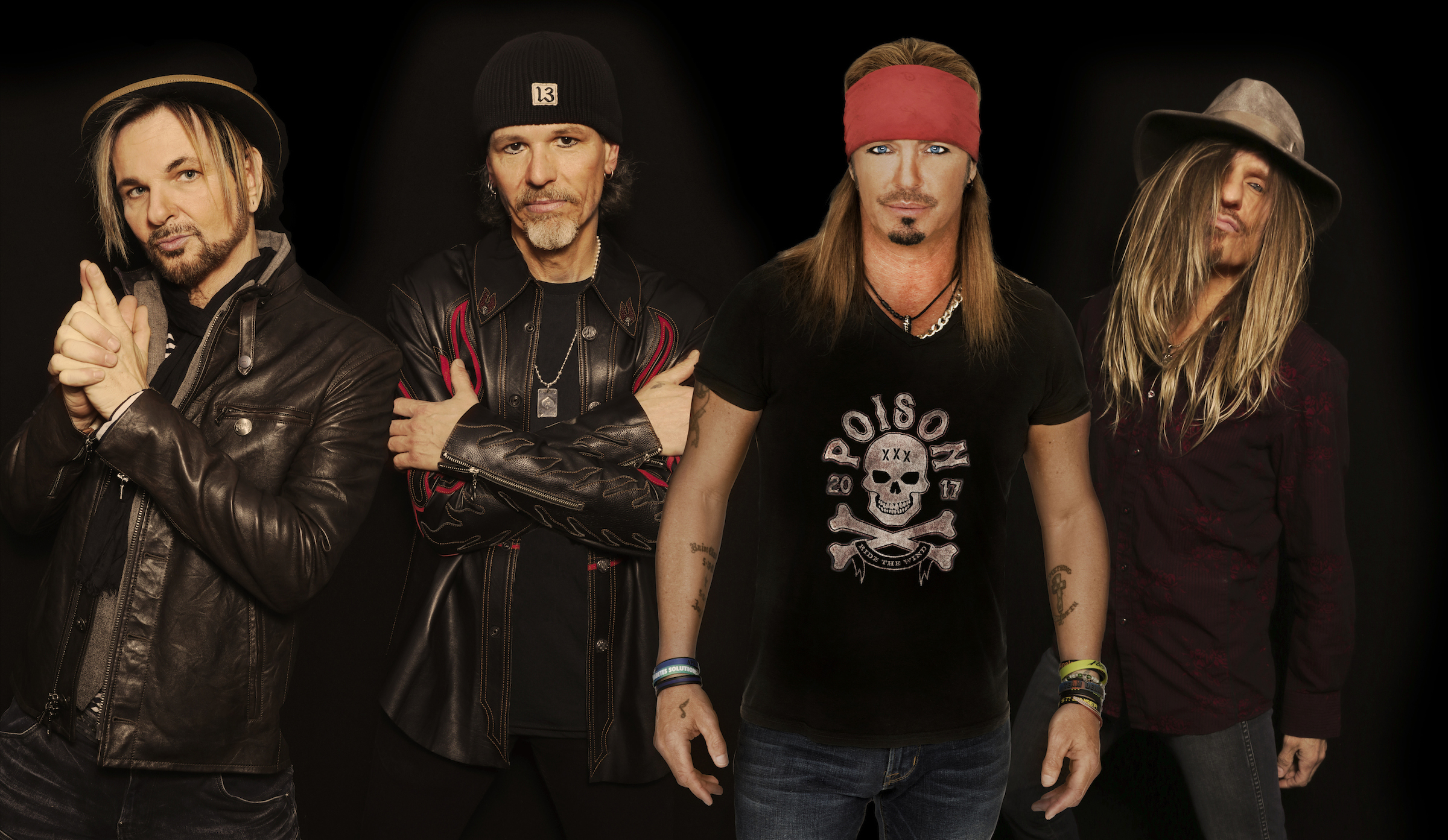 From songs such as "Every Rose Has Its Thorn," to "Unskinny Bop," Poison made a name for itself in the 80s cranking out not just rock party anthems, but ballads that are still popular today. With charismatic frontman Bret Michaels and popular guitarist CC DeVille, along with drummer Rikki Rockett and pianist Bobby Dall the group sold out tours all throughout the 80s and 90s. Now in their 50s, the group is touring once again, still filling large venues with thousands of fans. Rockett recently took some time to speak to ReviewSTL's Jeremy Housewright on his battle with cancer and his hope that the band will be able to eventually be able to release some new music for the first time since 2002.
Rockett was diagnosed with oral cancer in 2015, leaving him with some tough choices of surgery, which could have left him unable to speak, chemotherapy which would only have bought him some time, or to try a relatively new treatment called Immunotherapy. Rockett chose to go with Immunotherapy. Now,3 years later, the Poison drummer is cancer free.
"It was quite the journey," Rockett said. "I try to focus on what I had and helping people with that. People come up to me and talk about all types of cancer. I don't know about how all of the others manifest, but I try to help them with what I had."
Rockett said having battled a life threatening disease and came out on the winning end has had an impact on his life.
"I think it both helped and hurt in some ways," he said. "Of course I appreciate things more and stuff. The only thing is the it made me a little less patient because I know we are all on limited time. We all have an expiration date and that goes for anybody. It makes you just cease the moment more. But when you seize the moment more, you have a little less patience with people."
After a 5 year hiatus, Poison reunited in 2017 for a tour with Def Leppard. Rockett said the timing just seemed right for Poison to get back together.
"We're always kind of looking for opportunities that make sense," he said. "At this point in our career, we want to work smarter, not harder. I think the opportunity presented itself and we thought it made sense to go out and tour with guys who we enjoy."
On a recent podcast with comedian Joey Diaz, Rockett revealed that the band's name was not originally Poison, but Paris.
"It just didn't have enough of an edge to it," Rockett laughingly said.
With hits such as "Nothin' But a Good Time," and "Talk Dirty to Me," Poison became a fixture on the rock scene of the 80s. I asked Rockett that if the songs still had the same meaning for the band now that the guys are in their 50s.
"It does," he said. "Although, sometimes you forget the meaning when you're just singing the words. Sometimes you'll just reflect and think about that. A lot of that was projection. If you think about "Nothin' But a Good Time," it's about being in a bad place and seizing the day. That's what "Nothin' But a Good Time's" about. It's about a guy who couldn't pay the rent and we couldn't back then. We were touring with a contract, but we hadn't made any money to that point."
The band has not released any new music since 2002, but Rockett hasn't closed the door on the potential of a new Poison track sometime down the road.
"I sure hope so," he said. "I don't have an announcement to make right now, but I think we could do something else, at least a song. I don't know if an album makes sense now with the way we download."
Another question I asked Rockett was about the music industry as a whole, and if he thinks it has changed for better or worse since the band first signed a contract in the 80s.
"That's a good question," he said. "I think is some ways it's changed for the better. A girl in Wisconsin can grab a guitar and play on YouTube and no one can stop her. On the other hand, I think it makes music more dispensable. I think it's taken for granted. We're in the Wild West of electronic delivery right now and it's pretty interesting. It's all right in front of us now."
Rockett also talked about how important social media has become.
"There was a poll recently where some students were asked if they would rather give up their iPod or SnapChat and more of them said they'd rather give up their iPod," he said. "That's kind of scary! That put's things in perspective."
While times have certainly changed, Rockett pointed out that there is still a clamoring for bands with classic sounds.
"You've seen it cause I know you've covered this band, The Struts and then a band like Gretta Van Fleet and you can see it that there's this craving for a more organic music again," he said. "That's awesome too."
Rockett said that he has listened to some of Gretta Van Fleet, but ultimately is a classic rock junkie.
"I can't help it, all the 70s stuff I grew up with," he said. "I thought that was such an exiting time and I think this is such an exciting time too. Now, things are changing again. I just hope it stays creative, fun and original."
Fans of Poison may recall a number of the band's music videos usually started with a scene before the music started. I asked Rockett if this was done to show the band's creative side.
"It was a scene from our last video going into the new one," Rockett said. "I always thought that was pretty cool," he said. It was like an establishing shot if you're a cinematographer."
Over the years the members of the band have taken time apart for various reasons, whether is being personal issues or frontman Brett Michaels' solo projects. While many of the issues the members have had with each other are well documented, I wanted to know if they have been put to rest now that the members are older.
"We still have tension, but it's personality differences," he said. "We've learned how to work together over the years. We don't work together as much as we did in the early days. If we had to do that, I don't know if we could because you get set in your ways."
Poison has had their critics over the years, but despite that, the band continues to fill venues all over the world.
"The songs just hold up and thank god for that," Rockett said. "I think people go to a concert to hear stuff they know. You come to see Poison and Cheap Trick and you hear a lot of hits."
Rockett's drum sound has always been a signature style of Poison. As soon as a music fan hears the opening drums on "Unskinny Bop," they immediately know the song.
"It's something I tried to do," he said. "I think my style is a bit different and it's noticeable. I love that people can identify that."
Having played St. Louis many times over the 30-plus years the band has been together, Rockett told a hilarious story about driving a scooter over Blanchette Memorial Bridge when the band was in town for a show. He got more than he bargained for, not being aware of how fast the other cars would be going.
"So, I got on a Vespa Scooter and was riding around the venue and I accidentally got on a roadway," he said. "I got on that bridge and it was horrifying. I had to turn around and come back across the bridge to get to an interview. In the interview some guy said that some asshole was on a scooter coming across the bridge!"
As far as Saturday's show with Cheap Trick, I asked Rockett what fans could expect from Poison this time around.
"You'll get all the hits," he said. "We have a completely different stage set up this year. We stuck with the old formula for a long time with how we done our show. I think you're really going to like it."
Finally, what is Rockett most proud of in 30-plus years of Poison being together?
"Just the legacy," he said. "We stuck it out. We've been around for 3 decades, that's pretty crazy."
Poison will perform at Hollywood Casino Amphitheatre this Saturday, May 26 along with Cheap Trick. Tickets are still available for the show by visiting LiveNation.com.