Interview: Rafe Williams is a Triple-Threat when it comes to Comedy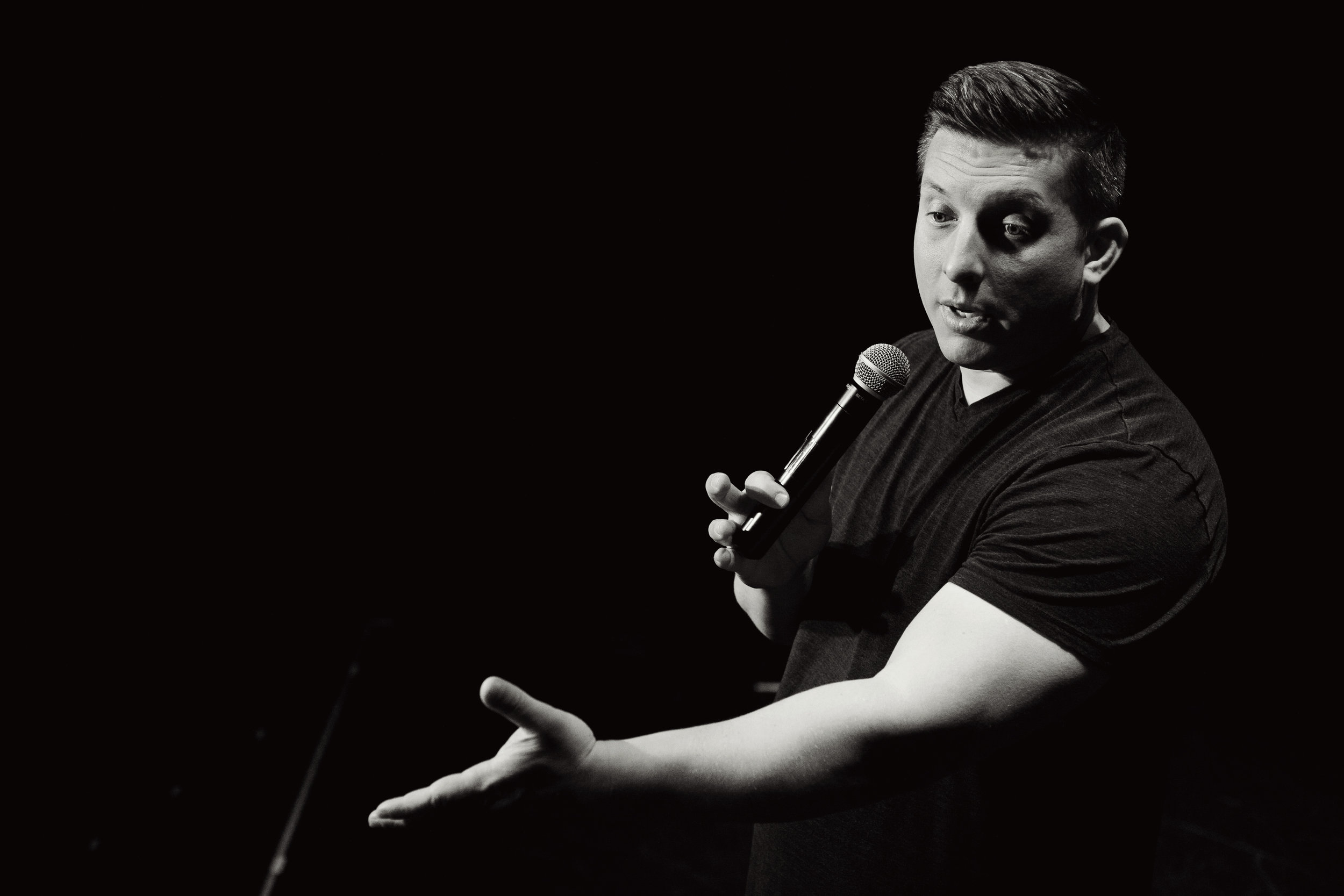 If you thought being added to the number one morning show in St. Louis might be a challenge, try filming, shopping, and preparing to release an hour long comedy special.
St. Louis' own Rafe WIlliams is doing just that. The stand-up comedian's first hour-long special will drop on Youtube on September 27.
"I filmed it probably over a year ago," Williams said. "Honestly, I just want people to see it. I'm kind of at a point in my career where I still need people to discover me."
So, along with his on-air duties and the upcoming Youtube special, WIlliams is also performing all new material at the end of the month at Funny Bone. You can call that a triple threat.
While Williams originally shot the special for Youtube, he shopped it around after finishing it. Netflix and Max both showed interest, but it eventually landed at Youtube.
For WIlliams, it made sense to call in some help from some friends in the comedy game. So he reached out to his friend Chelcie Lynn, also known to many as Trailer Trash Tammy, who offered to put it on her Youtube page.
"We were chatting one day and she said why don't I just put it on her Youtube because she has 1.5 millions subscribers," he said. "I didn't know that was an option, so she's going to put it on her Youtube as Trailer Trash Tammy presents sort of thing. She's one of the sweetest people in the world."
Williams said he chose to put the special out on a Wednesday so he could do a live premier.
"I will do a live premiere at 7 p.m. Central and be on the live chat," he said. "I can chat with people as they are watching if they want. She will be on too, which will help me out because a lot of her fans will hopefully be on to talk to her. It will help get eyes on the special."
By airing it on Youtube on Lynn's page, Williams is following a trend that seems to be gaining popularity among comedians. Greg Warren recently has his special on Nate Bargatze's Youtube page.
"It seems to be a growing trend," Williams said. "The industry is heading that way, where comics are becoming the gatekeepers for other comics. I almost feel like it's weirdly becoming the new norm."
By Lynn allowing Williams to put his special on his channel, it's a double win for Williams because he will also put it on his record label's Youtube page down the road.
"It's a win-win for me because I also have a record label with a pretty visible Youtube channel," the comedian said. "They said to put it on Chelcie's channel then when I think it's plateaued to put it on their channel and give it a second life. For me it's about getting eyes on it and not about making a ton of money off this one. Future fans are more important to me."
Williams said he has tempered his expectations as far as how many views he hopes for the special to receive.
"The algorithm is what it is," he said. "I think I have an advantage because she has like 1.5 millions subscribers, so if I can get 10% of her audience to watch it, that would be like 150,000 views. If I can bring another 50 to 100,000 from my other outlets like the Rizzuto Show and my fans, and I do my due diligence cutting it up and putting it on Instagram reels to drive people to it, a 100,000 would feel like a win. Anything over that would be a huge win. But, if it gets 4,000 views, I'm not going to jump off a bridge."
Williams said the special means a lot to him because it ecompasses 8 to 10 years of his life.
"I want people to see this because I'm proud of it," he said. "It's going to be an effort of her helping me out and me calling in favors to the comics I know. I'm kind of taking a guerilla warfare approach. I'm going to come at this from every angle I have."
Being a standup comedian and part of the Rizzuto Show puts Williams in an interesting position as the show often has comedians on to promote their shows in St. Louis. This gives him a chance to talk shop sometimes when off the air.
"We had Marc (Maron) on today and we talked comedy off the air a little bit," he said. "He said he could recognize I was a comic when I was dropping some jokes when we were on air. We just talked about sobriety and life shit."
WIlliams said he will sometimes get asked to drop by a visiting comedian's set and do a guest spot.
"That's always nice," the comedian said. "We are kind of a small tribe. I would say that's a perk of the job, getting to meet people I admire."
Being a stand-up comedian means keeping late hours and traveling quite a bit, which isn't always conducive to the schedule of a morning radio show.
"Your whole circadian rhythm is to be up at night and not getting up at 4 a.m.," he said.
Speaking of the Rizzuto Show, Williams admitted he has had to learn how to dial it back at times.
"Everyone on the show is funny in their own way," Williams said. "I have to remember it's the Rizzuto Show and he's the host and we have to keep it moving. I've done a lot of improv, and podcasts and radio are a lot more like improv than stand-up."
The comedian said his job is to make everyone in the room look good.
"I want everyone to get their flowers and for everybody to shine," says Williams. "I don't ever want to steamroll. I trust my co hosts, they are all pros and have great things to add to discussions and I am happy to lay back and throw a targeted joke laser in occasionally. I want it to feel like it's a collaborative thing and we are all having fun. Because, if we're all having fun, then I think that comes through the airwaves and the people listening will be having fun."
Since joining the show, Williams admits his popularity has risen.
"I feel like I walked onto the Yankees," he said. "The Rizzuto Show has such a huge following in St. Louis. You kind of become like overnight St. Louis-famous. I've worked with some who I would consider pretty famous, and a lot of people in St. Louis are far more impressed that I'm a member of the Rizzuto Show than any other part of my body of work, which is pretty cool."
Williams said the show is a St. Louis institution.
"I try to treat it that way and have a ton of respect for what was built before me and who helped build it" he said. "They were always good to me when I was a guest. I feel like I'm hanging out with my friends everyday. I love it man. I feel like we're gelling together. We have a lot of fun."
Because of the following Williams has gained due to his role on the show, his shows at the Funny Bone-Westport at the end of the month have been selling quite well.
"I've already sold more tickets than I sold the last time I did it, by a lot," Williams said. "A lot of that is that Rizz Show bump."
Williams will be performing an entire new hour of material on Sept. 28-30 at the Funny Bone-Westport.
"Even if you watch the special on the 27th, this will be all new material that I've been working on for a year," he said. "I'm excited about it. I think it's going to be as good or better than the special."
Williams said he will have some surprise guests, including possible secret sets from cast members of the Rizzuto Show.
Tickets are available for the shows at www.stlouisfunnybone.com.
WIlliams will perform a show at 7:30 p.m. Thursday, along with 7:30 p.m. and 9:30 p.m. shows on Friday and Saturday.
If you're looking to get your fix of WIlliams' comedic chops before the special or his standup set at Funny Bone-Westport, check him out every morning on The Rizzuto Show on 105.7 The Point, where he does a hysterical E-Memoriam segment each Friday. Williams has also started a new show on Youtube called The #2 Show, which is equally hilarious. The Youtube show gives him a little more freedom from the FCC, which is nice for any standup comedian.
"The loudest voices are always the trolls and I wanted to address them," Williams said. "So, I asked Rizz if I could do something similar to an In Memoriam segment that you see on the Oscars. It transformed from not just roasting the trolls but everyone because we get emails from people who disagree with our opinion on something. It's a very tongue and cheek way to respond to trolls and people who disagree with us. It seems to be very popular and people like it.
I wanted to come in and contribute. That was the big thing we talked about. Rizz really wanted to elevate the comedy a bit and he wanted me to bring my personality into the room. Being able to contribute and create my own thing on the show has been really special."
With The #2 Show, Williams said that the station had so many assets to use.
"We weren't doing a lot of video, so we wanted to create a video component that was funny," he said. "We spit-balled the idea of what's a fun take on a talk show. So, I thought, what if we did a talk show for people taking a shit. We built a set that looks like a toilet and it's me on the shitter talking."
Williams tries to do a couple shows per week and usually tries to take topics from the show.
"Sometimes we touch on topics that were funny and I wish we would have explored that deeper," he said. "I'll take something that tickles my fancy and I'll go do a deep dive."
Williams said his ultimate goal is to keep the Rizz Show growing.
"The goal of the show is to grow the Rizz Show audience," the comedian said. "Maybe someone who is on Youtube will find The #2 Show and tune into the Rizz Show. That's the goal anyway."
Remember to catch Williams' new special on Youtube at 7 p.m. on Wednesday, Sept. 27 and check out his standup in person Sept. 28-30 at Funny Bone-Westport.
To be able to see Williams' special on Chelcie Lynn's Youtube page, visit the following site, https://www.youtube.com/@ChelcieLynn.