Interview: Lawrence Gowan of Styx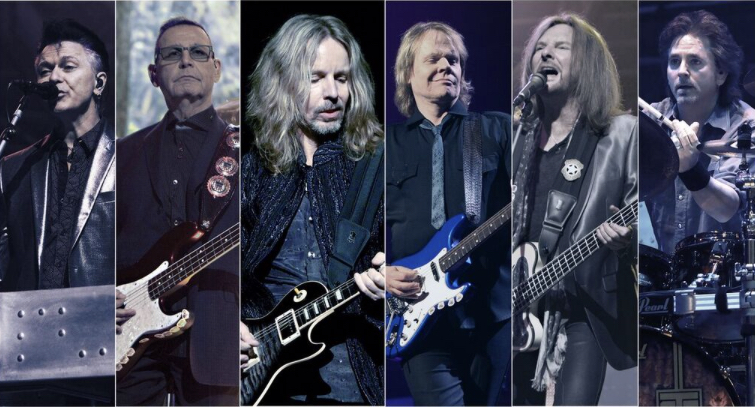 Styx is on for another year of touring, and this time the band will be making their stop in Washington MO to promote their renewed issue of their album "The Mission." This new edition of the album includes a more behind-the-scenes look at the making of the album, the story behind it, and visualizations that were created for each song. Fans are also granted access to four music videos, and a copy of the original album with a Blu-ray CD that includes a mix of "The Mission" in 5.1 surround sound. Fans reacted rather positively to this new edition of this beloved record, but what I wanted to find out from Lawrence Gowan, whom I had the pleasure of speaking with last summer, was how the band is taking in all of the positivity from both the original Styx fans, and the new.
Last summer, I had the opportunity to see Styx tour with Tesla and Joan Jett at Hollywood Casino Amphitheater. As I observed the atmosphere around me, I noticed the huge variety in age groups. Some were young, others old. Some were children accompanied by adults, some were in their mid-twenties surrounded by the company of others closer to their age. In modern times, we see concert goers pulling out their phones and using them as lights, whereas in the olden days, fans were pulling out their lighters. But at this particular concert, I saw a mix of both. I asked Lawrence how it feels to see new and familiar faces in the crowd, his opinion on age discrimination in the music world, and how the band intends on keeping the youth coming. Here's what he had to say about it:
"About fifteen years ago, I began to notice an increasing number of parents who were now bringing their kids to our shows. Then, maybe three years later, I began to notice large sections of the audience that were younger people (under thirty) who were singing all of the words to our songs, unaccompanied by adults. That percentage of people began to consistently increase. I'm in the mindset that these kids didn't all discover us through their parents, but through the internet and the music services that are now out there (Spotify, Apple Music, etc.). People are continuing to discover old rock music because they can still relate to it, personalize the songs, and they feel concurrent with that vibe. I shouldn't have been so surprised by the growing numbers in our younger fans, but we were."
Modern-day technology allows people to access music in an instant, which allows easy discovery of new genres of music and artists. But as technology grows and changes, so does music. Modern-day rock music is significantly different compared to the generation of rock Styx is associated with. Since they are attracting many younger fans, I wondered if the band was making an effort to incorporate more modern sounding styles into their new music, or if they were just sticking with the good-ole classic sound.
"We don't really pursue anything that is, by its nature, "modern." In fact, I believe it's the newer bands that are leaning to the more classic rock feel. For example, Muse, is a band that I like because I see a lot of connection to what they are doing. They are lyrically adventurous and fresh, but very much tied to a lot of very classic-rock sound. They put a modern twist on it.  When we went to make "The Mission," we made a firm decision to move toward everything that had to with that classic-rock era and how these records were made."
I was interested to see how exactly Styx was going to create a classic-rock record exactly how they were made back in their era, so I had Lawrence break it down for us.
"Move number one was to acknowledge that digital technology did not exist in our era, therefore, let's put that aside. We only used it toward the end of the record when it was convenient for editing and what not. Instead, we used the crunchy, old two-inch tape machines, sit in a studio together, and get that human touch that really comes from being close confined. Act and think like a band, and through this process have something with a lot of character to it emerge."
What's important to note here is how Styx really stuck to their old-time roots in the creating of "The Mission." Perhaps that is why it's so successful. Styx didn't change a single thing about their style of music, and their approach in creating a record stayed the same as well. This is what makes Styx such an admirable rock-band. Our times in music may have changed, but Styx has not in terms of style and consistency.
Not only do I believe "The Mission" is an interesting piece of work because of how it was created, as well as it's overall sound, but I believe the story behind it is humorous yet unbelievably mind-blowing. "The Mission" is a concept album, which means it was made to listen to in order from start to finish as it tells a story. Though most concept albums are open to interpretation by the listener, they all have a distinct story within them. The story in which Styx chose to tell had to do with Pluto's fifth moon being named after the band. Yes, Pluto has a fifth moon. In 2015, NASA invited Styx to witness the arrival of a spacecraft called "New Horizons" that left earth in 2006 to the planet Pluto. Mark Showalter, whose name appears on "The Mission," discovered the fifth moon orbiting Pluto. He was given the opportunity to name the moon, and he chose to name it Styx.
According to Lawrence, "Tommy took a keen interest in space after that, and he then created "Mission to Mars", which is the last song on the album. Our producer created the song "Locomotive" shortly after, and we noticed these two songs had similar meaning and style. I mentioned as songs began to develop that we should keep moving in this direction. We focus on the human interactions between the crew, not just the cool space stuff associated with it. That's where people can really personalize our songs. They can easily come up with an ultimate meaning that applies to their own life, even if we're singing about space."
The discovery of a fifth moon orbiting Pluto is ultimately what allowed Styx to formulate such a remarkable come-back album for the band. Kind of humorous, kind of amazing.
Looking forward to their live performances, Lawrence mentioned that Chuck will be making a few appearances on the tour, so look forward to possibly seeing him live. Additionally, look forward to old classic songs like "Renegade" and "Come Sail Away", along with newer songs from "The Mission." As popular as Styx's newest album is, the band wants to focus on delivering the old classics everyone has come to know and love. "Mr. Robot" was performed for the first time ever live with the whole band last year, and you should look forward to hearing it in the encore this year. Due to the positive reaction from fans last year, the band thought it would be almost silly not to keep it in the setlist. I couldn't agree more.
Styx will be arriving in Washington MO on August 10th. Come by, enjoy the music, and reminisce on the good old days of Styx and their legendary rock music.