Interview: Jill-Christine Wiley On Maria and 'The Sound of Music' Returning to St. Louis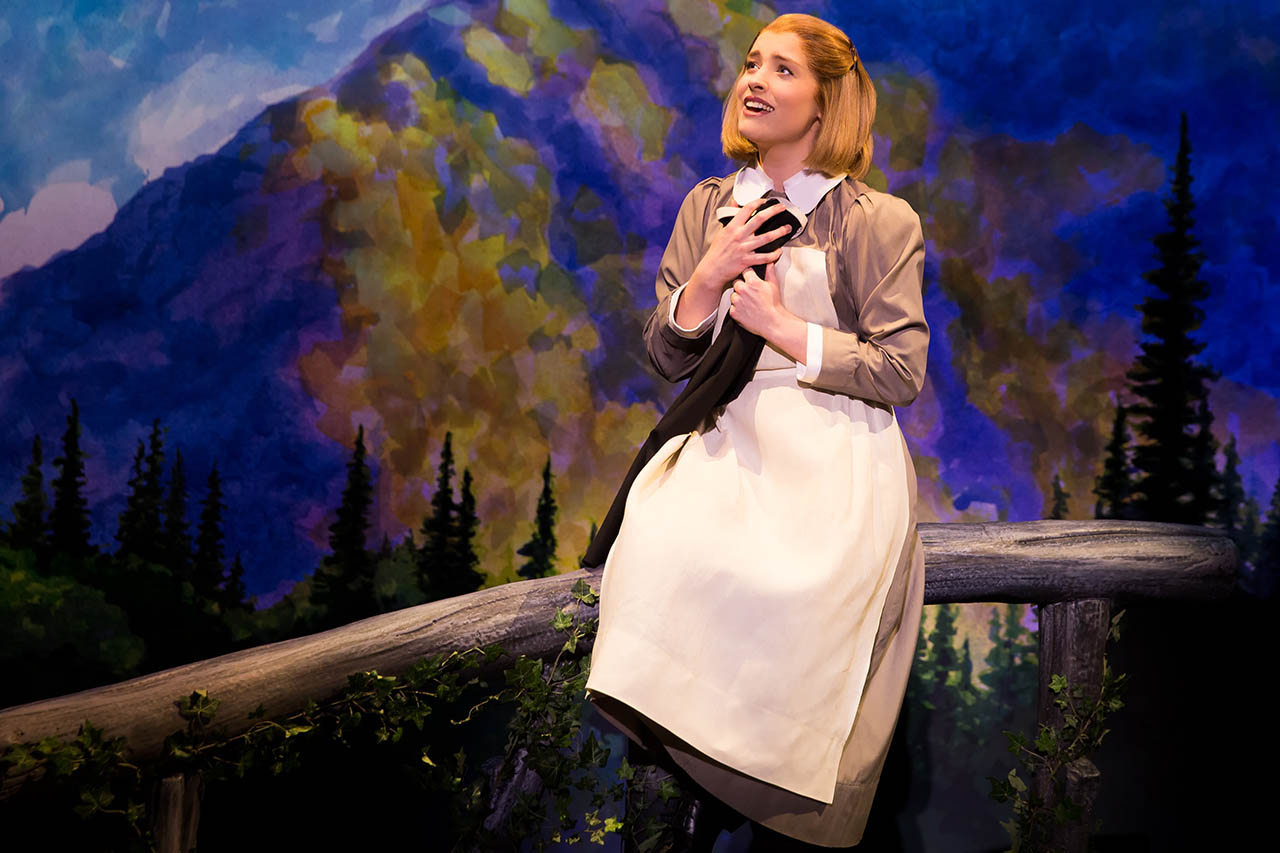 The Sound of Music returns to St. Louis on March 30 at Stifel Theatre!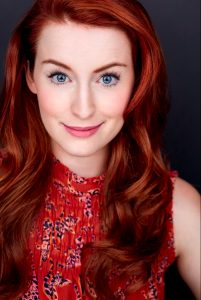 Returning along with the show is Jill-Christine Wiley, who once again stars as the incredible Maria.
"We love St. Louis, and we're very excited to be coming back! It's my second year, and it's been such an exciting adventure, to say the least. Even though it's year two, it still feels fresh every night and we're making new discoveries. It's been a dream show to be a part of the last two years of my life."
Based on the memoir of Maria von Trapp ("The Story of the Trapp Family Singers"), The Sound of Music has delighted audiences for going on sixty years since it first opened on Broadway in 1959.
"What an amazing ride for such an iconic piece of musical theatre.  Talk about timeless, it is such a relevant show in our history. We have families who come see the show, and say hello at the stage door afterward, who have the original Broadway record in their house – or perhaps a family member saw the show when it premiered on Broadway. Of course, we have a lot of movie fans who come to see the show as well. It's such a generational piece. People say they saw it in the movie theater, or on Broadway, and now we're bringing our children and our grandchildren. It's their first introduction to musical theater, or perhaps Rogers and Hammerstein and The Sound of Music. It's such a great introduction to musical theatre, and I think it really sets the bar high. I really think it's a very important and relevant piece today, sixty years later."
Wiley experienced the show at a very young age, and it has been a part of her life ever since.
"There are so many different aspects to the story. I actually grew up with the show – it's been a piece of musical theatre that circled back into my life many a time. It was the very first musical experience that I ever had. I actually saw a live stage version before the film when I was a young child. I played Marta in a community theatre production and later circled back in a regional production to understudying Liesl in the female ensemble. So growing up with The Sound of Music, I've seen the show from many different aspects. From the viewpoints of a child, singing the songs and being a part of this big family and the dance numbers – to a teen, with the curiosity of falling in love for the first time ("Sixteen Going on Seventeen"). And now playing Maria, really kind of in your face with these political aspects and how serious they truly were. Obviously, there's this iconic moment where the giant Nazi flag drops behind us at the concert, and the hairs on the back of your neck go up. It's really effective."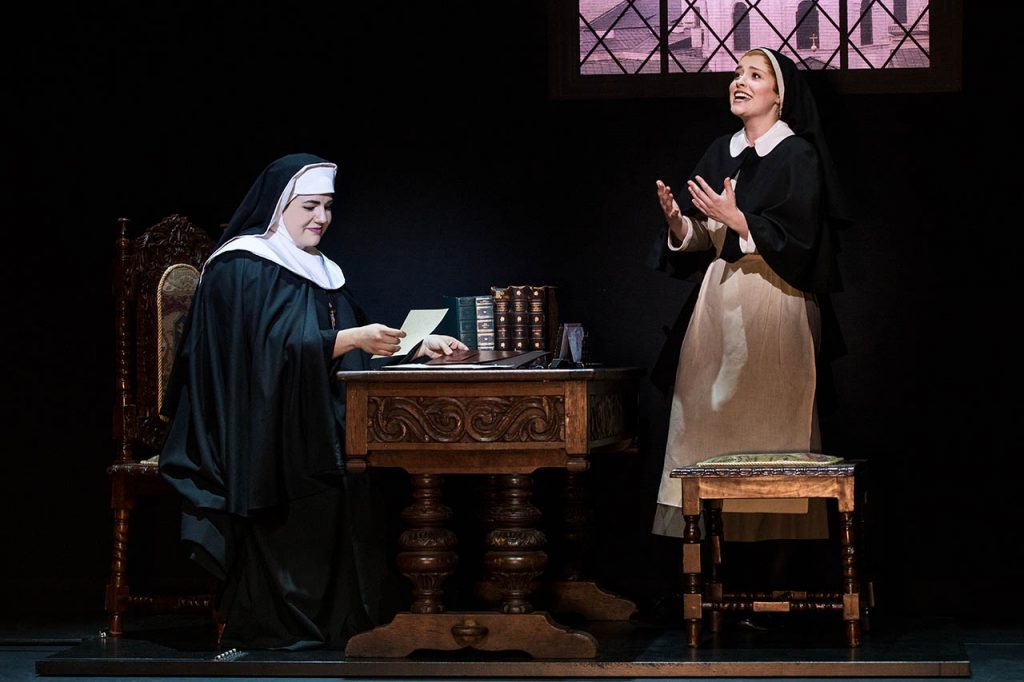 Late last year, LaGuardia High School in New York (known as the FAME school) made headlines when it was reported that they were removing Nazi symbols from their production of the musical. But true to the original show, they show up in this tour and for an important reason.
"They are there, and in your face. And they make a big old statement to the audience. And when we're escaping, we have stormtroopers coming on stage with flashlights searching through the Nazi banners. It's pretty dark and spooky, and they kabuki drop and pull them off-stage – and it reveals the abbey. So it goes from this effective, loud and in your face moment to a very holy and spiritual place of calm. Rogers and Hammerstein are so captivating and incredibly smart. I'm still making discoveries in this music. But how it transitions from this very sharp and direct, loud, heart racing music into this beautiful, meditative orchestration when we get to the abbey. It's a 180, and it gives you some chills for sure."
On whether or not these symbols should be removed, the actors says,
"To each their own. But in my opinion, what a great discussion and way to start a conversation for our younger generations. They say history repeats itself, and when you have a child go, 'wait, I'm seeing this giant red banner and I don't know what this means, but I'm getting the sense that it's not a good thing,' it really can spark that conversation. And it's something we need to keep talking about as history repeats itself. It's so relevant, and what an important time in history to make sure we still discuss it with our children."
Although there have been countless iconic portrayals of Maria, Wiley has worked hard to make the role her own.
"I still remember the young teenage girl in the high school production where I first saw The Sound of Music, and how I had to give her a rose. I was completely star struck as a kindergartener when I met her after the show. Then watching Julie Andrews in the film, and then discovering who Julie Andrews was in so many other roles she has played in her career. And of course Mary Martin. But my source of inspiration comes from the real Maria von Trapp. I really wanted to know her, and know what it was like to be in her shoes. I read her autobiography, and I actually had the opportunity to visit Salzburg in-between these two years. I got to go stay at the real von Trapp villa, which is now a bed and breakfast. So talk about immersing yourself in the culture, and history of it, and being where these things actually happened. And of course the musical and the film switched a few things around to make it animated, and for a great story. But I really wanted to be a truth teller, and not only a storyteller up on stage. Because this is real, it did happen. And our creative team has been incredibly supportive and given such great guidance in shaping Maria to be who we want the audience to see eight times a week. And as an actor, the best version that I can bring to this role. I am one of three ladies who has played this role on the tour, and to step in their shadows and to follow in their footsteps is quite an honor. And so many iconic women to have played this role – the creatives really encourage me to make it my own, and to find this journey on my own."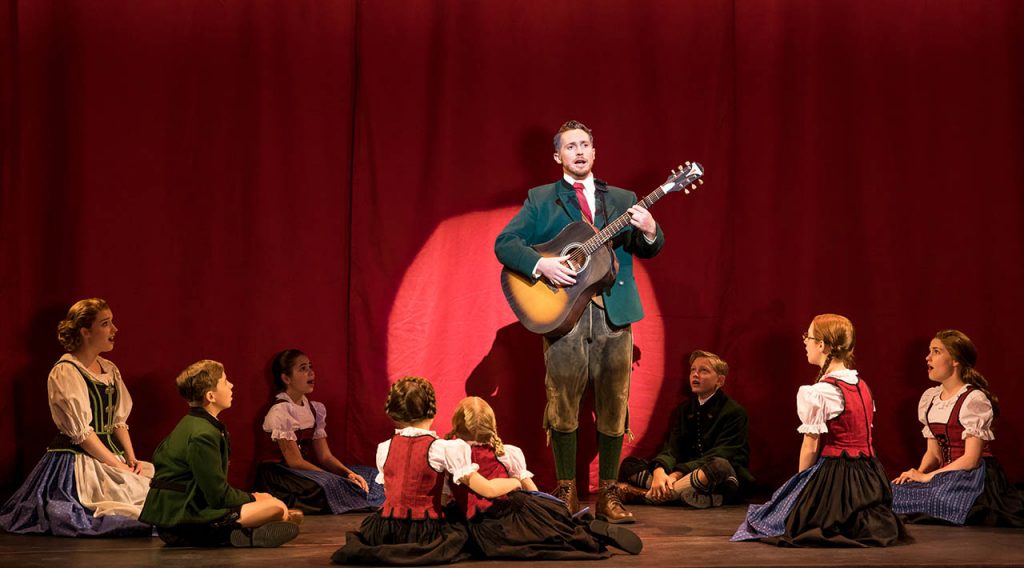 Sometimes she even hears audience members comparing her portrayal to someone else's. But at the end of the day, her goal isn't to emulate another actor.
"I'm not trying to replicate what someone else has done, nor would I ever want to. I always take it as a big old compliment when someone says 'she made this her own, it's very original and not what you may expect.'  I'm filled with gratitude for those who come before me, and honored to be in such a place in my life in my twenties – getting to be able to tell this story, and to be a truth teller eight times a week."
Audiences will see the show that they know and love, but there may still be some surprises after all these years.
"There are additional songs that were in the original Broadway production that were cut from the film. I think it kind of activates and alerts the audience to sit on the edge of their seat a bit more. You tend to sit back when it's all songs that you know and love, and you enjoy them but maybe don't listen as closely because you are swept up in the memory of them. But we have songs that appear in different orders. The audience, right off the bat at the beginning of the show, hears the Mother Abbess and Maria singing harmonies and belting out high notes to 'My Favorite Things' (instead of Maria and the children). I think it really draws the audience in."
And what is it that makes Maria so special to Wiley?
"She's so human. Talk about leading with your heart – and she may put her foot in her mouth from time to time – but she's so truly human. In which case, everyone can relate to her in one way or another. Whether it's a young woman trying to find her place in this world, or becoming a mother or falling in love for the first time. Or going through the scares that life can sometimes offer you, and things that can hit you hard. She continues to lead with her heart, and getting to step in her shoes eight times a week – she makes me the best version of myself. It's constantly putting me in the best of mindsets to lead with my heart, and be a humble human. I think what makes her special is she just is who she is. She's unapologetically who she is, and it's with the purest of intentions and best of heart."
Although choosing a favorite song would be as hard as choosing her favorite von Trapp child, Wiley says she has one that she especially loves to sing each night.
"One of my favorite songs is 'My Favorite Things,' because whether I come into the theatre that day feeling a little tired, or it's been a long day of travel, or I'm a little under the weather – whatever it may be – that songs really can set the tone for me. I get wrapped up in the listing of favorite things – and of course, I have my own list in my head that I'm going through as I sing the song as well. It really can lift my spirits, and get me fully in show mode. That one always seems to do the trick."
See The Sound of Music at Stifel Theatre in St. Louis on March 30. Tickets are available via TicketMaster. For more information, visit stifeltheatre.com or the official tour website at thesoundofmusicontour.com.