Interview: A Conversation with Mike Peters of The Alarm (Aug. 12 at Delmar Hall)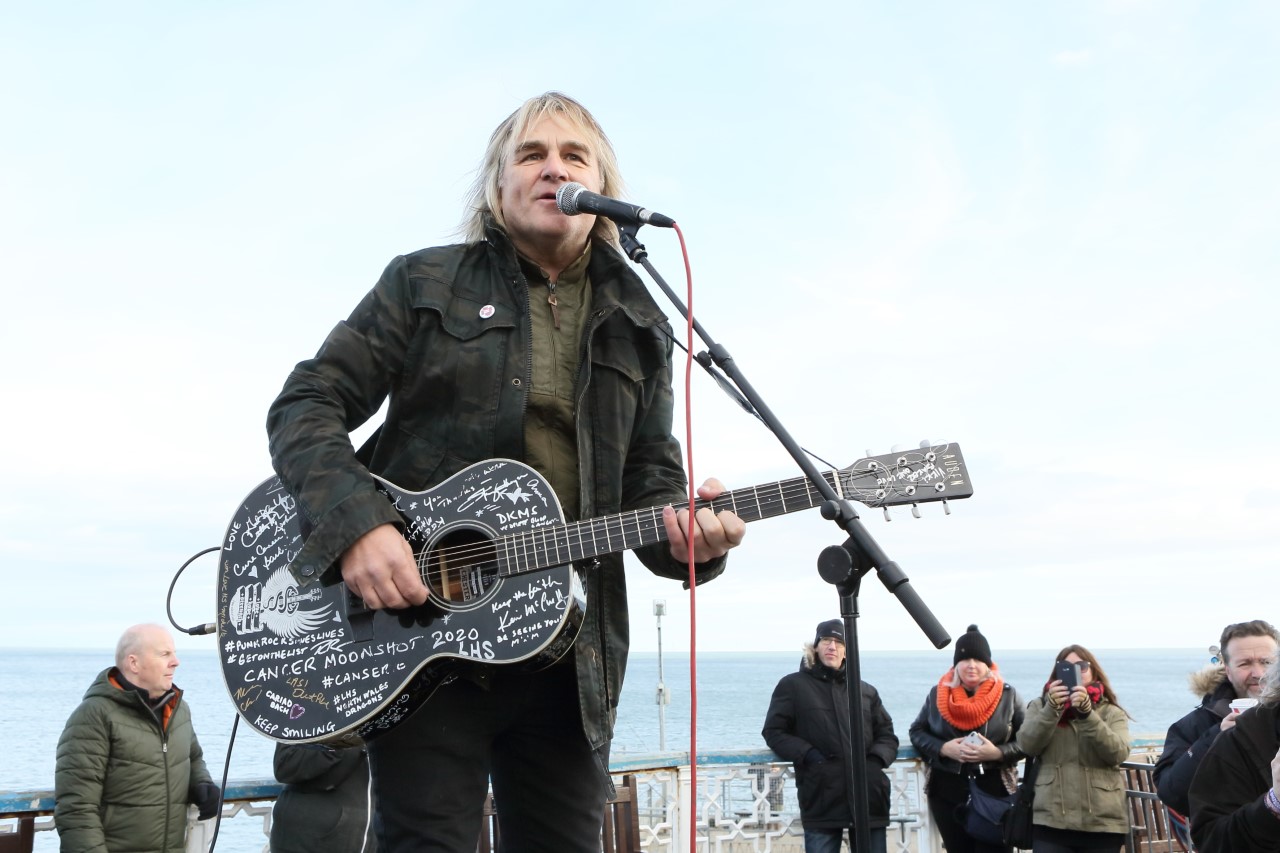 Mike Peters is more than a songwriter, singer or frontman. He is a survivor. Founded in 1981, his band, The Alarm, is an extension of his very being.
Creating a body of work that draws inspiration from the culture of their native Wales as well as the world around them, the band has persevered onward at a time when many of their counterparts from the 1980s and '90s have collapsed or simply faded away.
Drawing influences from folk, punk, post-punk and rock, The Alarm have never recoiled from making accessible music, including such popular songs as "68 Guns," "The Stand," "Spirit of '76," "Strength," "Brighter Than the Sun," or the MTV friendly, "Rain in the Summertime."
Their lyrics mesh the socially conscious with the personal. The Alarm are also a band who are equally comfortable making music that is at times both expansive and intimate. Guided by Peters' pen and panache for engaging his audiences, the band remains fearless in making music on their own terms.
Since their formation, The Alarm have done pretty well for themselves, securing opening gigs for Bob Dylan and U2, receiving steady college radio support in America and creating their own ongoing festival, The Gathering. They recently scored their first number one record in the UK with their latest album, Sigma.
If that was not enough, The Alarm are being discovered by a new generation of fans, especially Brandon Flowers of The Killers who recently covered the band's "Rain in the Summertime" during a June gig at Cardiff Castle, with Peters looking on.
One reason for their ongoing success is Peters' ability to tap into the pulse of their fanbase.
Having cultivated a loyal following for nearly forty years, The Alarm are returning to a city that has always welcomed them with open arms for a show at Delmar Hall on August 12th.
Peters discussed The Alarm's longevity, loyalty and having a hit record with Review STL.
How did this tour come about?
"It was rooted in the history of our band really. We played a lot of shows with Modern English in the Eighties and Jay Aston from Gene Loves Jezebel I've known for a long time. I've always admired those bands since they were still making new music. I just thought it would be a great opportunity to go out as a trio to show people we are all still engaged and moving forward creatively and artistically. Going out together we can still honor the history of our bands, of course, and also showcase what we're known for beyond the shadow of massive hits that we all have under our belts. It's been terrific. We know each other. It's great fun. There's camaraderie between the bands."
How is making music now different for The Alarm as opposed to when you first started out?
"Back then music was very underground. It wasn't about success or having hits, it was about being hip and being at ease with your audience and being a part of their lives by staying true to the principles of the band. Now the music industry has moved on. Music is driven by success and numbers now. I don't think that is what any of us (on this tour) aspired to when we started our bands. It was all about let's look cool, let's sound cool and do the right thing by our audience and be real. Our success was in longevity, staying the distance and having the survival instinct to keep going. Today our music is still being heard, still being discovered and is still relevant. We still have a story to tell. We are very much alive and kicking."
What are some of the interactive things you are doing for this tour?
"The stories and the music carry us on. We are using all the modern means of communication, with our audience. We're running a podcast series on this tour that goes out live daily. We are going out live on Facebook. It's not just what happens live on the stage. For this tour, we have a friend of ours who comes on stage and talks to the audiences between sets by the bands. Today, music is omnipresent; it is everywhere, it's in the background, it's in the foreground, it's just not in the underground like when we first started. So, we have to be in touch with our fans as much as possible."
Can you comment on the special relationship The Alarm has maintained with their fans?
"It goes back to longevity. It's always been at the core of the band. One of the challenges of the 1980s was that when we wanted to send a message out it had to go through a third party. You'd have to send the press release, then someone would write it up their own way, sometimes in not the friendliest way towards us, and that painted a certain picture to an audience. Nowadays, with the internet, we can talk much more clearly. Back in the Eighties, we set up our fan club, although I never really liked that word, to give us a voice to our audience. I liked to write letters back to everyone who wrote to us. Then, in the 1990s we had an open phone line where the fans could call in and voice their opinions. Again, I think that this interaction really helps inform how we approach our music, our life, the setlists we choose and the songs we make."
This culminated with The Gathering, right?
"In 1992 we created an event called The Gathering, in Wales. We told fans we are not going to go on tour, you're going to have to come to us and we'll play everything you could possibly want to hear. It became a magical physical manifestation of our online presence. Fans came from all over, from America and Europe and Asia and we all had a strong bond together through the music of The Alarm. That has kept our audience intact and kept our ability to make new records because we've always nurtured an audience that's wanted to know what comes next. They are as interested in what's coming around the next corner as I am. That comes through communication and being able to talk to each other and share a vision and listen to each other. I think that is really important."
What was the process of making Sigma like?
"It has been an interesting time. I was diagnosed with Leukemia in 2015, and my wife was diagnosed with breast cancer in 2017. A lot of music came out of that. Probably because I found myself in some quite intense personal situations. I didn't have an instrument outside the surgery with me, so I wrote keys in my phone along with streams of words. It was only when we came through the darkness of those times that I showed them to my wife, who said she thought I had enough material to make an album. She was right. That is where the album was born. I had originally decided to make a double album but decided instead to release two albums a year apart, Equals and now Sigma. They are very much a prequel and a sequel. They are very deep. I think that they reflect some of the life challenges that I have gone through and when we play those songs live, they seem to go over amazingly well. Sigma has gotten the best reviews in the history of the band for a record. It seems like a new day for us!"
What has the experience of having a Number One album been like?
"It's been exciting to put it out and see it go onto the charts and having the fans come and want to hear it. They are more concerned now about what songs we are going to play off the new album than the songs we are known for. That is sort of liberating in its own way. Now our job on the road is to find that right balance to show off what we are all about today but also demonstrate where we come from."
The Alarm, Modern English and Jay Aston's Gene Loves Jezebel perform at Delmar Hall on Monday, August 12th. For tickets and more information, visit www.delmarhall.com.