INCEPTION Opens JULY 16! Enter to Win Passes to the St. Louis Advance Screening!
INCEPTION Opens JULY 16 Nationwide
Enter for your chance to win a pass, good for two!
Synopsis: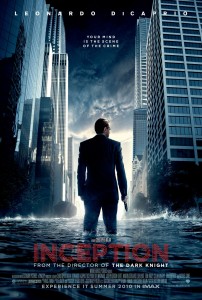 Dom Cobb is a skilled thief, the absolute best in the dangerous art of extraction, stealing valuable secrets from deep within the subconscious during the dream state when the mind is at its most vulnerable. Cobb's rare ability has made him a coveted player in this treacherous new world of corporate espionage, but it has also made him an international fugitive and cost him everything he has ever loved. Now Cobb is being offered a chance at redemption. One last job could give him his life back but only if he can accomplish the impossible — inception. Instead of the perfect heist, Cobb and his team of specialists have to pull off the reverse: their task is not to steal an idea but to plant one. If they succeed, it could be the perfect crime. But no amount of careful planning or expertise can prepare the team for the dangerous enemy that seems to predict their every move. An enemy that only Cobb could have seen coming.
SCREENING IS TUESDAY, JULY 13!
In order to enter the contest, become a fan of ReviewSTL on Facebook and post a comment on the ReviewSTL fan page about why you want to see INCEPTION! NO PURCHASE NECESSARY. PLEASE REMEMBER TO READ THE RULES!
Check out "FLIGHT NIGHT" tomorrow, July 7, at Robust Wine Bar (7PM-8PM)

There will be promotional items for INCEPTION, that will be distributed to people in attendance. There will also be a chance to enter and win a VIP prize pack from the film.
Robust Wine Bar
227 West Lockwood Avenue
St Louis, MO 63119-2327
Watch the trailer for INCEPTION –
[hdplay id=20 width=595 height=375]