In-Flight Turbulence: St. Louis Cardinals Battered, But Not Beaten
Ask a dozen baseball experts who will win the World Series and who will win all the major awards, and there's a good chance you'll get a dozen different answers. There's also a good chance you'll get a dozen wrong answers.
No matter how much you know about the game, it's just about impossible to predict an outcome. The unlikeliest of pitchers will throw no-hitters and perfect games, while the best hitters in the league will go down swinging with the bases loaded. That's part of the appeal of the game: anything can happen.
Unfortunately for the Cardinals, just about anything bad that could happen for them did happen this past week and a half. Players and pitchers alike went down with injuries while others returned to Earth after an astronomical start, and as a result, the Cardinals have lost eight of its last 11 games.
What Went Right
Tyler Greene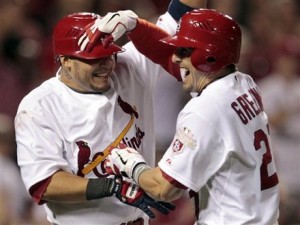 One of the most maligned players, Greene has taken his lumps from the fans for his inconsistent play, and perhaps deservedly so. He hasn't really been the most consistent hitter, and it's frustrating to see such a talented athlete struggle. Still, nights like last night offer glimpses of just how good this guy is.
Down by one in the bottom of the 8th last night, Greene cranked a 100.5 MPH (yes, you read that right) Andrew Cashner fastball over the right-center fence, giving the Cardinals a one-run lead they would hold on to. The home run gave the team a much-needed win after being swept by the Dodgers and capped a three hit night for Greene, his third three-hit game of May. In his last seven games, Greene has gone 8 for 17 (.471) and slugged a ridiculous .941. He has also made some excellent defensive plays. Greene could be wresting control of the starting job at second base, as he's started ten of the last 15 games there.
Jaime Garcia
Garcia is another example of a highly talented yet somewhat inconsistent performer, but his last two starts have been absolutely phenomenal. After losing to Atlanta May 11, Garcia has pitched two absolute gems his last two outings, going 7 1/3 innings against San Francisco and 7 innings against the Padres last night. He allowed just three earned runs combined in the two starts and struck out 16 while walking just one. Garcia's been projected as a number two or three starter, but he has lacked the consistent excellent performance to back up such a prediction. Games like his last two could go a long way for him.
Known for occasionally losing his composure and control when things don't go as planned, Garcia has responded perfectly the last two outings. He did allow seven hits last night, but he was able to pitch around them and set the stage for Greene's heroics.
Matt Holliday
After an unusually slow April, Holliday appears to be on the rebound. The month of May has been more typical of Matt's production, as he's hitting .324 since the calendar turned with six bombs and 15 RBI. Holliday's taken a lot of heat for his lack of production in the World Series, and the rough April compounded the negative sentiment towards him, but to his credit, he's done nothing but work, and he's starting to see the results.
What Went Wrong
Just about everything else, unfortunately. Most of all…
Injuries
Until last week, the Cardinals had been relatively healthy, Chris Carpenter's arm notwithstanding. Last week, though, the injury bug bit, and it bit hard.
Allen Craig, who had been crushing the ball since his return from the disabled list, strained his hamstring diving for a ball and had to go return to the disabled list. The team is cautiously optimistic he'll be able to return after the minimum 15 days.
Jon Jay also went on the disabled list as a result of recurring pain in the shoulder he'd injured earlier this season. He was shut down for a while, but he's back to working out and could be eligible to return once the minimum time is up as well.
Carlos Beltran has been dealing with a sore knee and plantar fasciitis, the same condition that has nagged Albert Pujols. He hasn't gone on the DL, but he missed four games and his production has suffered as a result. After being named the NL player of the week two weeks ago, he has gone just 3 for 15 the last week.
After dealing with a sore elbow the last few weeks, the pain finally became too much for Kyle McClellan to deal with while pitching against San Francisco. A past recipient of Tommy John surgery, it was feared he would have to have surgery once again on his elbow, but after an examination, he's been told there's a 70% chance he can avoid it. In years past Kyle has been one of the most effective long relievers for the team and has been very effective against left-handers, so losing him is quite a blow.
Receiving equally mixed news was first baseman Lance Berkman, who tweaked his knee stretching to catch a throw at first. An MRI Monday revealed a torn meniscus, which would at minimum keep Berkman out 6-8 weeks. Berkman, for his part, isn't convinced there isn't additional damage to his ACL, although the MRI results were negative. Berkman is scheduled to have his knee scoped, at which point he'll find out the full extent of the damage. It would be a tremendous blow both on and off the field to miss him for the rest of the season.
Pitching
You can't really single anyone out here, as pretty much everyone in the rotation and the bullpen has gotten dinged up recently.
– Jake Westbrook's lost his last two starts and has given up eight runs, six earned, in 11 1/3 innings.
– Lance Lynn has surrendered seven earned runs in his last two starts encompassing 12 innings.
– Adam Wainwright is still struggling to find his consistency and has also lost his last two decisions, giving up ten runs, seven earned, in ten innings.
The bullpen has had its share of struggles as well. Mark Rzepczynski, one of the most reliable pitchers so far, has given up four runs in his last three appearances, including the deciding three-run home run to Scott Van Slyke on Sunday. Mitchell Boggs has been struggling as well. Even Jason Motte has blown two of his last three save opportunities.
Slumps
Well, you couldn't really expect every Cardinal to hit over .300 for the rest of the season, and I certainly think they're capable of busting out of it at any time, but you can't deny that May's been a pretty rough month for some of the lineup. Rafael Furcal still has a .350 average, but is 6 for his last 30 (.200).
Easily the most affected Cardinal, though, has been David Freese. Freese tore out of the gates with a hot April, but has hit just .176 in May and is 3 for his last 34. Sunday against the Dodgers, he struck out four times in four plate appearances. Freese is traditionally a streaky hitter, and he will likely bust out of this streak very soon, but for now, he's admitted that he's not comfortable at the plate and it's affecting his performance.
The Variables
The Cardinals have recently gotten some reinforcements from the minors. Eduardo Sanchez, who started the season at Memphis, was recently promoted, as was the hot-hitting first baseman Matt Adams. I've been watching this guy for the last couple seasons, and he may well be the best slugging prospect the Cardinals have had in years. He crushed 32 home runs last season at AA Springfield after hitting 22 in rookie ball in 2010. This year, he had hit 9 home runs at Memphis before his promotion, and in his first game, he had two hits. He could well be the future at first base, and until Craig returns, he's likely to get the lion's share of starts at first base, at least against right-handed pitchers.
The Week Ahead
Well, the Cardinals could certainly use a few bounces going their way. In spite of all the struggles they've had recently, though, they're still in first place by a half game over the Reds. The Cardinals have two more games against the Padres before taking on the Phillies for four games at Busch. Adam Wainwright's taking the mound tonight against Edinson Volquez, the former Red. Tomorrow night, Lance Lynn will go up against former Cardinal Jeff Suppan.