IMAX 3D CAMERAS RETURN TO SPACE TO DOCUMENT HUBBLE SPACE TELESCOPE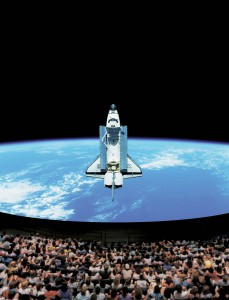 LOS ANGELES, CA, May 4, 2009 – IMAX Corporation (NASDAQ:IMAX; TSX:IMX), NASA (National Aeronautics Space Administration) and Warner Bros. Pictures today announced that IMAX® 3D cameras will return to space to document one of NASA's most complex space shuttle operations—the final service of the Hubble Space Telescope (HST), STS-125. The IMAX 3D cameras are set to launch on board the Space Shuttle Atlantis on May 11th, 2009. The astronauts will operate the IMAX cameras and will film the five intricate and difficult spacewalks required to service Hubble. The IMAX footage will be combined with breathtaking up-close images of distant galaxies from Hubble in the upcoming IMAX/Warner Bros. Pictures co-production Hubble 3D.
This highly anticipated next installment of IMAX's 3D space film series is set to debut in IMAX theatres in Spring 2010. Through the world's most immersive cinematic experience, Hubble 3D will give audiences a front row seat as the gripping story unfolds.
The IMAX team has trained the Atlantis crew at the Johnson Space Center on the operation of the cameras, one of which will be mounted outside the cabin in the shuttle's cargo bay, to capture stunning IMAX 3D images of the historic final servicing mission. The Commander and Pilot will double as filmmakers as two teams of spacewalking astronauts—working in tandem with the shuttle's robot arm—perform some of the most challenging work ever undertaken in space as they replace and refurbish many of the telescope's delicate precision instruments.
"It's been said that The IMAX Experience® is the next best thing to being in space, and with IMAX 3D, the audience really IS there," said Producer/Director Toni Myers, who will be at NASA's Kennedy Space Center Press Site on Saturday, May 9th at 3:00pm EDT to answer questions about Hubble 3D. "Fifteen years ago we made a film about space exploration that included Hubble, when it started sending back the first images. Today, we have Hubble's entire phenomenal legacy of data to explore. With IMAX 3D we can transport people to galaxies that are 13 billion light years away—back to the edge of time. Real star travel is here at last."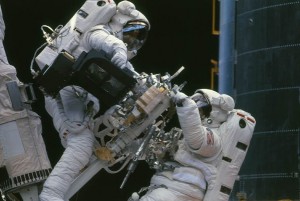 "We have worked with IMAX on past Hubble missions and were excited about working with them again on the current Hubble mission. The Hubble Space Telescope continues to dazzle us with the splendor of our universe and after the STS-125 mission we look forward to many more years of awe-inspiring imagery," said Bob Jacobs, NASA's acting assistant administrator for Public Affairs at Headquarters in Washington. "One of the challenges in sharing Hubble's story is identifying media that can capture the scope and scale of the cosmos. IMAX has developed innovative 3-D image capture and projection technology that creates a large scale immersive educational experience in which those of us on the ground are no longer passive observers of spaceflight, we're active participants."
"This represents a very special moment in IMAX history in which IMAX 3D technology has been selected to document one of our nation's most anticipated technological events. The Hubble Space Telescope has benefited all of humanity with a close examination of our universe. Now we can transport audiences right there, all through the power of IMAX 3D. With this upgrade the Hubble Space Telescope will continue to provide us with many years of service and this film will continue to tell its story for years to come," said Richard L. Gelfond, CEO of IMAX Corporation.
"Hubble 3D will allow moviegoers to get a front row seat to see these amazing other galaxies thanks to the power of this incredible telescope," said Dan Fellman, President, Domestic Distribution, Warner Bros. Pictures. "Through our partnership with IMAX, we've taken audiences to the depths of the ocean and put them in the driver's seat in NASCAR. Hubble 3D will continue this great legacy of taking audiences to places they would otherwise never get to go and will continue to inspire both young and old alike."
"Hubble 3D will transport audiences to distant stars and beyond. It is one thing to look up at the heavens, but through this amazing project, audiences will be able to witness some of the most astonishing astronomical objects known to humankind, all from the comfort of an IMAX 3D theatre," said Greg Foster, Chairman and President of IMAX Filmed Entertainment. "We are thrilled to partner with Warner Bros. and NASA on this project and look forward to taking moviegoers to the outer edges of our universe through these extraordinary images in IMAX 3D."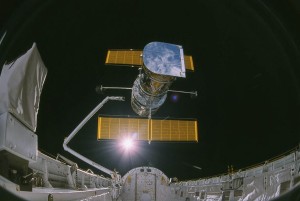 About Hubble 3D
Experience the gripping story—full of hope, crushing disappointment, dazzling ingenuity, bravery, and triumph—in Hubble 3D, the seventh awe-inspiring film from the award-winning IMAX Space Team.
Vividly captured in IMAX 3D, Hubble 3D recounts the amazing journey of the most important scientific instrument since Galileo's original telescope and the greatest success in space since the Moon Landing—the Hubble Space Telescope. Audiences will accompany the space walking astronauts as they attempt some of the most difficult tasks ever undertaken in NASA's history, and will experience up close the awesome power of the launches, the heartbreaking setbacks, and the dramatic rescues of this most powerful story.
Hubble 3D will also reveal the cosmos as never before, allowing viewers of all ages to explore the grandeur of the nebulae and galaxies, the birth and death of stars, and some of the greatest mysteries of our celestial surroundings, all in amazing IMAX 3D.
IMAX's longstanding partnership with NASA has enabled millions of people to travel into space through a series of award-winning IMAX films that have cumulatively grossed more than $500 million worldwide. The IMAX 3D camera made its first voyage into space in 2001 for the production of Space Station 3D, narrated by Tom Cruise, which has grossed more than $100 million worldwide. The Hubble 3D film will mark Warner Bros. Pictures' first venture into space.
Hubble 3D reunites the Space Station 3D filmmaking team, led by Producer/Director Toni Myers. James Neihouse, Director of Photography, is also the Astronaut crew trainer. Judy Carroll is Associate Producer, and Graeme Ferguson, Co-founder of IMAX and pioneer Producer of many IMAX space films, is Executive Producer.
Hubble 3D will be released exclusively in IMAX theatres worldwide beginning Spring 2010.
About IMAX Corporation
IMAX Corporation is one of the world's leading entertainment technology companies, specializing in immersive motion picture technologies. The worldwide IMAX network is among the most important and successful theatrical distribution platforms for major event Hollywood films around the globe, with IMAX theatres delivering the world's best cinematic presentations using proprietary IMAX, IMAX 3D, and IMAX® DMR technology. IMAX DMR is the Company's groundbreaking digital re-mastering technology that allows it to digitally transform virtually any conventional motion picture into the unparalleled image and sound quality of The IMAX Experience. IMAX's renowned projectors display crystal-clear images on the world's biggest screens, and the IMAX brand is recognized throughout the world for extraordinary and immersive entertainment experiences for consumers. As of December 31, 2008, there were 351 IMAX theatres (231 commercial, 120 institutional) operating in 42 countries.
IMAX®, IMAX® 3D, IMAX® DMR, The IMAX 3D Experience®, and The IMAX Experience® are trademarks of IMAX Corporation. More information about the Company can be found at www.imax.com.