"I Am Number Four" Now Out on Blu-ray/DVD! Enter to win a FREE copy!
Read our interview With "I Am Number Four" Director DJ Coruso here.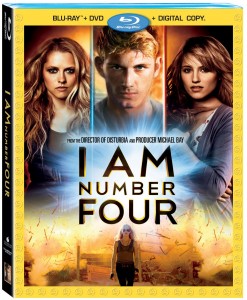 An extraordinary young man, John Smith, is a fugitive on the run from ruthless enemies sent to destroy him. Changing his identity, moving from town to town with his guardian Henri, John is always the new kid with no ties to his past. In the small Ohio town he now calls home, John encounters unexpected, life-changing events — his first love, powerful new abilities and a connection to the others who share his incredible destiny.
Starring: Alex Pettyfer, Timothy Olyphant, Teresa Palmer, Dianna Agron, Kevin Durand
Directed by: D.J. Caruso
Special Features:
DVD:
• Becoming Number 6
• Bloopers
1-Disc BD & 3-Disc BD Combo Pack (includes all DVD bonus PLUS):
• 6 Deleted Scenes, with introductions by Director D.J. Caruso
Extended Strangers in Paradise
Sam's Mom
Worth Mentioning
Power Prank
Trying to Connect
Extended Warsaw Basement
Enter for a chance to win a FREE copy of "I Am Number Four″ on Blu-ray/DVD combo! In order to enter the contest, become a fan of ReviewSTL on Facebook. Then post an update @ReviewSTL.com on your status, telling us why you want to see the movie! NO PURCHASE NECESSARY. PLEASE REMEMBER TO READ THE RULES!
Good luck! And don't forget to pick up your copy of "I Am Number Four″ on Blu-Ray and DVD Today!
[hdplay id=219]