Hugh Jackman heads up 'Real Steel'
Sure, I wasn't a fan of his semi-blockbuster over the summer, X-Men Origins: Wolverine. I do like Hugh Jackman though. He's a very charismatic actor, and I feel he is good at what he does. The story about him buying breakfast for X-Men fans waiting in line for his new film endeared him to me even more.  Now he is tackling even more sci-fi. I think the man is aiming for my heart. Let's just hope he has a better film this time around.
From Variety.com:
---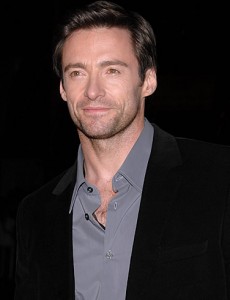 Steven Spielberg and Stacey Snider are betting big on robots for their first project since securing $825 million in financing for the reconstituted DreamWorks.
The DreamWorks principals have greenlit the "Rocky"-esque robot tale "Real Steel," to star Hugh Jackman, as their first pic since raising $650 million from both J.P. Morgan Securities and Reliance Big Pictures and an additional $175 million from Disney, which will distrib DreamWorks titles.
Industry watchers have been eager to see what DreamWorks' first post-financing move would be. The Shawn Levy-helmed futuristic pic represents a recurring theme for Spielberg, who has explored the motif of human-like robots in a number of films in his role as a director, producer and DreamWorks executive — ranging in recent years from "A.I.: Artificial Intelligence" to "Transformers" and "Eagle Eye."
Based on a short story by Richard Matheson, "Real Steel" was one of 17 projects that Spielberg and Snider took as part of DreamWorks' split from Paramount last year.
Insiders say DreamWorks will make the pic on a budget of about $80 million — a far cry from the average price tag for sci-fi event films like "Transformers" or "Avatar." DreamWorks plans to be the sole financier on the project, though Paramount can opt in for half. No decision will likely be made on Paramount's end for several months.
DreamWorks initially bought the project, scripted by Dan Gilroy, in 2005 for a reported $850,000. John Gatins penned the most recent draft.
Story centers on a fighter who has to reinvent himself when human boxers are replaced by robots. Jackman will play a struggling Robot Boxing promoter who finds a discarded robot that always seems to win. He also discovers he has a 11-year-old son, and they bond as the robot brawls its way toward the top.
Although grounded in the father-son relationship, Levy describes the film as a "rousing sports movie" with Jackman's character "a former boxer who can no longer do the only job he's good at, and one particular robot that may be his return to grace."
Production starts in June.
"When we took it with us, we really highlighted it as something we would put the pedal to metal on," said DreamWorks co-president of production Mark Sourian. "It's a project that Steven always wanted to do. It just came together rapidly after we left Paramount."
---
A Rocky-esque robot film? Is anyone else filled with images of Rock Em' Sock Em' Robots? It seems that Richard Matheson is getting a bit of a lift in Hollywood lately. I Am Legend and The Box are both Matheson penned stories. This has some big people attached to it, maybe it could turn out to be a smash hit. Will people be able to get past the premise?