"How to Train Your Dragon" Sequel Coming in 2013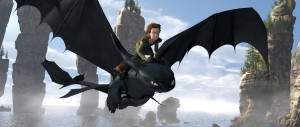 DreamWorks' How To Train Your Dragon may have not started with as big of a bang as expected, but it continues to do well at the box office. Each week the film continues to have small drops, and shows just how important word of mouth can be to a film.  The film is now passing up last year's Monsters vs. Aliens at the box office, and still going strong.
"2010 is off to a strong start, thanks in large part to the performance of 'How to Train Your Dragon,' which – having grossed nearly $375 million to date in worldwide box office – has become DreamWorks Animation's next franchise. We plan to release the sequel theatrically in 2013," said Jeffrey Katzenberg, CEO of DreamWorks Animation. "3D continues to have a tremendous impact on the industry at large and we are now looking forward with great anticipation to bringing 'Shrek Forever After,' the final chapter in our beloved 'Shrek' series and the first in 3D, to audiences across the globe next month."
I really enjoyed How To Train Your Dragon. It had some of the best 3D I've seen yet in any movie. Not to mention an engaging story, and beautiful animation. I'm glad it's getting yet another film in the series, and I hope it grows on the story it has already created. DreamWorks is set to make a bundle off this series, and not just off the gross of the films, but off of the merchandising from it.