Countdown to Harry Potter and the Half-Blood Prince: Part 2 Magical Recipes
So, you are sitting in line at the midnight show, what do you do? Well you munch on your favorite Harry Potter themed snacks. Here are a few recipes for a fun time in line or any other time you feel like it.  Here are some recipes found around the web for your enjoyment!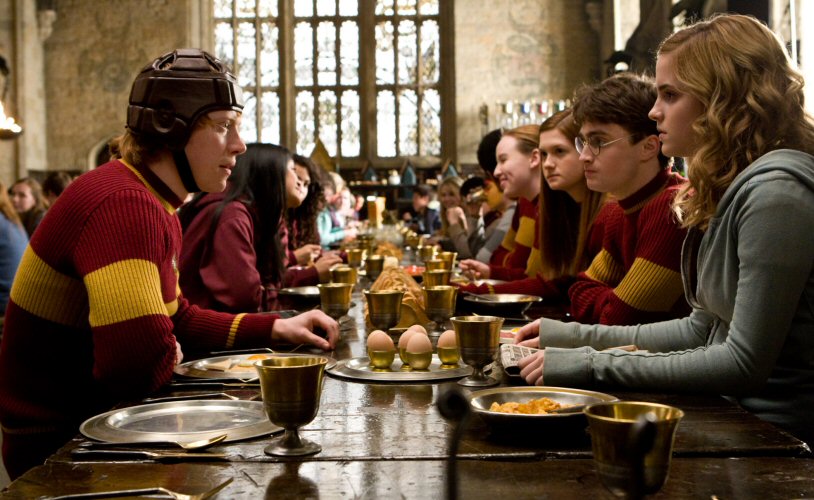 Pumpkin Pasties
2 eggs, slightly beaten
3/4 cup sugar
1 lb. canned pumpkin (or 2 cups fresh, roasted in the oven)
1/2 teaspoon salt
1 tsp. cinnamon
1/2 tsp. ginger
1/4 tsp. cloves
1/2 t. allspice
1 2/3 cups evaporated milk (1 can)
Pam or butter for greasing casserole dish
9 oz. pie crust pastry (enough for two single standard pie crusts)
To make filling add eggs and sugar to a mixing bowl, mix until well blended. Stir in pumpkin, salt and spices. Add evaporated milk and mix well.
Bake the filling in a large casserole dish that has been buttered or sprayed with pam. Bake at 425 degrees for 15 minutes. Keep oven door closed and reduce temperature to moderate (350 degrees) and continue baking for 45 minutes or until table knife inserted in center of dish comes out clean. Cool filling completely on a wire rack.
Make or purchase pie crust pastry. Roll pastry thin and cut into circles approximately 4 inches in diameter. Put a spoonful of the cool pumpkin mixture towards one side of the center of the circle. Fold over the crust into a half-circle and firmly crimp the edges closed. Cut with a paring knife three small slits in the top for venting. Place on a greased cookie sheet.
Bake at 400 degrees only until crust is a light golden brown, approximately 10 minutes.
1 cup butterscotch schnapps
7 cups cream soda (almost one 2 liter bottle)
Carefully mix just before serving, adding the schnapps to the soda then stirring gently to mix well, or the fizz will dissipate too soon.
Serve in beer mugs and enjoy!
Hot Butterbeer

1 liter cream soda
2-3 tbsp butter
2-3 tbsp brown sugar
200ml single cream
4 or 5 Werther's Originals
Put the cream soda in a pan to boil.
Melt the butter and sugar together until the sugar has dissolved.
Pour the butter and sugar mixture into the pan of boiling cream soda (make sure the soda is boiling, or the butter and sugar will solidify).
Add the cream.
Add the Werther's Originals and stir continuously until they melt.
Serve hot.
Cauldron Cakes
Ingredients:
Your favorite devils food cake batter
Full-size marshmallows
Muffin pan
Instructions:
Mix devil's food (chocolate) cupcake batter.
Fill muffin tins only half full.
Push a marshmallow in the center. (It will stick up a bit)
Bake as normal.
The marshmallow toasts on top, melts, bubbles all over, and leaves a cavity in the middle. (a cauldron! :))
You can fill the cavity with pistachio pudding, ice cream, frosting, candy, whipped cream, peanut butter, Fluff, jelly…. anything.
or just leave them plain.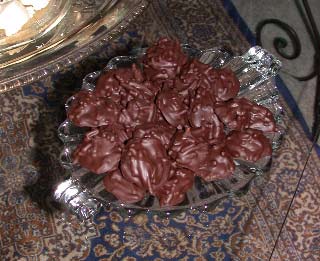 Cockroach Clusters
Ingredients:
6 oz. melted chocolate
6 oz. pecans
chocolate jimmies
Directions:
1. Melt chocolate in double boiler or microwave.
2. Stir in pecans.
3. Drop onto wax Paper.
4. Before chocolate sets sprinkle jimmies onto cluster…enjoy!
Have fun with these everyone and if you bring either of these to the screening or a midnight show I am at, don't forget to share!