'Hangover Part II' Starts Memorial Day Weekend With $61.6 Million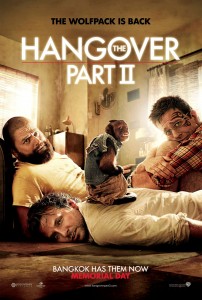 Just a year after "The Hangover" went down in history as the highest grossing rated R comedy of all time, who would have thought that the sequel would be breaking more records.
Read our review of "The Hangover Part II" here.
After an impressive $10.4 million in midnight shows, combined with a stellar opening day on Thursday, "The Hangover Part II" ended up bringing in $31.6 million. That gives the film the highest grossing opening day for a live-action comedy.
And the wolf pack didn't stop there.
On Friday, 'Hangover II' brought in another estimated $30 million, bringing the two day total to around $61.6 million. At this pace, the sequel will surely demolish the $100 million mark by the end of the four day holiday weekend. The film had a production budget of $80 million, so it's safe to say that this one will be another overwhelming success for Warner Bros.