Restaurant Review – Growler's Pub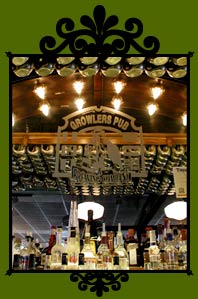 In Sunset Hills there's a little known place called Growler's Pub. If you haven't been there, you're missing out on 132 refreshingly cold beers, whether in a bottle or fresh from the tap, hoppy or not, light or stout. The regulars are sprawled all over the place, with their beer cards in hand. Finish all 132 beers and you become an official mug holder, an honor amongst the clientele!
But, you better get there early! On a warm summer night the beer garden is packed full of people of all ages; the boomers, finishing beer card number nine and the younger kids, just trying to chug down their first card. Remember, though, you go to Growler's for the beer, not the food. But, if you are hungry, be sure to try their pretzels or their spinach dip! And, for some authentic tastes, get an order of Scotch Eggs for your entire table. These hard-boiled eggs are wrapped in Italian sausage, breaded and fried. Sound healthy? It's not, but the taste is pretty epic.
The service is friendly, but slow. What do you expect? It's packed inside and out! Growlers is more about the personal experience, drinking beers and beating your friends in the "who can finish a beer card first" game, than a dining experience. The food and slow service may not be a highlight, but the beer will keep you Growling for more!