Grace's Merry Go Round O Fallon – Shopping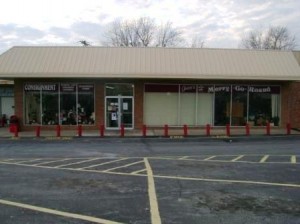 If you are a bargain shopper like me, you will want to follow me on my adventures as I go on a tour of consignment, thrift and antique store in the Saint Louis area. In these tough economic times everyone needs a little help in finding the best bargains.
I started out in O'Fallon, Missouri at Grace's Merry Go Round. Grace's is a true mecca for bargains. She has household items, clothing, shoes, purses and more. Usually I stay away from stores that have such a large inventory of such varied items but Grace does such a good job at keeping things organized, up to date and clean that it a pleasure to go in to see what's new. Grace's prices are also very reasonable so merchandise doesn't stay on the shelves long. I have been shopping at Grace's for about 10 years and have found many things that have decorated my home including a Waterford clock that I purchased for $8.00. That was quite a thrill.
This is a family run business that is run very efficiently. She even has an outlet two doors down from the main shop that sells items that may not have sold in the timely manner in the regular store. Because of such a diverse inventory you can get so much in just one stop. Are you looking for a dining room table, entertainment center or a desk? You can find it there. Are you looking for baby clothes, your teenager a pair of boots, or a toy for your favorite niece? Grace has that also.
So for your one stop bargain shopping needs, Grace's Merry Go Round is the place for you.
Grace 's Merry Go Round is located in O'Fallon, Missouri at 151 O'Fallon Plaza. The phone number is 636-281-4555. Take Highway 70 to Hwy K/Hwy M exit. Take Hwy M about 1/3 mile to O'Fallon Plaza on the right.