Google Celebrates Sesame Street's 40th Anniversary with Big Bird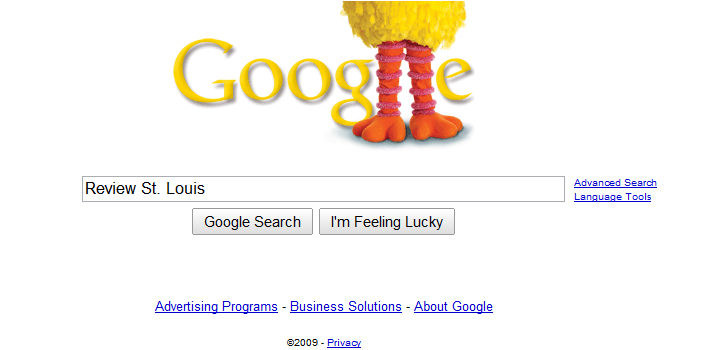 Today marks the 40th anniversary of one of the most beloved kids shows of all time – Sesame Street. In honor of the classic children's show going over the hill, Google has replaced its usual logo with that of Big Bird (pictured above).
---
History of Sesame Street, From Wikipedia:
Up until the late 1960s, the use of television as an educational tool in the US was "unproven" and "a revolutionary concept". In 1966, the Carnegie Institute hired Joan Ganz Cooney to study how the media could be used to help young children, especially those from low-income families, learn and prepare for school. Cooney proposed using television's "most engaging traits", including high production values, sophisticated writing, and quality film and animation, to reach the largest audience possible. Cooney suggested creating a program that would spread prolearning values to both viewers and nonviewers (including their parents) that would affect them for many years after they stopped watching it.
Sesame Street custom Children's Television Workshop logo used in seasons 1-13.
As a result of Cooney's initial proposal, the Carnegie Institute awarded her an $8 million grant to establish, in collaboration with Carnegie Institute vice-president Lloyd Morrisett, the Children's Television Workshop (CTW) and create a new children's television program and in 1968. Millions more were invested by the Ford Foundation, the Corporation for Public Broadcasting, and the US federal government. Cooney began to assemble a team of producers: Jon Stone, Dave Connell and Sam Gibbon. That summer, five three-day curriculum planning seminars, led by Harvard University professor Gerald S. Lesser, were conducted in Boston. The seminars marked the beginning of Jim Henson's involvement in Sesame Street, and provided the show's producers and writers with a "crash course in child development, psychology, and preschool education". The new show, called the "Preschool Educational Television Show" in promotional materials, was built around an inner-city street, a choice that was "unprecedented". The producers and writers could not come up with a name they liked "up until the last moment". They finally settled upon the name they least disliked: Sesame Street, although they initially feared that it would be too difficult for young children to pronounce.
Two days before the premiere of Sesame Street, a thirty-minute preview entitled This Way to Sesame Street was shown on NBC. The show was financed by a $50,000 grant from Xerox. Written by Stone and produced by CTW publicist Bob Hatch, it was taped the day before it aired. Newsday called the preview "a unique display of cooperation between commercial and noncommercial broadcasters". Sesame Street premiered on PBS on November 10, 1969. The new show was praised from the start. As writer Michael Davis states, "…It became the rare children's show stamped with parental approval". The show reached only 67.6% of the nation, but earned a 3.3 Nielsen rating, or 1.9 million households."
---
So, what were some of your favorite Sesame Street moments from the past 40 years?