G.I. JOE High Definition Summer Preview
Here is a preview for one of the most anticipated summer movies this year – G.I. Joe: The Rise of Cobra, starring Dennis Quaid, Channing Tatum, Marlon Wayans, Ray Parks, Rachel Nichols, Byung Hun Lee, and Sienna Miller. Here is the lineup:
JOE TEAM
| | | | |
| --- | --- | --- | --- |
| | | | |
| Duke (Channing Tatum) | Ripcord (Marlon Wayans) | Snake Eyes (Ray Park) | Scarlett (Rachel Nichols) |
COBRA TEAM
| | |
| --- | --- |
| | |
| Storm Shadow (Byung Hun Lee) | The Baroness (Sienna Miller) |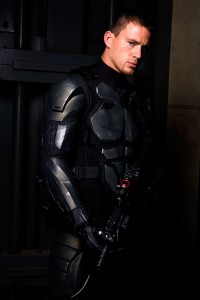 From Hasbro.com –
Hasbro's G.I. Joe Team wanted to take this opportunity to clarify some of the facts regarding the G.I. Joe live-action movie that we are developing with Paramount Pictures.
First and foremost, we are not changing what the G.I. Joe brand is about. The name "G.I. Joe" will always be synonymous with bravery and heroism.
The G.I. Joe brand has enjoyed a successful 43-year history, spanning two key generations. The first was the line of 12-inch "realistic military" figures that were popular with kids in the 1960s and 1970s.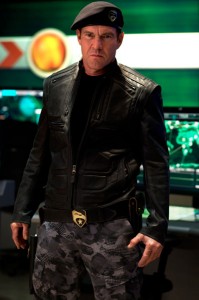 The second generation, was created in 1982, and is based on a cast of fictional heroes and villains that make up the "G.I. Joe vs. Cobra" fantasy. The premise of this fantasy is the story of the G.I. Joe team, led by Duke, and their "fight for freedom wherever there is trouble" against the evil Cobra Commander and his Cobra force. This storyline was an instant hit with kids in the early 1980s, spawning a highly popular 3-3/4-inch action figure line, comic book collection and animated series.
This movie will be a modern telling of the "G.I. Joe vs. Cobra" storyline and its compelling characters that Hasbro created 25 years ago. The G.I. Joe team will not be based in Brussels. Instead, they will be based out of the "Pit" as they were throughout the 1980s comic book series. And, in keeping with the G.I. Joe vs. Cobra fantasy, the movie will feature characters and locations from around the world. Duke, the lead character and head of the G.I. Joe team, will embody the values of bravery and heroism that the first generation of G.I. Joe figures established.
G.I. Joe is a very important property to Hasbro and we thank all of our fans for their enthusiasm. Without all of you, the brand would not be where it is today.