'G.I. Joe: Retaliation' Pushed Back Until Spring 2013
Just a little over a month before its scheduled release, Paramount Pictures has pushed G.I. Joe: Retaliation release date to March 29, 2013. The film, originally slated to be released June 29, 2012, was pushed back due to the studio wanting to do a full 3D conversion of the film.
"It is increasingly evident that 3D resonates with movie-goers globally and together with Paramount, we made the decision to bring fans an even more immersive entertainment experience," said Hasbro President, Brian Golder in the official statement.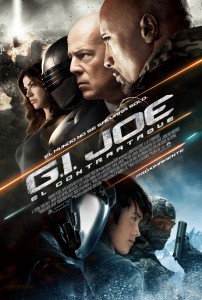 "In 2012, we continue to have several strong motion picture and television entertainment backed properties that are selling well at retail and our entertainment strategy remains strong and on-track," Goldner said. "Through our own Hasbro Studios for television and in partnership with several movie studios including Paramount, Universal, Sony and Relativity, we are creating entertainment experiences around many of our highly popular iconic brands. For the full year 2012, we continue to believe, absent the impact of foreign exchange, we will again grow revenues and earnings per share."
It sounds like this was done for multiple reasons. First off being that it allows Hasbro to spread profit to another quarter, rather than pile it on during a time where they are already making money (or move it from a quarter where they can take a projected loss). Two, even though it puts it up against the Stephanie Meyer book turned film The Host, it will spread it from other summer competition, and perhaps give it a longer shelf life. Third, they stand to make more profit from a 3D version of the film.
The only thing I think is kind of silly, is the waste of marketing dollars they've spent advertising a movie that was due to come out next month. If the trailers are any indication, the film looks a bit better than its predecessor, and could've been a great summer popcorn film. Guess we will see if making a jump to the spring time will be beneficial.