Former Miss Teen USA, Kari Ann Peniche in Sex Tape with Rebecca Gayheart and Eric Dane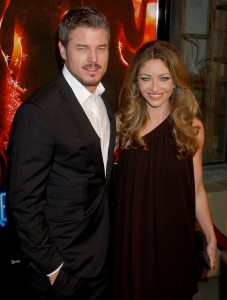 Former Miss Teen USA, and former fiance of Aaron Carter, Kari Ann Peniche is now in sex tape that has surfaced around the internet – with Eric Dane (McSteamy on Gray's Annatomy) and wife Rebecca Gayheart.
According to thehollywoodgossip.com:
"In the video, a 12-minute romp, the inebriated threesome lounges nude in the Studio City apartment of Kari Ann, passing around the camera and, for giggles, discussing what their names would be if they joined the adult film industry.
Dane settles on "Tuff Hedemen" (his favorite bull rider). Soon they move to the bathroom where the ladies disrobe and Eric takes over the camera.
In truth, it's not very exciting. It is, however, very real and they are very naked."
Watch a clip from the video – from gawker.com —

Here is my question — when does it seem like a good idea to these celebrities to get a video camera involved when they are getting it on? Furthermore, when they are doing something that they wouldn't want people to find out about? The life of a celebrity is truly baffling to me. Oh well…