First Trailer For THE TWILIGHT SAGA: BREAKING DAWN PART 1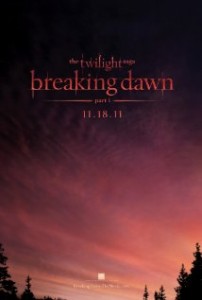 Last night during the 2011 MTV Movie Awards, the much anticipated trailer for "The Twilight Saga: Breaking Dawn Part 1" debuted. During the premiere, you could hear the audience going nuts during pretty much every scene.
Synopsis: 
The epic love story between Bella Swan and Edward Cullen concludes in this final installment of Stephenie Meyer's best-selling series. DREAMGIRLS' Bill Condon directs this first segment of the two-film adaptation.
Starring:  Robert Pattinson, Taylor Lautner, Kristen Stewart
Director:  Bill Condon
Genre:  Drama, Fantasy, Romance
Release Date:  November 18, 2011
Watch the HD trailer for THE TWILIGHT SAGA: BREAKING DAWN PART 1 below:
[hdplay id=351 width=595 height=375]