First Look at Fincher's Take on THE GIRL WITH THE DRAGON TATTOO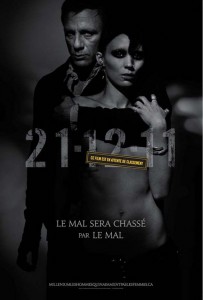 I have mixed feelings on this trailer.  I love that we get a distinct feel for the tone of the film.  Between the music and the color, we know that the film will have a dark, edge (as it should).  What I don't like is that if you have no idea what the film is about then this teaser trailer doesn't help at all.  I even think it will turn non-fans off to the film with the loud music and chaotic editing. 
Synopsis:
A journalist-turned-detective and his female associate get tangled up in the underworld when he is hired to write the saga of a powerful family.
Starring: Daniel Craig, Stellan Skarsgard, Elodie Yung, Christopher Plummer, Mads Mikkelsen
Directed by: David Fincher
Do I think this film is going to be amazing?  Absolutely.  Do I think it is going to be a box office success?  Based on this teaser, I don't think it will be able to get anyone but fans of the books and Swedish films.  Regardless, I can't wait to see more.
[hdplay id=348 width=595 height=375]