Find out how to get your FREE tickets to AVATAR DAY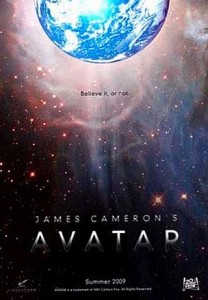 "Avatar Day" as it has been deemed, is Friday, August 21. On that day, IMAX theaters around the world will be showing a sneak preview of James Cameron's groundbreaking 3D film, "Avatar," featuring 16 minutes of footage that has only been seen at Comic-Con this year.
"Avatar" is the story of an ex-Marine who finds himself thrust into hostilities on an alien planet filled with exotic life forms. As an Avatar, a human mind in an alien body, he finds himself torn between two worlds, in a desperate fight for his own survival and that of the indigenous people.
This film will be James Cameron's first movie since he directed Titanic in 1997. And who can blame him for taking some time off – the movie sold $1.8 billion dollars in tickets!
There will be two screenings: one at 6PM and one at 6:30PM. Here is how you get your FREE tickets to Avatar Day —
Visit www.avatarmovie.com at noon PST (2PM Central, for us St. Louis folks) on Monday, August 17th.
The tickets will be given out first-come, first-serve – so make sure to get on the site early!