Film Review: 'Black Panther' Starring Chadwick Boseman, Lupita Nyong'o, Danai Gurira, Michael B. Jordan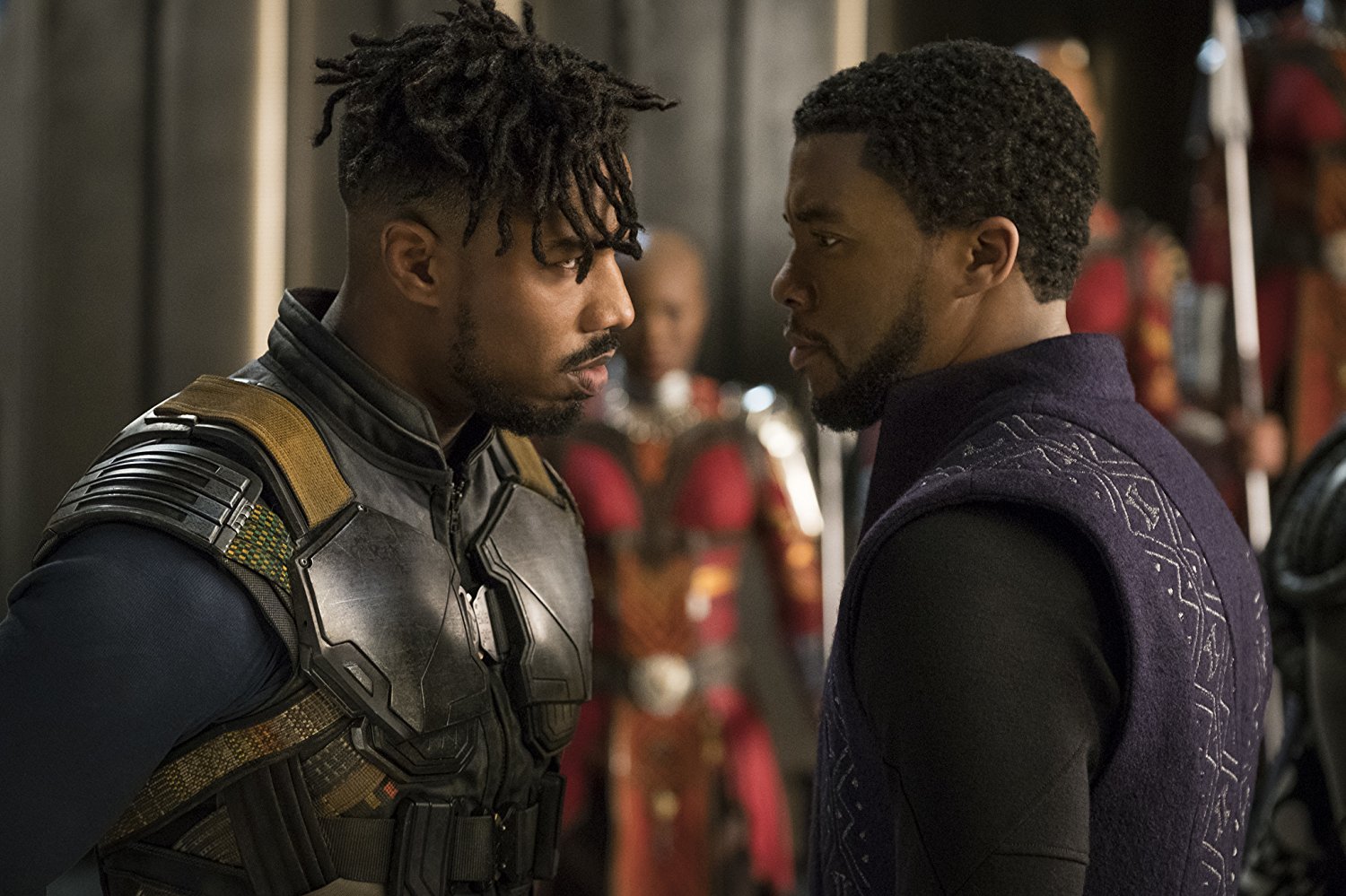 Marvel has done it again, folks.
After making his debut and kicking a bunch of ass in 2016's Captain America: Civil War, fans have been clamoring to see more of the Black Panther character, and they won't be disappointed with his feature film, Black Panther. Chadwick Boseman returns as T'Challa, the crowned prince of the secret African nation of Wakanda. Wakanda is a technologically advanced country whose existence in its purest form is hidden from the world due to its plethora of vibranium, a rare indestructible metal that, if discovered by the rest of the world, could lead to wars.
Black Panther is Disney's eighteenth film in the Marvel Cinematic Universe and it amazes me how they continue to pump out fresh movies. In fact, while Disney's track record with these films is consistently well-received, Black Panther is vastly different from what we've seen so far but still feels like a breath of fresh air in this universe. Even though Wakanda is a whole new world to the viewer, third-time director Ryan Coogler (Fruitvale Station, Creed) is masterful in making it all feel familiar and bringing the viewer into the Wakandan culture. The film is loaded with an abundance of new characters and Coogler (who co-wrote the script with Joe Robert Cole), should be recognized for his ability to have fleshed them all out as well as he did on-screen.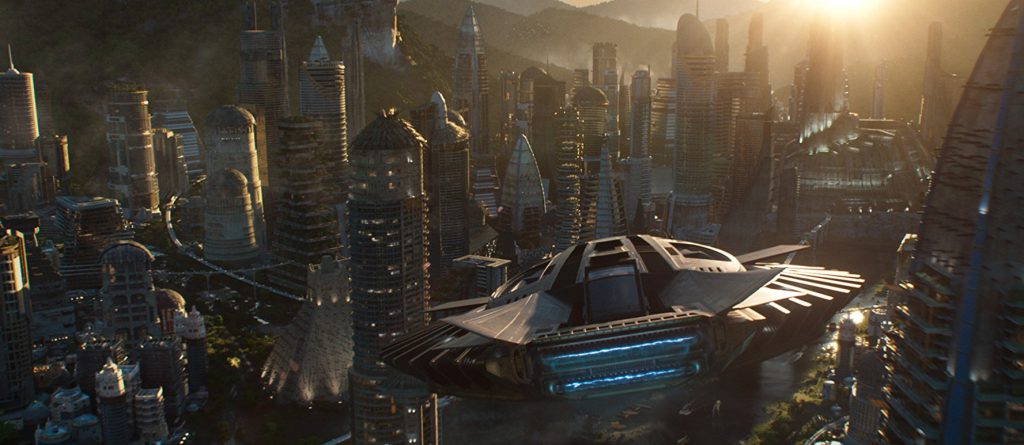 The events in Black Panther follow closely after the events in Civil War, in which T'Challa is crowned king of Wakanda after the assassination of his father T'Chaka. Boseman is incredible as his character struggles to find balance in the politics of being king and securing safety for his country and loved ones. T'Challa has a lot on his plate as the new king. Trusted friends appear to be losing faith in his rule, most notably Daniel Kaluuya's W'Kabi, which leads to an incredible amount of tension in the third act. Nakia (Oscar winner Lupita Nyong'o), the love interest in the film, wishes for him to open Wakanda up for technological trading with the rest of the world in a noble effort to save the world and not hide from it. But the biggest threat to his rule in this film comes from the combination of Ulysses Klaue (Andy Serkis, as good as always and whom you may remember from Age of Ultron) and a ruthless wardog named Erik, who's given himself the moniker of "Killmonger" (Michael B. Jordan), as he's spent his entire life fighting for a cause he believes in and voluntarily scarring his body for every kill he's made along the way.
Aside from Boseman's enthralling performance, my favorite performance has to have been Danai Gurira as Okoye, a loyal general of an all female ensemble of protectors of the Wakandan throne. Gurira, whom you may know as the samurai sword wielding Michonne from AMC's The Walking Dead, may have it just as hard as T'Challa as her loyalties are tested throughout the film from multiple directions. I found myself enamored with her strong will to do what is right by her country even in the face of what she may believe to be wrong.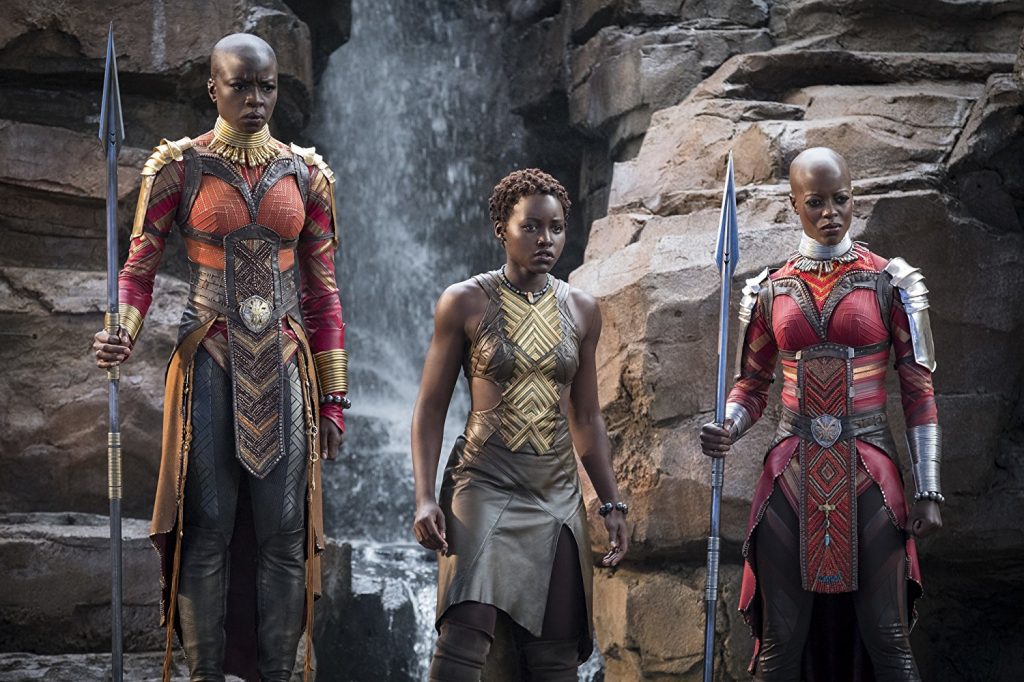 The art direction and cinematography is beautiful here. Rachel Morrison is the director of photography on this film and currently resides as the first and only woman to have ever been nominated for an Oscar in the Cinematography category for her work in 2017's Mudbound, and her artistry is just as evident here. The majority of the movie is spent in the beautiful landscapes of Wakanda, but even in the short stint in South Korea, the lighting and coloring is vibrant throughout an intense chase sequence through the streets. Coogler makes some wonderful decisions with the camera throughout the film too, most noticeably when an upside down shot was used in conjunction with Wakanda being turned upside down near the third act.
There are a lot of things to love about Black Panther and while it ticked all the boxes to be an exceptional Marvel film, it felt like so much more. I appreciated the fact that the increased comedy we'd recently seen in the 2017 trio of films (Guardians 2, Spider-Man, Ragnarok) were scaled waaaay back (though still present and enjoyable) and allowed this film to be an action-packed political thriller akin to the heralded 2014 gem Captain America: Winter Soldier. Black Panther is an important film to both the MCU and the real world today, heralding inspiring messages about equality and the importance of "building bridges instead of barriers," as stated in the closing minutes of the film. There's a lot to be inspired by with Black Panther, and this film will reside within the top tier of the Marvel universe for quite some time and deservedly so.
A