Fast and Furious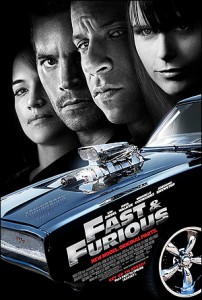 Taking place 10 years after "The Fast and the Furious," the latest film in the franchise reunites original stars Vin Diesel and Paul Walker. In "Fast and Furious," Dominic Toretto (Diesel) and girlfriend Letty (Michelle Rodriguez) are up to their usual hijinks. The film starts out with the couple, along with some new friends, hijacking a gas truck during a fast paced action sequence down a mountain side road. And what fast paced gasoline robbery involving street racers and an angry truck driver with a shotgun would be complete without huge explosions? Meanwhile Brian (Walker) is back in the FBI working on a case involving drugs and street racers.
The plot of the film revolves around a drug cartel that uses street racers to move their product across the Mexican border into the US. Our original heroes are reunited to take down the cartel, which is lead by the infamous "Bragga" who noone ever sees or interacts with. Bragga uses the help of "meat head" street racers with bad attitudes to carry out his bidding. Although there are still hard feelings for what Brian did in the original film, the two are brought together by the same event that drives them to take revenge on Bragga and his operation.
"Fast and Furious" is directed by Justin Lin, the same directer of "Tokyo Drift" which revived the franchise after the second film in the series. "2 Fast 2 Furious" did not receive a warm reception, which I think was a little harsh given what the movie was. None the less, Tokyo Drift was full of the fast paced action that the franchise needed and warranted another sequel. The reason that I personally was left feeling empty after the last two films was because they lacked the most important people from the original film. Vin Diesel and Paul walker MAKE the franchise in my mind, and that is why people will enjoy "fast and Furious" so much. They were great characters who developed a VERY interesting relationship in the first film, and we want to learn more. So if they decide to make another "Fast and Furious" film (which they probably will, seeing as they almost recouped their budget during opening weekend) they need to keep these two in.
Overall, I feel that this was the best film in the franchise, due to the story and the action sequences. I know that people are most likely not expecting Oscar worthy performances when they go to see this film, but the fact is that the film was done well. Taking the movie for what it is, it is entertaining and enjoyable to watch.
I give "Fast and Furious" 6.5 out of 10 stars.
Check out the trailer below –