Everybody's Fine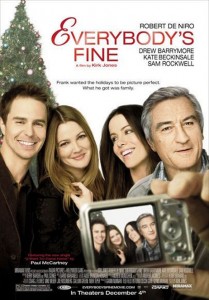 Most Americans don't know the name Giuseppe Tornatore, but he is the director of what many consider to be a cinematic masterpiece, Cinema Paradiso. His followup film to it was film starring the great Marcello Mastroianni, one of Italy's finest actors, called Stanno tutti bene. It is fitting that one of the finest American actors, Robert DeNiro, should play the role made famous by Mastroianni in Everybody's Fine.
Everybody's Fine follows Frank a recent widower who has spent much of his life providing for his family. His emotional link through the family was through his late wife, and he now struggles with communication between his four children. When all of his children cancel their trip to come see their father, Frank takes matters into his own hands and plans impromptu visits to each of his children. Frank makes the rounds around the country stopping to see all of his children. With each stop he sees things that don't add up to what his late wife has told him about his children. It is a story of a man coming to grasps with the expectations he has realized for his children are not what they are living.
Robert DeNiro has to carry much of the film, supported by an all around great cast. His character is at the other end of the spectrum from characters in his early career like Taxi Driver's Travis Bickle. It is a bit unnerving at first when you experience DeNiro in such a grandfatherly like role.  His age shines through like no other film he has appeared in before.  The sincerity and low key performance by DeNiro is the main aspect that sells the story to the audience.
DeNiro's supporting cast which consists of Sam Rockwell, Kate Beckinsale, and Drew Barrymore all turn in great performances for the amount of screen time they grab. I have yet to see Rockwell take a misstep in one of his roles. He might never be the type of actor that draws a huge billing at your local multiplex, but he will sell his character well that even the most amateur film critic will take notice. Beckinsale once again steps into a more serious role, which slightly redeems her for her atrocious turn as the main character in this summer's flop Whiteout.  She might be the weakest of the cast, but among acting pedigree like this coming in last isn't a horrible thing. Her character lacks a bit of the depth that Rockwell's and Barrymore's have. Which brings me to the lovely Drew Barrymore who is easily the brightest of the three children shown. Barrymore is vivacious and all together stunning, and possibly makes for the most entertaining child visited.
There are a lot of nice little dramatic moments in the film. A scene in the halls of a bus station will probably be most talked about. It is in this scene that we really get the power of DeNiro's performance. Each major transition in the film is punctuated by nice shots of the traveling country side as telephone lines unravel in the distance, while we get voiceovers of the children's conversation which reveals more and more about their missing brother, David.
Director Kirk Jones is primarily known for his work in the UK. His previous films include Nanny McPhee and the 1998 comedy Waking Ned Devine which won him the BAFTA for Most Promising Newcomer.  This is Jones second feature after his debut, and he continues to grow as a director. Some might accuse the picture of being overly sentimental, but many people will connect with the themes felt throughout. The idea of a family connected only by a series of wires, and the false images we carry of them will resonate with many people.
Jones' biggest accomplishment in this film is assembling such a great cast, and using them to perfection. Each actor performs their role admirably, and good direction takes that a long ways. The largest obstacle in the way of the film is its marketing, which markets it as a feel good holiday film. The first truth about the film is that it takes place during the summer, and a  Christmas scene is not enjoyed til the end. The second is that it isn't as nearly funny and light as it appears in the trailers. There are light moments, but this is much closer to a character driven drama than a family comedy. Let's just hope this isn't ill recieved by audiences who go in unprepared.
This is still a great film to see with your family. The depth of the story and characters will keep you entertained, and most likely give you a check on your tear ducts. Driven by heartfelt performances that sell the movie, Everybody's Fine is a great film to see this holiday season.
Grade: B+
---
Blake sat down with "Everybody's Fine" director Kirk Jones. Watch the interview here.
Another Take From Zac:
Everybody's Fine is an interesting look at family life for a widower but lacks any real plot or enlightening meaning to really make us admire it beyond its performances.
Kirk Jones' film is a remake of an Italian film of the same name and stars Robert De Niro as said widower, Frank, who decides to spontaneously visit his children who are now spread all around the country after he fails to get them all to visit.  As he heads out on to the road we learn that one of his sons, David, is in some sort of trouble in Mexico and his other children shuffle him along to one another keeping the issue a secret from him.  David was the first child he visited, who obviously wasn't home, and then he moves on to Amy, Robert, and Rosie in succession.  And that is about the crux of the whole story and nothing much happens along the way leading to a rather dull plot, if you could call it that, to follow.
The most interesting and eventful stop is with his son Robert, who is played by Sam Rockwell, in which Frank gets a cold hard punch of truth when he finds that his son is not the aspiring conductor he was lead to believe by both his wife and Robert.  It is hear it really begins to hit home with Frank and us that his kids aren't entirely truthful and have a fairly poor connection with him.  Rockwell plays the part extremely well on top of this being a bit neurotic and looking like he is going to break and let out the secret around David at any minute.  Rockwell's work here does touch his best, but he still brings a lot to the part regardless.
Kate Beckinsale plays Amy and gives off the seemingly perfect little life with her huge house and happy family, though there seems to be a rift between her son and his father.  Beckinsale does a fine job at selling us on the outside but showing enough behind her skin that there is something not quite right going on with her.  Subtle and very well done, Beckinsale's work is very well done and bounces right off De Niro as she turns in some fine work.
Drew Barrymore plays Rosie whom Frank visits in Vegas and this visit goes as smoothly as any of the others with Frank learning a bit more about his kids he didn't expect.  Barrymore is very good here, sweet and charming, and she and De Niro have some great chemistry.  She doesn't have to show a lot of range but regardless she comes across as the most likeable kid of the bunch.
De Niro is in good form as well in a role that definitely puts him out of his normal bubble.  Playing an ordinary middle class man is something we never really get to see from this fine actor and he eases right into the role.  Really diving head first into the character he has a handful of little beats and tricks up his sleeve that give the character a real sense of authenticity.  It is some of De Niro's finer turns in years and hopefully he can keep this level of work going for some time.
With all that said about the performances there isn't a whole lot to enjoy beyond that.  The meetings are uneventful with the children, the attempt to create tension or an over arching plot with the mystery surrounding David's incident doesn't really work, and while the actors work well together their interactions are nothing we haven't seen before.  The gimmick with the younger version of the kids works at first but goes overboard once they all get together; you'll know what scene I mean, and the tension attempted around Frank's medication seem all a bit to contrived.
In the end, Everybody's Fine is a finely acted film with a couple sweet moments thrown in throughout the picture.  All this can't overcome the plot less narrative and the fact that nothing interesting really happens the whole film.  While the film does manage to not stray into sappy sentimentality, well almost, the overall experience is rather dull and quite sorrow.  This is quite contrary to the ads for the film which are selling it as a warm family comedy of sorts, that couldn't be farther from the truth.  I would wait to rent this picture, as it is worth watching, but it is a rather sad little film that will not blow you away by any means.
Everybody's Fine is a C-