Enter the Star Clipper Video Contest and Win Passes to "KICK-ASS"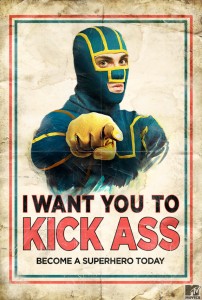 Star Clipper in St. Louis is having an awesome video contest, where you can enter to win passes to see KICK-ASS at the advance screening!
Learn all about this unconventional film, based on the Marvel comic by Mark Millar and John Romita Jr. Star Clipper wants YOU to create your very own Kick-Ass trailers featuring a self-styled super hero! The trailers will be featured on the Kick-Ass display at Star Clipper and winners will receive prizes including the new Kick-Ass hardcover, gift certificate, movie passes and more. The most kick-ass trailers will even have a chance to be featured on the air and the big screen!
Please keep your trailers 90 seconds or less. Don't hurt yourself (or others)! E-mail a link to your trailer to [email protected] and we'll take care of the rest!
Not sure how to get started? Here are a few ideas to get you going: life's a party until you meet the Mardi Brawler; the skies burn with the might of The Aviator; and hell hath no fury like Templar!
Don't have a video camera? Go to www.iwillkickass.com and become a Superhero Instantly! Plus you'll be entered for a chance to win a cameo in Kick-Ass 2, the comic.