'Elysium' Opens August 9! Enter to Win Passes to the St. Louis Advance Screening!
Enter to win a pass for two!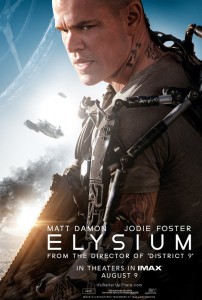 In the year 2154, two classes of people exist: the very wealthy, who live on a pristine man-made space station called Elysium, and the rest, who live on an overpopulated, ruined planet. The people of Earth are desperate to escape the crime and poverty that is now rampant throughout the land. The only man with the chance to bring equality to these worlds is Max (Matt Damon), an ordinary guy in desperate need to get to Elysium. With his life hanging in the balance, he reluctantly takes on a dangerous mission—one that pits him against Elysium's Secretary Delacourt (Jodie Foster) and her hard-line forces—but if he succeeds, he could save not only his own life, but millions of people on Earth as well.
Cast: Matt Damon, Jodie Foster, Sharlto Copley, Alice Braga, Diego Luna, William Fichtner, Wagner Moura
Director: Neill Blomkamp
Elysium opens Friday, August 9!
Use the contest app below to "like" ReviewSTL on Facebook – then tweet, share, or comment for additional entries!
Winners will be chosen at random from all entries. Supplies are limited. Limit one (1) pass per person, passes admit (2) two. Sponsor's employees and their dependents are ineligible. Screening is overbooked to ensure capacity. Please refer to passes for any other possible restrictions. NO PURCHASE NECESSARY.
Screening will take place Wednesday, August 7th at Wehrenberg Ronnie's 20 Cine (7pm).