Elvis & Anabelle, starring Max Minghella and Blake Lively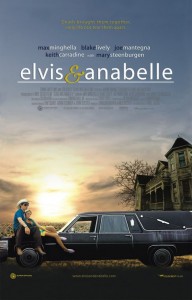 Every terrible tragedy brings about something equally miraculous. Groomed by her overly ambitious mother, Anabelle is on the road to winning the Miss Texas Rose tiara when she dies tragically during a pageant. Her death lands her on the embalming table of Elvis, an embittered young man whose sense of family duty and love for his ailing father keep him from following his dreams. When Anabelle is miraculously resurrected on Elvis'€™ embalming table, the two unexpectedly connect and sparks fly. With the help of each other and Elvis' father, they discover love, freedom and happiness as the real world and their own demons threaten to force them apart.
From IMDB:
With lush cinematography and a haunting soundtrack, Will Geiger's film presents a unique and timeless love story. Elvis (Max Minghella) is an unlicensed mortician in his family's funeral home, a once-splendid American gothic in rural Texas. His sense of of family obligation and love for his eccentric, ailing father (Joe Manegna) keeps him from following his dreams. Anabelle (Blake Lively) is a beauty queen being groomed for the big-time by a pushy, show-biz mother (Mary Steenburgen) and creepy step-father (Keith Carradine). All her decisions are made for her – she's just not sure she fits the part. Their lives are worlds apart, but they collide when Anabelle, in a moment of triumph, collapses and dies on a beauty pageant catwalk and ends up on Elvis's embalming table. What happens next is as magical as it is unexpected.