Edward Norton Out as the Hulk in "The Avengers"; Mark Ruffalo In?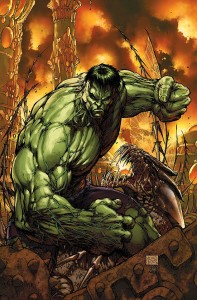 I've been sitting on this news for a few days until the air finally cleared around it. Mainly because Marvel and Edward Norton kept issuing statements every few seconds.  Although, now that the dust has settled, sources from both sides have confirmed that Edward Norton will not be reprising his role as Bruce Banner/The Hulk.
"We have made the decision to not bring Ed Norton back to portray the title role of Bruce Banner in the Avengers. Our decision is definitely not one based on monetary factors, but instead rooted in the need for an actor who embodies the creativity and collaborative spirit of our other talented cast members. The Avengers demands players who thrive working as part of an ensemble, as evidenced by Robert, Chris H, Chris E, Sam, Scarlett, and all of our talented casts. We are looking to announce a name actor who fulfills these requirements, and is passionate about the iconic role in the coming weeks," said Kevin Feige of Marvel studios.
WME the company who represents Norton fired back with, "This offensive statement from Kevin Feige at Marvel is a purposefully misleading, inappropriate attempt to paint our client in a negative light. Here are the facts: two months ago, Kevin called me and said he wanted Edward to reprise the role of Bruce Banner in The Avengers. He told me it would be his fantasy to bring Edward on stage with the rest of the cast at ComiCon and make it the event of the convention. When I said that Edward was definitely open to this idea, Kevin was very excited and we agreed that Edward should meet with Joss Whedon to discuss the project. Edward and Joss had a very good meeting (confirmed by Feige to me) at which Edward said he was enthusiastic at the prospect of being a part of the ensemble cast. Marvel subsequently made him a financial offer to be in the film and both sides started negotiating in good faith. This past Wednesday, after several weeks of civil, uncontentious discussions, but before we had come to terms on a deal, a representative from Marvel called to say they had decided to go in another direction with the part. This seemed to us to be a financial decision but, whatever the case, it is completely their prerogative, and we accepted their decision with no hard feelings.
We know a lot of fans have voiced their public disappointment with this result, but this is no excuse for Feige's mean spirited, accusatory comments. Counter to what Kevin implies here, Edward was looking forward to the opportunity to work with Joss and the other actors in the Avengers cast, many of whom are personal friends of his. Feige's statement is unprofessional, disingenuous and clearly defamatory. Mr. Norton talent, tireless work ethic and professional integrity deserve more respect, and so do Marvel's fans."
Finally it all culminated with Norton leaving a statement on his Facebook page saying: "As most of you know, I don't like to talk much about the business of making movies because it means a lot to me to protect the audience's fullest enjoyment of the 'magic' that films can have.
But I am so appreciative of the outpouring of support from fans of the Hulk and the Avengers that I feel it would be rude not to respond. So here goes: It seems it won't work out for me to continue playing Bruce Banner for Marvel in 'The Avengers.'
I sincerely hoped it could happen and be great for everyone, but it hasn't turned out as we all hoped. I know this is disappointing to many people and that makes me sad. But I am very sincerely grateful to Marvel for extending the offer and even more so for giving me the chance to be a [part] of the Hulk's long and excellent history.
And I really can't thank the fans enough for how much enthusiasm you've sent my way about what Louis [Leterrier] and I tried to do in our turn with the legend. It means a lot to me. I grew up with Banner and Hulk and have been a fan of every incarnation. I'm really proud, and very blessed, to have been one of them and will be thrilled to see him live on through other actors. Hulk is bigger than all of us, that's why we love him, right?"
I can't say that I'm not a little disappointed with Marvel. It's getting a bit obnoxious that they keep having feuds with talented actors. (The first being Terrence Howard in Iron Man.) I think if they keep having these kinds of relationships with actors in Hollywood they could end up putting themselves in a tight spot later down the road.
I am excited about the possibility of Mark Ruffalo taking over the role of The Hulk, but I still would much rather see Norton reprise the role, as he seemed to fit the character better than anyone else.
What do you think? Let us know in the comments!