Eastern Promises 2 To Hit Screens Next Year?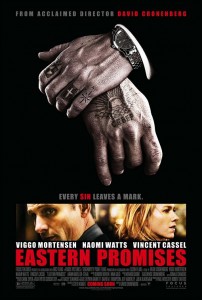 David Cronenberg and Viggo Mortensen will be teaming up for a fourth time it seems, after their upcoming Sigmund Freud biopic shooting this year, and it will be for a sequel I am dying for, Eastern Promises 2.  If you haven't seen the first film stop reading, go out and see it, and come back and read this.
The film sets up perfectly, as you just saw when you watched the film, for a sequel and I can not wait to see how this story unfolds.  The original is a crime classic and Viggo and Cronenberg are on fire when they have worked together.  I hope the Freud film, The Talking Cure, lives up to Eastern Promises and A History of Violence and that no hitches show up and derail this film.
Deadline is reporting that Steve Knight's script is finished and that Viggo and Mortensen are locked in, obviously, as well.  This has rocketed to the top of my most anticipated films list.  Check out the full story here.